Adèle Exarchopoulos And Lea Mysius On Unique Motherly Bonds And The Power Of The Gaze In The Five Devils [Interview]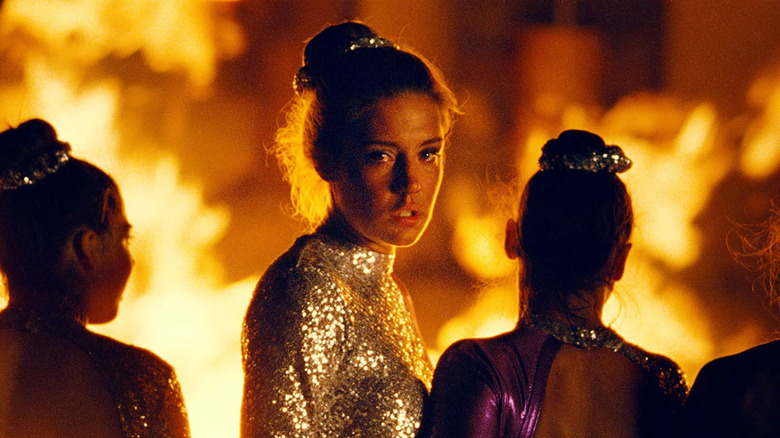 Le Pacte
Mother-child relationships are rarely without complications. Even in the most blissful and tender of those connections, there will always be mysteries, secrets, and things left unsaid. Children come into this world without knowledge — a concept that has to be given as well as learned — and thus, they are hungry for it, especially when it comes to the inner workings of those closest to them. That concept is the emotional core of Lea Mysius' new fantastical drama film, "The Five Devils," known as "Le Cinq Diables" in French.
The movie follows Joanne (Adèle Exarchopoulos) and her daughter, Vicky (Sally Dramé), who have a loving relationship that is, however, not without its distance. The child is particularly gifted at identifying and reproducing smells, a skill that pushes her obsession with her mother into strange territory. At the same time, Joanne is struggling with secrets of her own, and when Vicky's aunt reappears in their idyllic village after years away, the child is transported down a rabbit hole of mysteries that unravel both her family's history and her very own existence.
A complicated and nearly mystical tale of the ties that bind, I sat down with star Adèle Exarchopoulos and director Lea Mysius—who also co-wrote the script alongside Paul Guilhaume — after the premiere at the Cannes Film Festival to get into the film's interesting origins, building unique motherly bonds, and the power the film gives to the gaze.
'I wanted it to be a more primal, primitive story'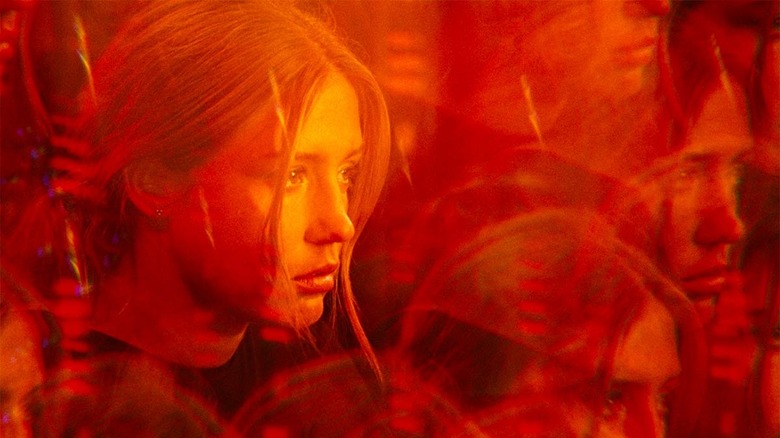 Le Pacte
How was this story born from within you? What influenced you or inspired you? It's a very unique story yet it plays with a lot of really universal themes.
Lea Mysius: The idea came from a personal interest. You know, I've always been very interested in smells and aromas and scents since I was a child. I used to play with my twin sister and we [would] concoct different potions and try to make up cigarettes with flowers that we picked up in the grass and in the wilderness. It's an interest that I've been cultivating up to now. I like to guess the elements that make up a perfume on someone, or the smells that I smell in the street. But, I did not want to set a film in the perfumery industry. I wanted it to be a more primal, primitive story, more central and sensory oriented.
So I had this idea of having this little girl with these unusual powers, and the character was much influenced by the fact that I was reading a lot of American literature at the time, James Baldwin, Jim Harrison, and Maya Angelou. In those novels, the fact that the characters and the places become legends and they deal with universal themes is what really inspired me. So, I wanted this little child to wonder where she's coming from, and to wonder the extent of her mother's love, a mother who somehow is hiding a secret, and she knows that she's hiding a secret. She's trying to do all she can in order to disclose [her mother's] past.
'The Five Devils' being the name of the sports center, and even the lake, is incredibly clever, especially because it ties into the five leads of the film. Why did you settle on this title? And were there ever any other titles that you considered?
Lea Mysius: I don't know how we thought about it. I later realized that it's five characters, actually. It's another element that reminds us of the figure. I like those kinds of titles, though. When I was looking for them, I thought about [Ingmar Bergman's] "The Seven Seal," for instance. I like titles that are made of numbers and words that somehow make us think about legendary things.
What made you want to open the film with that image of Adèle [as Joanne]? It's incredibly powerful and it sucks you right into the film. It also plays into the theme of the gaze, which I feel is so prevalent in this film. Everyone is just staring at each other down a lot of the time.
Lea Mysius: It was the first image that I had in mind when I started writing. This young woman turning in front of the fire and yelling. I was [starting from] [starting from] this specific image [through which] I developed the screenplay. And then I read a novel by a French thinker and intellectual that's called "The Sexual Night." It's Pascal Quignard. He talks about the invisible scenes, the scene that all children dream of being able to watch. And they cannot, because it's something that precedes their birth and so they can never see it. But it's a scene that is very violent. It's the symbol of total chaos with fire and massacre and a lot of violence.
Of course, it's the scene that cannot be seen because [it's] the scene of the intercourse that allowed the child to be conceived and the child is not entitled to see it. But it's that kind of primal and primitive image that I thought of. I thought it was a good way of starting the film. It sets us immediately [into] the main theme of the film, about the quest for the mother and what she's hiding. And it allowed us to be with that image throughout the film. [When] we meet Joanne in the swimming pool and we see her eyes and her gaze, we know that we have seen that scene originally. So it accompanies us.
'Ask yourself the good questions'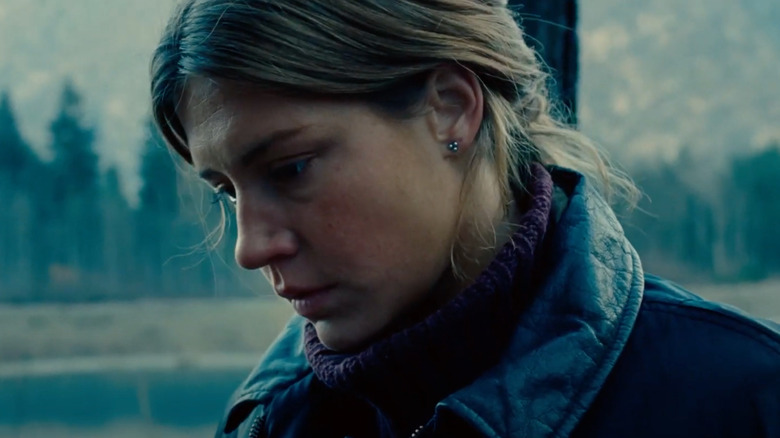 Le Pacte
It certainly packs a punch right in the beginning of the film. It absolutely hooked me in. Adèle, how did you build that motherly bond with Vicky (Sally Dramè)? You guys play off each other quite well, yet you feel both of your senses of detachment between Joanne's entrapment with her sexuality and Vicky's innate obsession with her mother.
Adèle Exarchopoulos: First of all, I met Sally, where I immediately understood why [Lea] picked her because she had this kind of enigmatic face, and eyes. I think it's cool to play with the child, [even more so] when it's [their] first experience, because there is like naivety. And at the same time, all the takes are different. You have to follow her. When she's the leader of the scene, even if you don't want to, it'll be like this. I love this kind of dependence, and to build this link where this mother is really used to this powerful love from her daughter, but at the same time, she's in her own habit. And she has something in her, it's switched off.
We made a lot of games, thanks to Lea, a lot of different exercises where we have to play animals or stuff where Sally have to go around me and stick at me, and I couldn't really touch her. It was hard to not immediately have this kind of warmness for her, or [to be] touching her. Lea was there to tell me, "It's not because you're not touching her that you don't love her. And it's a way of loving. So just accept it." And she was here to proclaim it. But it was really [through] games that we discovered each other.
What advice would you have for Joanne about the way she's hiding who she is or someone like Joanne?
Adèle Exarchopoulos: Maybe just to ask yourself the good questions, because questions are sometimes really more interesting than answers. You can lose a lot of time and I think you can lose a life if you are surrounded by people who don't tell you the truth. There is only [Joanne's] father who tells her the truth, right? It's hard to accept from a father speaking about desire or sex and stuff. Ask the good questions, and life with regrets must be harder than life where you're just taking risks.
You've built a really beautiful filmography on really complex dramas and characters. How would you compare working on this role to say blue is the warmest color, which obviously you have such great acclaim for that film?
Adèle Exarchopoulos: I never make comparisons, because to be really honest, "La Vie d'Adèle" ["Blue Is The Warmest Color"], it's not my past, like I know it's a part of my life, but I don't have a complex [because] people always take me into the past. I accept it and I know it's the game. But, with me and myself, I never compare to "La Vie d'Adèle," and to be really honest, I think I am at a moment in my life where I really realize "La Vie d'Adèle" was like the other person. I was scared that it would be just a poker game. And, now, having the chance to work with Lea or people where all the ingredients are here, like the script, the director and the character—Now I understood that it was there to prove myself that I really want to do this, and that I have the chance to be on projects that I would dream to be on. If I had to prove something to someone, it would be [to] me to say, "OK, 'La Vie d'Adèle' wasn't just a game. And now I'm doing really what I love, and I don't know where it's going to be, but from now I'm good."
What do you both want the audience to take away from the ending of this film?
Lea Mysius: What I like the audience to feel is that when they walk out of the theater, [they feel] that they experienced a very strong, even funny moment with strong emotions. But then I would love them [in] a few hours to ponder, to go back on it and have other emotion surfacing and meditations and thoughts for thoughts.
Adèle Exarchopoulos: What I like in this movie, and that's what I love in [Lea's first feature] "Ava," is that it's playful. Like you participated. It's more something growing up inside you after. I would be excited that people might think through stuff. But to be honest, it's the fact that you can take a direction in your life. And sometimes we don't ask ourselves, "But what if [I do] this?" Secondly, it's a movie where I'm going out and I'm asking myself questions, but not just like, "Who is this girl?" The most important [thing for people to take away] is just keep working and asking questions.
"The Five Devils" premiered as part of the Cannes Film Festival.