Pairing Jason Statham With A Baby Was A Big Bet For The Fast 8 Crew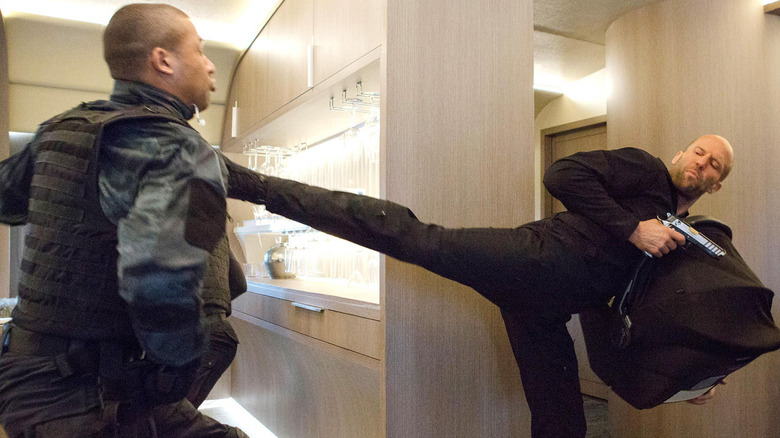 Universal Pictures
The "Fast & Furious" movies pride themselves on their absurdity, and 2017's "The Fate of the Furious" is no different. It's a film where, among other things, Vin Diesel's Dominic Toretto wins a race by driving a car backwards while it's on fire, the villain Cipher (Charlize Theron) hacks into the electronics systems of a fleet of cars and sends them raining down the side of a building, and the climax pits a bunch of vehicles against a nuclear submarine over a frozen body of water. And yet, there's an action scene in the third act that perhaps sillier than all that or anything else in the movie.
"The Fate of the Furious" sees Cipher — a white person with dreadlocks so you know she's pure evil — blackmail Dom into doing her bidding by kidnapping his ex-lover Elena (Elsa Pataky) and their infant son. Several twists and turns later, Cipher's had Elena killed, and Dom has recruited his former enemies, Deckard (Jason Statham) and Owen Shaw (Luke Evans), to sneak aboard Cipher's plane and rescue his child. In order to do that, however, Deckard has to punch, kick, and shoot his way through Cipher's crew, all while Dom's baby listens to "The Chipmunk Song (Christmas Don't Be Late)" on a pair of sound-canceling headphones, blissfully unaware of what's going on.
It is, as renowned film theorist André Bazin would've called it, "cinema."
All jokes aside, though, Statham's plane fight really is a wonderful scene in a movie full of amazingly outlandish moments. What makes it even better is that it was the baby playing Dom's son that posed the biggest challenge during filming.
Three men and a baby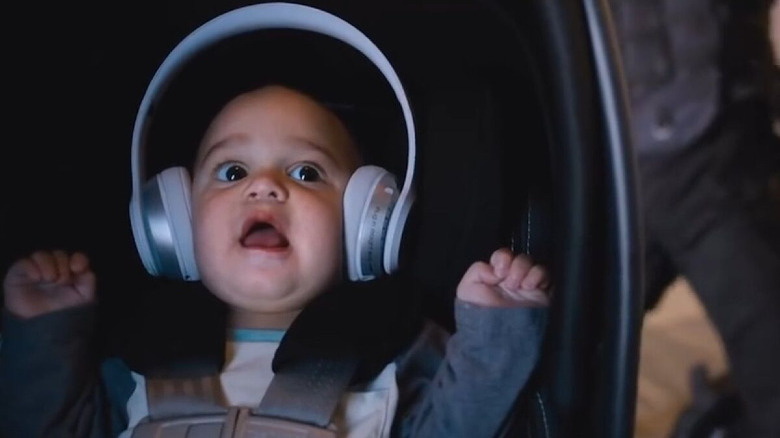 Universal Pictures
For all its laughable set pieces, the dramatic portions of "The Fate of the Furious" are presented with a straight face and conviction. Vin Diesel infamously suggested the film could end up in the Oscar race prior to its release, and you can see he's earnestly going for the gold in the scenes where Dom squares off against Cipher in a game of emotional chess. It's why director F. Gary Gray was nervous while planning out the scene where Deckard Shaw rescues Dom's baby with the movie's stunt coordinator, J.J. Perry.
Speaking to Entertainment Weekly in 2017, Gray said the trick was to make the sequence "satisfying" while also ensuring it "wouldn't challenge the tone of the movie too much." He added:
"There was a little more drama in 'Fast 8' than probably most of the 'Fast & Furious' franchise up until that point, and so I wanted to counter the drama with lighter moments and this sequence fit in that category. Then, the conversations not only with Jason, but with J.J. were, 'How do we survive the balancing act of making this feel fun, but also making sure it's not too reckless?' [Laughs]."
The other problem, of course, was the actual baby. "It's just the unknown. You can roll the cameras, but the baby's gonna do what the baby's gonna do, regardless of what you say," said Gray. In this regard, his biggest concern was the film's actors and stunt performers would pull off the scene perfectly, only for the baby to do something that messed up the best takes:
"We don't want to burn your actors and stuntmen out and burn a million takes on this acrobatic shootout. It's the unpredictability of what the baby would do."
Jason Statham, master comedian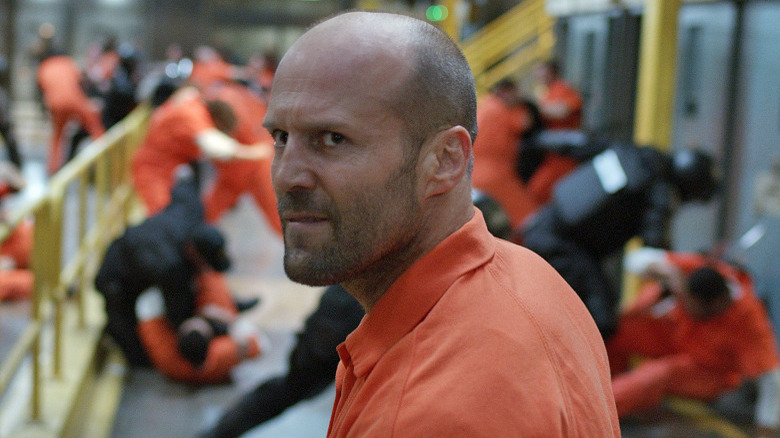 Universal Pictures
Part of the reason the plane scene in "The Fate of the Furious" works as well as it does is F. Gary Gray and his team went out of their way to ensure it was (as Gray put it) "unique and not like every other action scene in the film." Also key to this moment is Jason Statham, who's rarely gotten to tap into his abilities as a comedic performer, save for his roles in the "Crank" movies and Paul Feig's great action-comedy "Spy" (and, to a lesser degree, when he's trading barbs in a Guy Ritchie flick).
In all those cases, Statham proved he's just as capable when it comes to physical comedy and delivering a well-timed joke as he is when he's kicking butt and taking names. Those skills came in extra-handy during the baby rescue/fight in "The Fate of the Furious," as Gray noted:
"A lot of people consider him the kick-ass guy, but he's a really funny and witty guy. As much as he kicks ass, there's a lot there in terms of being able to bring a smile to people's faces. We had so many movie stars in that movie and every star needed their moment. And that was a great moment for him. We talk about that: How can we make it great? How can we make it better? We know what the words are on the page, but how can we push the envelope? And, again, I think he delivered, [the baby] delivered, and our stunt coordinator J.J. Perry definitely delivered."
One only hopes the upcoming "Fast X" and its sequel are able to clear the high bar set by this scene when they resolve Deckard Shaw's storyline while delivering the long-awaited #JusticeforHan.