The Certifiably Insane Vin Diesel Is Using 'Fast 8' And "Oscar" In The Same Sentence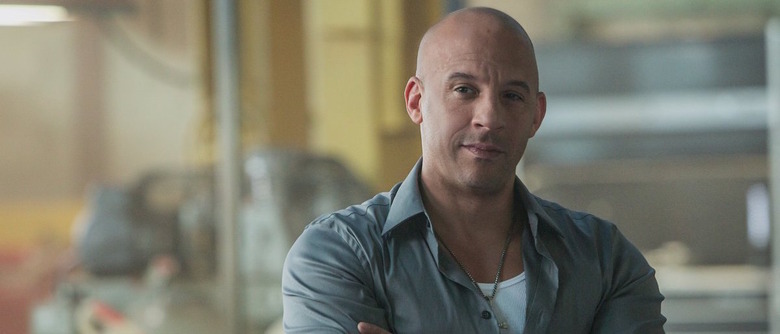 While making the promotional rounds for Furious 7 back in 2015, Vin Diesel started saying some pretty nutty stuff about how the latest entry in the Fast and Furious series deserved to get a Best Picture nomination at the Academy Awards. And while the seventh entry in this increasingly insane action series ended up being a critical success and a box office smash, it was left high and dry during awards season...which surely surprised no one except Diesel.
It's hard to tell how much of his Fast and Furious Oscar talk was just Diesel trying to snag some easy headlines or it was just him being an endearing and earnest oddball (his Facebook page certainly suggests the latter). But whatever the case, he's breaking out some similar chatter for the upcoming Fast 8.
Speaking to ET Online while promoting his new film, the actual Oscar contender (but recently critically panned) Billy Flynn's Longtime Halftime Walk, Diesel explained that Fast 8 sees director F. Gary Gray doing something completely different with the long running series. Something...Oscar-y? Okay, sure:
I think he went into making this movie with a little bit of a chip on his shoulder, going 'Oh, really? Ok. Now I'm going to take the biggest saga in the world, and I'm about to throw Oscars at you.' Wait till you see what he does!
Diesel implies that Gray being snubbed at the Academy Awards for his N.W.A. biopic Straight Outta Compton supplied the above-mentioned shoulder-chip, which meant that he jumped on to the eighth entry in the Fast and Furious series with something to prove. Forgive me if my raised eyebrow makes me look a little too skeptical about this movie's Oscar nominations, Mr. Diesel. I know it's still months away from release and perhaps this is the point where everyone should be just humoring you.
He went on to explain that Fast 8 is a different and darker film from the others and that Dominic Toretto will be dealing with the fallout from the previous film (which was also the swan song for series star Paul Walker, who died before filming was completed):
Fast 8 is different. It's very dark. My character is conflicted in a way that is really going to shock you. He's coming off of a lot of emotion from 7 and the loss that 7 represents.
I like Diesel and I love these goofy movies and I'm looking forward to seeing the Fast 8 trailer when it arrives on December 8. But consider this an intervention, Mr. Diesel: you've got to stop using Fast and Furious and "Oscar" in the same sentence. Just sit back and enjoy the fact that these movies only make billions of dollars at the box office.
Fast 8 opens on April 14, 2017.