In Appreciation Of Kristen Stewart's Sci-Fi Work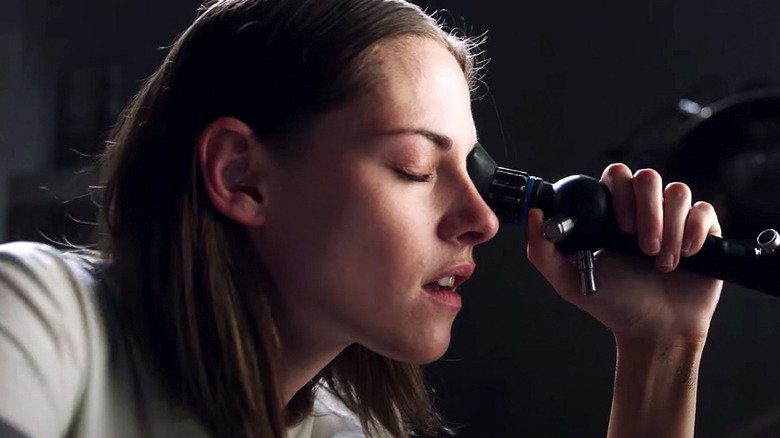 NEON
Perhaps you know Kristen Stewart best for her role as Bella Swan, the sensitive, lip-biting heroine of the mega-popular "Twilight Saga." Or perhaps you know her better for her career since the "Twilight" films ended, which has seen her evolve into a darling of the art house scene thanks to movies like "Clouds of Sils Maria," "Personal Shopper," and "Spencer." Really, whether you prefer to watch KStew romance vampires or wrestle with the pangs of her existence (or both, you're allowed to contain multitudes), her work offers something for everyone.
She's once again getting weird and wild with her role in this year's "Crimes of the Future." Stewart stars in the disquieting film as Timlin, a member of the National Organ Registry who looks into an avant-garde "performer" (portrayed by Viggo Mortensen) who can grow and remove new organs from his body thanks to an enigmatic condition known as "Accelerated Evolution Syndrome." It's a movie directed by David Cronenberg, so you just know it's going to be gnarly and thought-provoking in equal measure.
Indeed, "Crimes of the Future" marks the long-awaited return to the sci-fi body horror genre for Cronenberg, the filmmaker behind such twisted classics as the (literally) mind-blowing "Scanners" and the gooey 1986 version of "The Fly." But for Stewart, it's actually the latest entry in a series of interesting sci-fi projects she's appeared in over the years.
KStew in space (and beyond)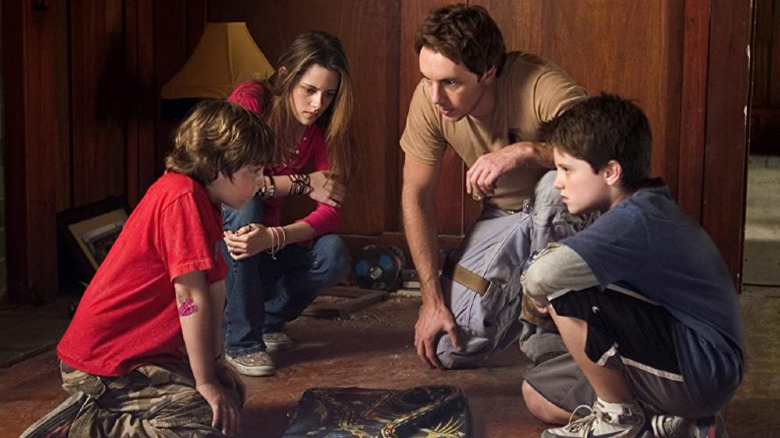 Sony Pictures Releasing
Kristen Stewart's sci-fi work dates back to 2005's "Zathura: A Space Adventure," a big screen take on the 2002 kids book by "The Polar Express" and "Jumanji" author Chris Van Allsburg. Stewart stars in the movie as the moody older teen sister to a pair of quarreling brothers who must try to stay alive while playing a magical sci-fi-themed board game that transports them and their home into outer space. Directed by Jon Favreau, the film flopped at the box office but was well received by critics. In his own review, Roger Ebert praised the movie's "breathless pulp absurdity," adding that it "works gloriously as space opera."
Stewart would go on to briefly appear in director Doug Liman's "Jumper," a 2008 sci-fi action-thriller in which Hayden Christensen stars as a lawbreaker whose ability to teleport makes him a target for a sinister religious society. However, she wouldn't play the lead in a sci-fi movie until 2015's "Equals." Directed by Drake Doremus, the film takes place in a future dystopian world where emotions have been removed and outlawed from human society (along with any color that isn't white, it seems). Stewart and Nicholas Hoult star as two people who regain the ability to feel thanks to a so-called "disease," leading them to fall in love at great peril to their lives.
Unlike "Zathura," "Equals" was both a critical and financial bust, barely making a blip at the box office. Still, the film and especially Stewart has its supporters, with Amy Nicholson writing for MTV:
"It's all a little slow and stoic and familiar ... [but] we thaw toward 'Equals' whenever Hoult scoops Stewart into his arms for a puppyish hug. Once again, she's the rope that keeps us connected to the director's dream."
Undersea creatures and future crimes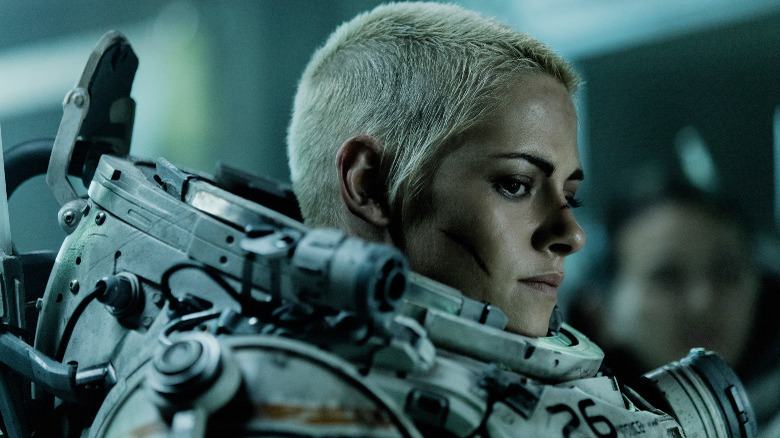 20th Century Studios
Out of all the sci-fi films Kristen Stewart has made so far, director William Eubank's "Underwater" is easily the most B-movie fun. The 2020 thriller features Stewart as a mechanical engineer at an underwater drilling and research station that is attacked by mysterious creatures after a huge earthquake kills most of the station's crew, leaving the survivors in a fight for their lives. While it's very much derivative of Ridley Scott's "Alien" and James Cameron's deep-sea sci-fi adventure "The Abyss," it's also a blast from start to finish, with Stewart giving off big Ellen Ripley vibes in her performance. And the less you know about the film's climactic action scene going in, the better.
Jump to the present, and reviews are now rolling in for "Crimes of the Future" after its global debut at the 2022 Cannes Film Festival. With a Fresh critics score on Rotten Tomatoes after the first 33 reviews, David Cronenberg's sci-fi drama is said to be a stylishly grim dive back into the realm of body horror, if also one that's less daring and provocative than his previous outings in the genre. Perhaps more intriguingly, Stewart's performance is described as being a far cry from her typically quiet, whispery acting style. As Justin Chang of the Los Angeles Times put it in his review:
"[Kristen] Stewart is hilariously cast against starry type [in 'Crimes of the Future']. Her Timlin is a squeaky-voiced pedant whose awkwardness masks personal and professional ambitions ..."
After 17 years of starring in sci-fi films, it appears Stewart is far from done changing things up in fascinating and unexpected ways. You can see her act against type for yourselves when "Crimes of the Future" opens in theaters on June 3, 2022.