Clips Round-Up: Joey Lauren Adams In Tankhouse, Paul Schrader-Penned There Are No Saints & More [Exclusive]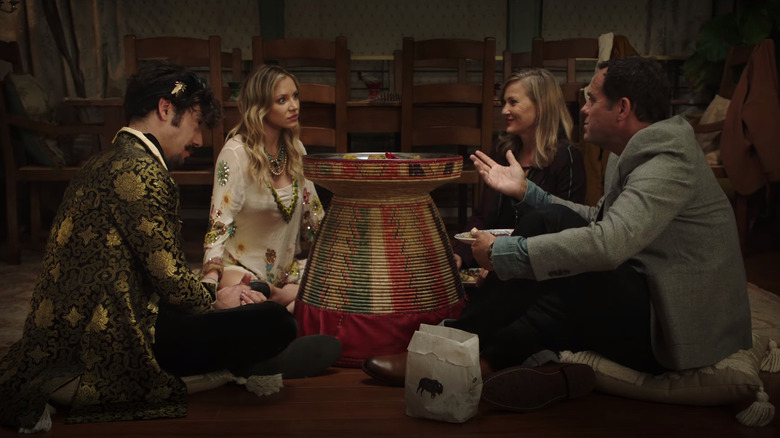 Vertical Entertainment
(Welcome to SlashClips, a series where we bring you exclusive clips from hot new Digital, Blu-ray and theatrical releases you won't see anywhere else!)
In this edition:
Tankhouse
There Are No Saints
Pros and Cons
Bleeding Audio
The Burning Sea
Cordelia
Tankhouse
First up, Vertical Entertainment has provided /Film with an exclusive clip from the comedy "Tankhouse," which is now in theaters. Written and directed by Noah Tomaschoff, the film stars comedy legends Christopher Lloyd and Richard Kind alongside Tara Holt and Stephen Friedrich. Our clip features Holt and Friedrich with Andy Buckley and the great Joey Lauren Adams.
Here is the official synopsis: 
After being blacklisted from the NYC theatre industry, two Upper East Side New Yorkers, Tucker and Sandrene, decide their only course of action is to move to Fargo, ND, and start a theatrical revolution.
There Are No Saints
Next up, Paramount Pictures and Saban Films have given us an exclusive clip from the upcoming Paul Schrader-penned action-thriller "There Are No Saints." Directed by Alfonso Pineda Ulloa, the film will be opening May 27, 2022 in theaters, digital, and on demand. The cast includes José María Yazpik, Ron Perlman, Shannyn Sossamon, Paz Vega, and Tim Roth.
Here is the official synopsis:
Looking to start a new life, a former hitman nicknamed The Jesuit (José María Yazpik) is unable to escape the sins of his past. With enemies on both sides of the law, he has nowhere to turn when his only son is kidnapped by a ruthless cartel boss (Ron Perlman). He'll stop at nothing to save his boy in this gritty action-thriller from the writer of "Taxi Driver."
Pros and Cons Season 2
Topic has provided us with an exclusive clip from the second season of the Danish thriller/heist series "Pros and Cons." Streaming exclusively on Topic beginning May 26, 2022, the series is created by Mikkel Serup ("The Killing") and Thor Bjørn Krebs, and stars Lars Ranthe, Lene Maria Christensen, Kasper Løfvall Stensbirk, and Emma B. Marott.
Here is the official synopsis:
Nina and Erik's return to the con is now a full-on family affair. The thrill of the chase and the promise of millions keep them on their toes as they take on the international beauty industry. After talking about a final grand con, Erik and Nina begin to figure out how high the stakes have risen. Esther and Patrick flee Bolivia to seek assistance, but this leaves everyone feeling a bit leery. Disagreements occur between the teenagers and adults on how the plan will play out. Multiple obstacles arise with themes of identity exposure, suspicious intentions, and family secrets. With many moving parts, Season 2 begs the question: will this family pull it off?
Bleeding Audio
Cranked Up Films (Good Deed Entertainment's genre label) has provided us with an exclusive clip from "Bleeding Audio," a documentary about rock band The Matches, which will drop on digital and video on demand this Friday, May 27, 2022. In this particular clip, the band and their industry peers discuss some "war stories" of being on tour.
Here is the official synopsis:
Told through the eyes of quirky, charming, and humble bandmates Shawn Harris, Jon Devoto, Matt Whalen, and Justin San Souci, "Bleeding Audio" details the rollercoaster career of the Oakland band, The Matches. Like many acts in the early 2000s, they were set to be the next "big thing." After building a tight-knit music community in California's Bay Area, The Matches broke out and became an internationally touring act. An eclectic group of artistic weirdos, the band grew a thriving cult fanbase worldwide, yet remained virtually penniless. Their story overlaps with the drastic changes of the music industry since the takeover of the digital revolution, from declining sales to excessive touring, to illegal downloading and streaming. With interviews from some of music's biggest names like Mark Hoppus (Blink 182), Nick Hexum (311) and Tom Higgenson (Plain White T's), Bay Area filmmaker Chelsea Christer's uplifting tribute tracks The Matches' history and recent reunion to dig deeper into the challenges the average musician faces in the digital age of the industry and the community that keeps artists alive.
The Burning Sea
Next up is an exclusive clip from "The Burning Sea," the latest disaster epic from the team behind "The Quake" and "The Wave" which arrives on on 4K, Blu-ray, DVD and digital today. From Norwegian director John Andreas Andersen, the film looks at what happens when an oil platform dramatically goes down on the Norwegian coast.
Here is the official synopsis:
In 1969, the Norwegian government announced their discovery of one of the world's largest oil fields in the neighboring North Sea, which launched a prosperous period of offshore drilling. 50 years later, when a crack opens on the ocean floor causing a rig to collapse, it becomes clear there would be environmental consequences for these actions. When a team of researchers, including submarine operator Sofia (Kristine Kujath Thorp, "Ninja Baby"), rushes in to search for the missing and assess the cause of the damage, they discover that this is just the start of a possible apocalyptic catastrophe. As rigs are evacuated, Sofia's loving companion Stian (Henrik Bjelland, "Now It's Dark") becomes trapped in the depths of the sea, and she must attempt one last live saving measure by diving in to rescue him.
Cordelia
Our final exclusive clip for this week comes from Screen Media's release of "Cordelia," a dark and unsettling psychological thriller set in London about loneliness, paranoia, and survivor guilt. The film is now playing in theaters and on-demand. 
Here is the official synopsis:
Cordelia (Antonia Campbell-Hughes), a young woman living in London, meets her mysterious and alluring neighbor Frank (Johnny Flynn) for the first time but quickly becomes suspicious of his motives. With her twin sister away for the weekend, Cordelia is left alone and overcome with paranoia. She begins to unravel and sink back into past traumas the more that Frank tries to charm his way into her life, becoming a danger to herself and others.