Come Drink With Me Was A Major Step For The Martial Arts Genre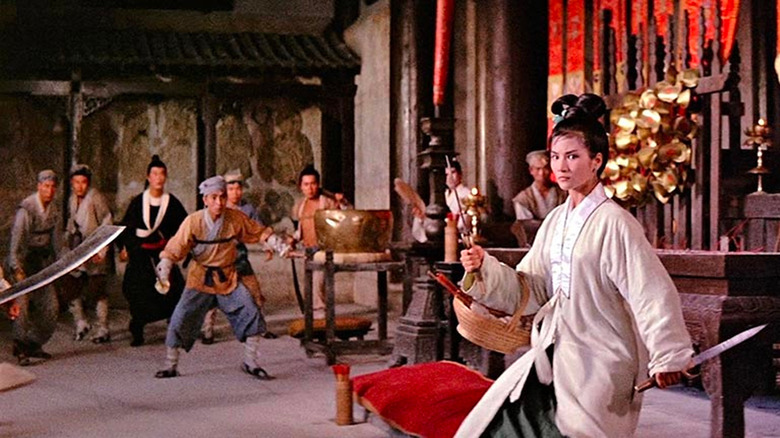 Dragon Dynasty
Before the Shaw Brothers burst onto the Hong Kong film scene with "Come Drink With Me" in 1966, there wasn't a lot of leeway through which martial arts could be portrayed on film. The most popular films in the genre up to that point leaned heavily on melodrama and the superhuman feats of their heroes, often with the help of special effects or animation. They were certainly fun, but they lacked the gravity to carry the genre into the modern age.
All that changed, however, with "Come Drink With Me." The film, which marked the legendary King Hu's second time in the director's chair, was both a celebration and a subversion of everything that the genre had become synonymous with. Hu chose to focus more on the capabilities of his cast, swapping visual effects for tactile stunts and fight choreography. He also dialed the textbook melodrama way down, focusing instead on the inner lives of his protagonists.
Hu's holistic approach to the martial arts film completely modernized the genre — but he couldn't do it alone. "Come Drink With Me" wouldn't be what it is without the help of its star, martial arts legend Cheng Pei-Pei, who helped King Hu achieve a new sense of style, as well as a new sense of rhythm.
The remix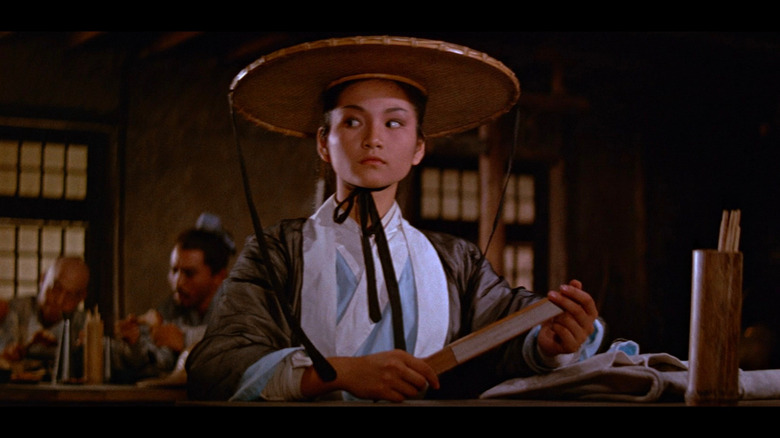 Dragon Dynasty
Cheng Pei-Pei might be one of the most well-known stars of martial arts cinema, but before she appeared in "Come Drink With Me," she was first an accomplished dancer. Cheng studied ballet from the ripe age of eight, and it's a skill that served her well when she first began her career as an actor. "I've always felt dance and martial arts are very similar," Cheng told Film Freak Central in 2002. "There's something that's complementary about the disciplines."
Cheng's background in dance caught the eye of the Shaw Brothers in the '60s, and helped her make a "natural" transition from musicals to martial arts films. It also made her a perfect match for King Hu, who grew up with a deep love for Chinese opera. When the director first shared his ideas for "Come Drink With Me," it was clear that he wanted to avoid the traditions of the wuxia genre wherever possible — but especially when it came to pacing.
Before "Come Drink With Me," martial arts films — and the combat therein — adhered to a specific, even rhythm. "Martial arts were portrayed as boom-boom-boom-boom," Cheng explained. But "Come Drink With Me" itself would move in a completely different direction. "King Hu wanted b-boom ... b-boom b-boom — an arrhythmic pattern of gathering strength, contemplative pause, then sudden action."
Love live the King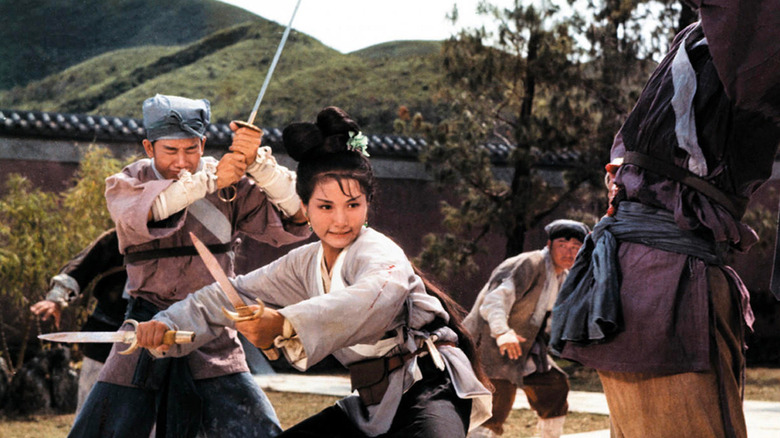 Dragon Dynasty
Hu wanted "Come Drink With Me" to flow more like jazz than a rigidly-structured ballet. Fortunately, Cheng saw the merits in approaching the film from that perspective too. It helped that Cheng had studied jazz and modern dance in addition to ballet. "I was able to not be so rigid in my training," Cheng said. "I approached it from the perspective not of purity of the form — dance or martial art — but of trying to understand how one informed the other."
Cheng and her castmates also had "absolute faith" in her director and his vision. Hu "knew exactly what he wanted" when it came to the film, from fight choreography and stunts, even down to the final edit — and Cheng believes that this helped the film to really stand out. "He used each of the 24 frames to convey some action or philosophy that might not be visible to the naked eye, but was important for the feeling of the film," Cheng recalled. "We were bolstered by the strength of his vision."
Cheng wouldn't have the chance to work with King Hu again for many years, but "Come Drink With Me" left an indelible mark on each of their careers. The film was one of the highest grossing films under the Shaw Brothers banner. It catapulted Cheng to stardom in Hong Kong — she's appeared in over 100 projects since — and though King Hu's more popular films have since eclipsed "Come Drink With Me," it's still a landmark addition to the martial arts genre.