Al Pacino Had A Confusing First Encounter With Jared Leto's House Of Gucci Character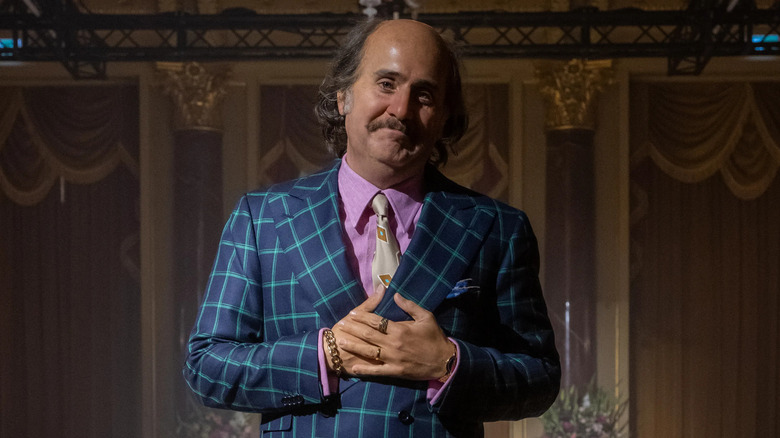 Metro-Goldwyn-Mayer
In Ridley Scott's "House of Gucci," Jared Leto plays Paolo Gucci, the son of Aldo Gucci and grandson of the Italian fashion house's founder Guccio Gucci. The actor's portrayal was met with polarizing reviews — some thought his character to be excellent comic relief; others thought his role came across as a joke that didn't deliver any laughs. While there are many things to say about Leto's accent, tonality, and acting in the film, if there's one thing all of us can agree on, it is that the actor is unrecognizable.
Surprisingly, Leto wasn't incognito to only the moviegoing audience. When the "Morbius" star was getting in costume on set, he had to wear multiple layers of heavy makeup and prosthetics to look the part. His transformation into the one-time chief designer of Gucci made him unidentifiable even to his costar Al Pacino, who played his onscreen father, Aldo Gucci.
Al Pacino thought Jared Leto was a 'weirdo'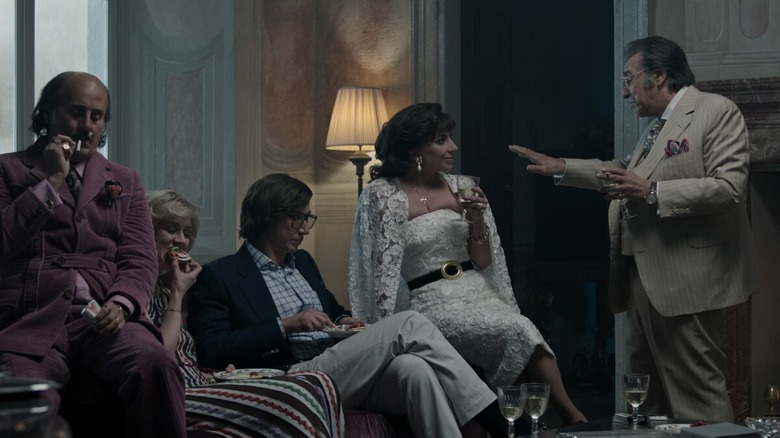 Metro-Goldwyn-Mayer
"House of Gucci" unveils the shocking secrets of the Gucci family, unraveling the life and love stories of Patrizia Reggiani (Lady Gaga) and Maurizio Gucci (Adam Driver) before their marriage turned sour and things took a deadly turn. Reggiani was convicted of hiring a hitman to murder her husband and served 18 years in prison for the crime. Al Pacino and Jared Leto play the other chief members of the Gucci family. Pacino's character helped expand the fashion house, while Leto's character is known to have helped design the luxury brand's logo.
Speaking to Sirius XM ahead of the film's release, Leto talked about his first day on set and how Pacino didn't recognize him during their first encounter. According to Leto, the veteran actor brushed him off, thinking him to be a fan who wanted to chitchat with him:
"On the first day of set [Pacino] didn't know it was me, and I came up to him and said, you know, 'Hello.' And he just kind of brushed me off. He thought I was just an Italian weirdo that was trying to talk to him or get his autograph or something."
Pacino didn't realize how Leto was hiding underneath all the makeup — and refused to acknowledge him until the crew told him about it.
Al Pacino was astounded at the big reveal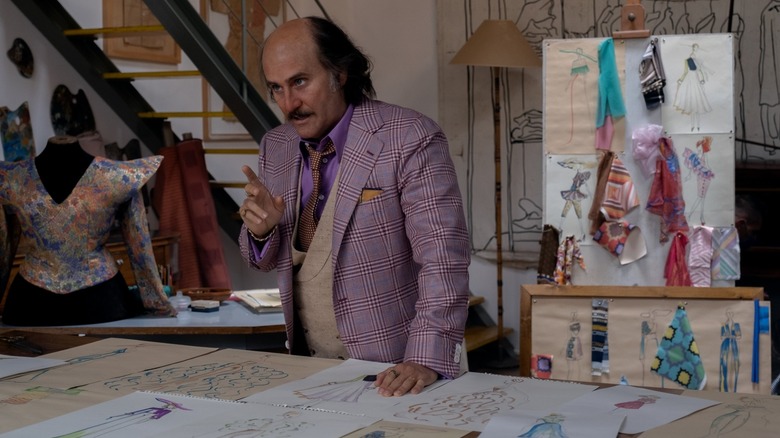 Metro-Goldwyn-Mayer
Jared Leto tried hard to remind Al Pacino of who he was — he went up to "The Godfather" actor a few times before someone exposed him. The actor was shocked — he could hardly believe it was Leto, which was reassuring for the "Suicide Squad" actor. He thought if Al Pacino was convinced of his character, the audience would be too:
"... I come up to him two or three times, and someone finally whispered, 'That's Paulo, that's Jared under there,' and he was like, 'My son! My son!' and he fell to the floor. He was just astounded, and having that happen with one of the world's greatest actors was a beautiful gift. It gave me the faith that, you know what, if Al can believe in this guy, then we all can."
Pacino's disbelief made Leto confident in his character — so much so that the actor is interested in doing a prequel to the film. While the film focuses on Patrizia's unbridled obsession with "More money! More clothes!" and how manipulating her family members becomes second nature to her, the strained father-son relationship between Aldo and Paulo is one of the key storylines in "House of Gucci." And Leto said he wants to continue exploring that with his scene partner:
"And it was, really, it was a boost of confidence early on, and I really just adored working with him, I'd love to do a prequel to 'The House Of Gucci.'"
So far, we don't have an update on Leto's dream for a "House of Gucci" prequel, but perhaps it could be intriguing to watch more of their controversial relationship.