Vengeance Trailer: B.J. Novak Is A Long Way From The Office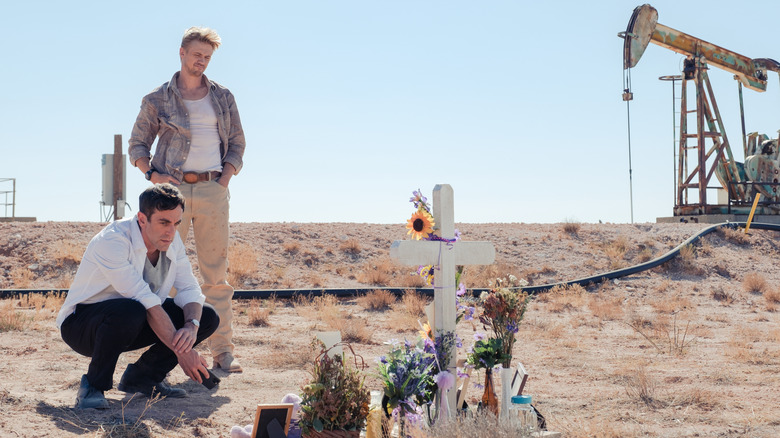 Focus Features
We may receive a commission on purchases made from links.
"The Office" star and List App creator B.J. Novak has been MIA from the acting racket for quite some time (his last film appearance was 2016's "The Founder"). He's been plenty busy as a writer of books and inadvertent pitchman for a variety of unlicensed products, however, and it looks like he's combined some of these interests to make his filmmaking debut with "Vengeance."
Novak stars in this black comedy as a journalist/podcaster who travels from his New York City home base to investigate the West Texas death of a girl he used to hook up with. Upon his arrival, he discovers that his ex-lover greatly exaggerated the seriousness of their relationship to her family. They know everything about him, and he knows precious little about them. Worse, the girl's brother (Boyd Holbrook) is convinced she was murdered, and wants Novak to join him on a quest for revenge. As presented in the film's first trailer, it's quite the predicament.
Vengeance trailer
This looks pretty ambitious for a fish-out-of-water neo-noir. Novak uses Holbrook's evidence-free assertion that his sister was murdered to frame his podcast series as an examination of American paranoia and magical thinking. A seemingly sane local (Ashton Kutcher) gives the journalist pointers on how to ingratiate himself with the area's eccentrics, but the more he gets to know them, the more he starts to buy into their conspiracy theories. Maybe this girl really was murdered. As Novak continues to dig, he finds himself becoming part of the story — to the extent that someone blows up his Prius.
The trailer makes it plain that this material going to be played very broadly. Holbrook is hamming it all the way up as his generation's Steve Zahn, while Dove Cameron gives off air-headed femme fatale vibes as the victim's little sister (who takes her coffee in the mouth). The always-excellent J. Smith Cameron (as the victim's mother) and Issa Rae (playing Novak's editor) round out this impressive ensemble.
A midrange comedy in a sea of event movies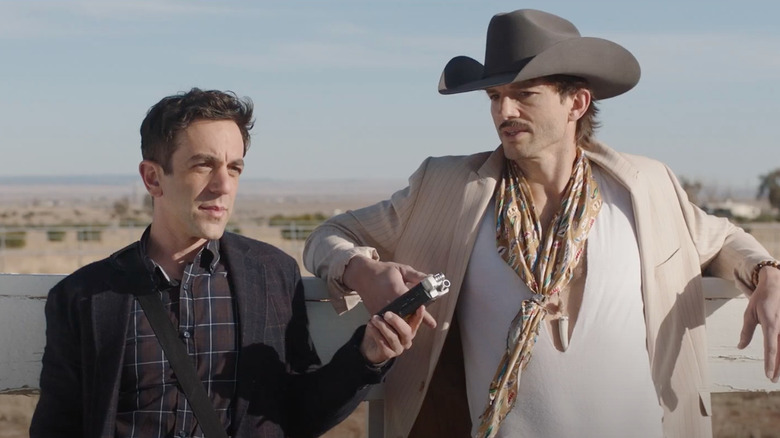 Focus Features
It's nice to see Focus Features and Blumhouse teaming up on a non-horror theatrical release. Too often nowadays, a modest, offbeat production like this will head straight to streaming rather than try its luck at the multiplex. Regardless of the film's ultimate quality, hopefully it'll perform well enough to encourage other studios to offer moviegoers a greater range of options in the theatrical window. It can't be all pre-existing IP all the time? I mean, it can, but what fun is that?
"Vengeance" begins seeking payback in theaters on July 29, 2022.
VENGEANCE, the directorial debut from writer and star B.J. Novak ("The Office"), is a darkly comic thriller about Ben Manalowitz, a journalist and podcaster who travels from New York City to West Texas to investigate the death of a girl he was hooking up with. With an ensemble cast that includes Issa Rae, Ashton Kutcher, Boyd Holbrook, J. Smith-Cameron, and Dove Cameron.