10 Horror TV Shows You Can Watch With The Whole Family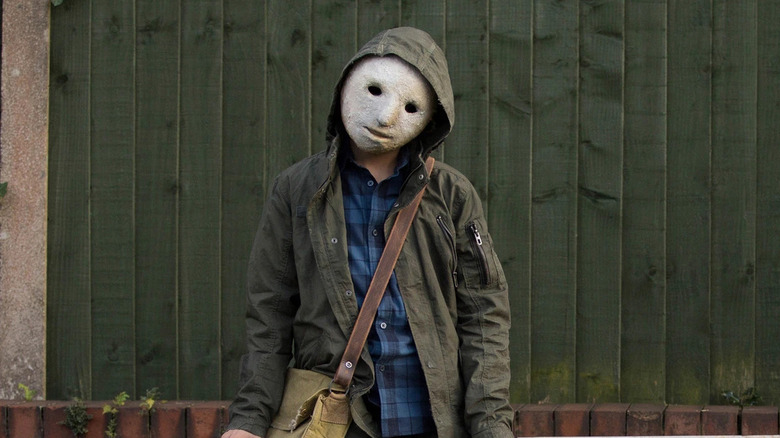 Netflix
In a world that often appears to be teeming with very real horrors, many of us are still drawn to fantastical frights in our entertainment. Although it may not make sense to some, many people find comfort and excitement in horror, and children are no exception. For horror fans of all ages, there's just something about the thrill of being intentionally creeped out by the media we willfully consume. That said, keeping things age appropriate for younger horror fans can be a tricky task when you're part of a multigenerational family of fright-lovers. Luckily, we've got you covered with an extensive list of tv shows designed to terrify teens and tots alike.
Goosebumps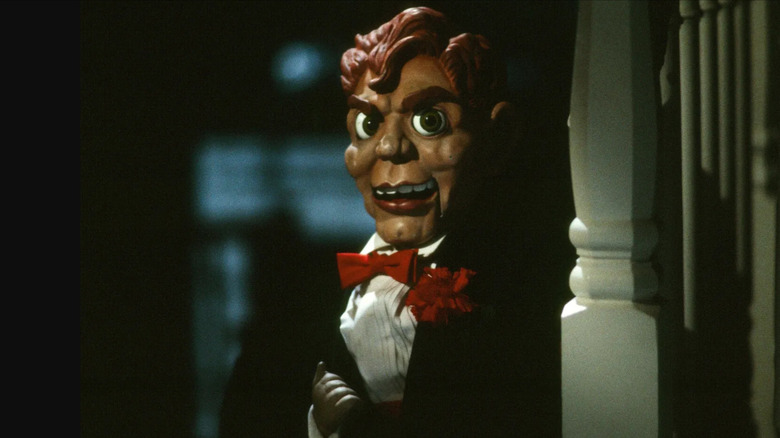 Netflix
Series Run: 1995 – 1998
Format: Live-action
It's only right to kick off this list with the tv series based on beloved children's horror author R. L. Stine's hit novel series "Goosebumps." Like its written counterpart, the "Goosebumps" TV series is a horror anthology created specifically for kids, featuring young protagonists thrown into a variety of spooky scenarios ranging from silly to legitimately scary. While the special effects haven't exactly aged to perfection, the series still holds up well after all these years — so much so that my own pre-teen offspring was able to enjoy the series, forcing me to rewatch it in its entirety several times over and relive my childhood fear of Slappy the Dummy in the process.
For most of us who grew up reading and watching "Goosebumps," Slappy was easily the most frightening of all the monsters. I like to think of him as a more kid-friendly version of Chucky from the "Child's Play" universe. They're both creepy dolls who target children as potential allies in their twisted games, and neither one is above committing acts of physical and psychological violence against anyone who stands in their way. The main difference is that Slappy isn't a serial killer. In fact, he hasn't killed anyone, which I guess is the main "kid-friendly" aspect of this otherwise terrifying monster. Of course, the "Goosebumps" TV series adapts many of Stine's books, not just the "Night of the Living Dummy" titles. For instance, "Welcome to the Dead House," "Stay Out of the Basement" and "Say Cheese and Die" are among some of the stories given the live-action treatment throughout the 74 episodes of the series. In addition to the extensive number of episodes in the original series, there's a live-action reboot in the works that will eventually be streaming on Disney+. Until then, the original series is currently streaming on Netflix.
Creeped Out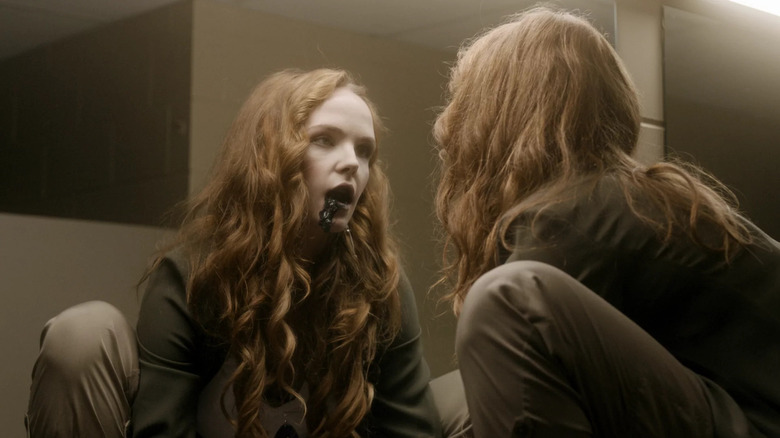 Netflix
Series Run: 2017 – Present
Format: Live-action
If "Goosebumps" had a higher production value and was set in somewhat more modern times, it might be "Creeped Out." Maybe it isn't fair to compare the two, but "Goosebumps" is my point of reference for everything, and I say it with the utmost admiration and respect because it's where my personal love affair with horror began. "Creeped Out" is another children's horror anthology series on Netflix, and it's a damn good one. Each episode features a different cast of characters getting into supernatural mischief, with one character serving as a unifying element: The Curious. The Curious is a masked, child-sized figure who just shows up places and whistles a creepy little tune to signify that some scary sh*t is about to pop off. He doesn't actually interact with the other characters, and basically just serves as a neutral herald of horror for the series.
One thing that "Creeped Out" does really well is striking a balance between providing good "lessons" in each episode without coming off as overly preachy or forced. The things the characters learn in the midst of battling homicidal animatronic Santa Claus displays or traveling through alternate dimensions via hotel elevators — like not tormenting the younger children you babysit, cutting your overworked mom some slack, and being wary of individuals who try to incite drama to manipulate your emotions — feel natural and realistic as opposed to having that "very special episode" vibe. One of my personal favorite episodes is "One More Minute," which covers the topics of addiction and social isolation with its depiction of a teenage protagonist who can't seem to stop playing video games. The episode doesn't condemn gaming (thankfully), but rather uses his dependency on it to show the pitfalls of escapism gone awry. His life quite literally passes him by, and it's actually pretty sad in a way that kids can still stomach and process. "Creeped Out" has some genuinely scary moments and episodes, but manages to keep things from teetering over the edge into something that could easily be considered "too much" for younger viewers. Both seasons are currently streaming on Netflix, and they're well worth the watch.
Are You Afraid of the Dark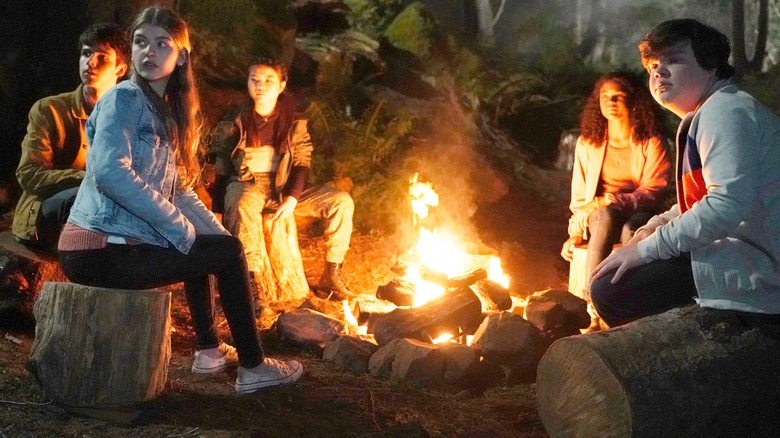 Nickelodeon
Series Run: 1992 – 1996; 1999 – 2000; 2019 – present
Format: Live-action
"Are You Afraid of the Dark" is another live-action horror anthology that I grew up watching, and one that was recently given a very successful and enjoyable reboot. In the original series, a group of youngsters who call themselves "The Midnight Society" meets up in the woods to tell each other scary stories around a campfire, and the viewers see these tales acted out in each episode. "Are You Afraid of the Dark" actually precedes "Goosebumps" as a live-action children's horror show, and in my opinion, it has some much darker moments as well. Some of the episodes kind of fall flat where the scares and storytelling are concerned, while others contain some pretty horrific scenarios. One of the more upsetting episodes is "The Tale of the Lonely Ghost" in which a non-verbal girl is subject to such cruelty from her peers that they lock her in an abandoned house, causing her to die of starvation. Years later, another girl is dared to stay in the room where she died in order to be accepted by her own peers. The ending is happy enough, but the story definitely did not make for a silly or lighthearted affair. There's also "The Tale Of The Dark Music," in which a young boy eventually sacrifices his abused neighborhood bully to a demonic entity who lives in his basement. I'm all for standing up to bullies, and I'm not above an old-fashioned schoolyard tussle, but I draw the line at supernatural homicide. Of course, none of this is to say that I think "Are You Afraid of the Dark" is a bad show, or that it isn't for kids. I enjoyed it as a child, and I enjoy watching the original series with my own kid now.
In addition to the original series, "Are You Afraid of the Dark" has been given a fantastic modern makeover that managed to captivate me, my mom, and my daughter — that's three generations' worth of appeal! While the original series featured a different spooky story each episode, the most recent reboot follows more of an "American Horror Story" format in that each new season has a different cast of characters with an overarching narrative.
Victor and Valentino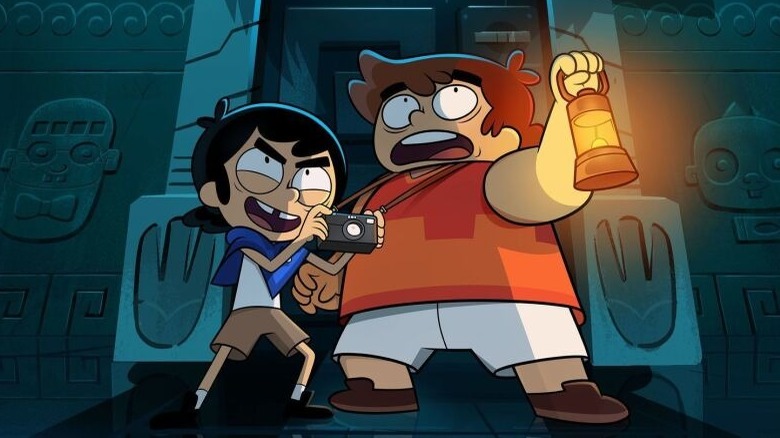 Cartoon Network
Series Run: 1995 – 1998
Format: Cartoon
"Victor and Valentino" is another show on this list that my daughter graciously introduced me to, and I'm glad she did. I've always had a keen interest in all sorts of mythology across the various cultures that make up the world we live in, so the fact that the Cartoon Network series was created to shine a "spotlight on Aztec, Olmec, and Maya mythologies" is one of the major highlights for me. The show features the fantastical adventures of its titular characters, two Latin-American brothers named Victor and Valentino during a summer spent with their sweet grandmother in a fictional town appropriately named Monte Macabre. Victor and Valentino are polar opposites in terms of personality and interests, but even though they often bump heads, they always manage to resolve their differences to save each other — and occasionally the entire town — from vampires, ghosts, and evil magicians with political aspirations.
One of my favorite things about the series is that death and the concept of the afterlife are handled in ways that realistically reflect the unique cultural beliefs, practices, and attitudes toward such topics throughout Latin and South America. I also just really like talking skeletons and Latino folklore, which the show has in abundance. "Victor and Valentino" airs on Cartoon Network and is also available to stream on Hulu and HBO Max.
Secrets of Sulphur Springs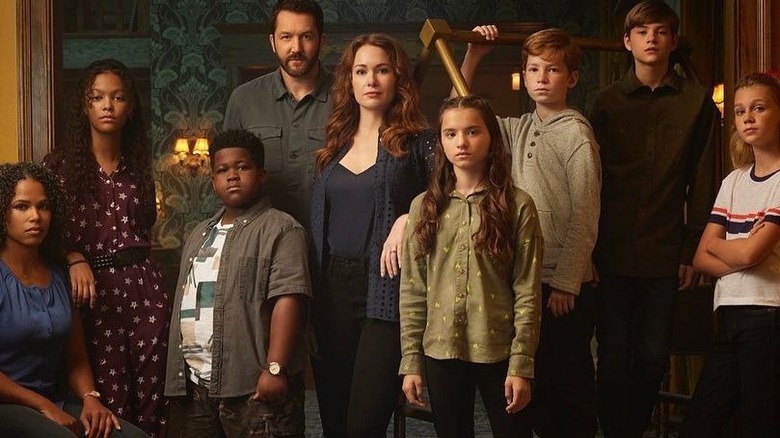 Disney
Series Run: 2021 – Present
Format: Live-action
Another fantastic, non-anthology entry on this list of children's horror shows is relative newcomer "Secrets of Sulphur Springs." Here, Disney does horror and suspense quite well set against the backdrop of a fictional Louisiana town. The main characters of the series are two thrill-seeking middle schoolers named Griffin and Harper. Together, they form a strong friendship as they investigate the mysteries surrounding the infamous Tremont Hotel that Griffin's family has moved into. Along the way, they uncover surprising facts about their own parents, travel through time, and deal with the typical trials and tribulations of growing up. "Sulphur Springs" is not only well written and engaging, but it surprised me with its willingness to confront topics like racism, familial turmoil, and jealousy in a way that didn't feel watered down or cowardly. If I had to compare the show to another, less family-friendly horror/suspense series, I'd have to pick "Stranger Things." Viewers of all ages will likely find themselves being pulled into the story and relating to the charming cast of characters. Seasons 1 and 2 of "Secrets of Sulphur Springs" are currently streaming on Disney+, and a third season is currently in development.
Courage the Cowardly Dog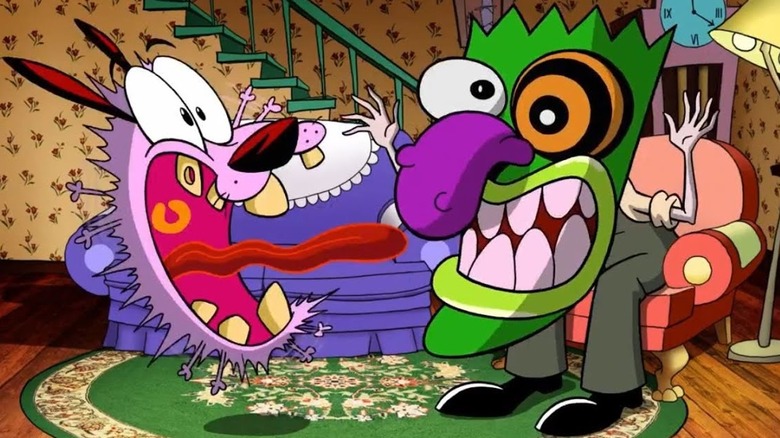 Cartoon Network
Series Run: 1996 – 2002
Format: Cartoon
Virtually every horror-loving, cartoon-consuming millennial has fond memories of watching surreal children's horror series "Courage the Cowardly Dog" on Cartoon Network, myself included. Courage, a dog who isn't nearly as cowardly as the title would suggest, given his ability to routinely protect his elderly family from otherwordly harm, literally lives in the middle of Nowhere with his beloved owner Muriel, and her mean husband Eustace. As the intro of the show states, "creepy stuff happens in Nowhere," like the silliness of a lovelorn goose deity trying to kidnap Muriel in the episode "The Gods Must Be Goosey," and the legitimately horrific haunting of Courage and the gang brought about Eustace's greed in the episode "King Ramses Curse." The mixed bag of absurdity and fright that "Courage" offers audiences of all ages is nothing short of delightful, and I can't recommend it enough for anyone who hasn't experienced the joy of watching it yet — or anyone looking to take a fun trip down memory lane. "Courage the Cowardly Dog" is currently streaming on HBO Max.
The Owl House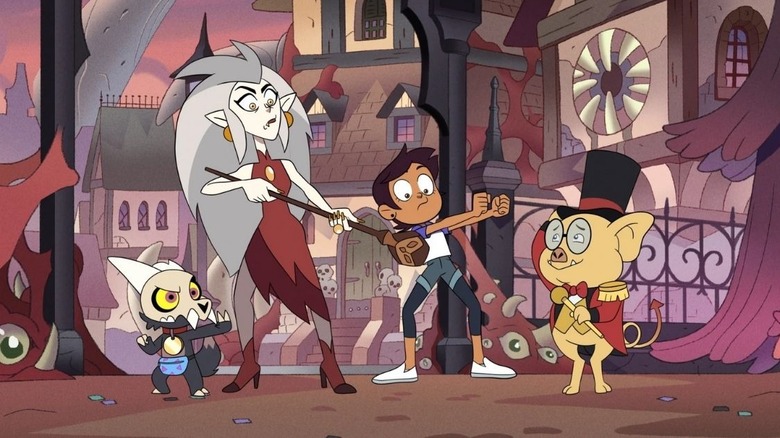 Disney
Series Run: 2020 – Present
Format: Cartoon
While the Disney animated series "The Owl House" isn't traditional horror in that it's not designed to scare viewers, there are more than enough horror and dark fantasy elements within the show to justify its inclusion here. The protagonist of the series is a young girl named Luz Noceda. After Luz wanders away from the boring summer camp her mother sent her to and stumbles upon a portal to a magical world that happens to be populated by witches, demons, and other supernatural entities. Throughout the series, Luz struggles with deceiving her mother even as she has a fun time learning to wield magic under the tutelage of a quirky and powerful sorceress named Eda (also known as "The Owl Lady" thanks to the curse she suffers from that sometimes causes her to turn into a monstrous owl-like creature).
"The Owl House" is one of my daughter's favorite shows, and with good reason. It's fun, entertaining, and filled with interesting lore. It's obvious that a lot of care and detail went into the worldbuilding of the series, and it's a nice bonus that it features a well-written protagonist of color. The show has, unfortunately, been the subject of some controversy due to the innocent, age-appropriate romance that blossoms between the teenage Luz and one of her peers, another girl named Amity. Parents of LGBTQ+ children — and parents of any children, really — will find that the show offers meaningful representation that opens the door for important conversations and acceptance. It's also just a really fun show with a great story, so there's no reason not to give it a try by watching it over on Disney+.
So Weird
Series Run: 1999 – 2001
Format: Live-action
Unlike some of the other live-action shows on the list, Disney's "So Weird" is not a horror anthology series, so viewers get to stick with the same cast of characters throughout. Instead, it's more like a family-friendly version of "The X-Files" that served as a notably dark deviation from the comparably lighter tone and subject matter of other Disney Channel original series of the era. "So Weird" follows the paranormal adventures of a young teenager named Fiona, or "Fi" as she likes to be called. Fi lives a nomadic lifestyle on a tour bus with her brother and her mom, who happens to be a rockstar. Throughout their travels, Fi's desire to understand the death of her father and her obsession with the supernatural lead to a series of very strange events that include alien encounters, ghostly possession, and messages from beyond the grave. Fi's desire to investigate the world of the unknown is driven by the mysterious death of her father, and her desire to contact him in the afterlife.
"So Weird" definitely has some heavy subject matter when it comes to grief and family ties, but this doesn't negate the fact that it's a show designed for younger viewers. While the first two seasons focus on Fi, the third season shifts to another character and is noticeably more lighthearted than its predecessors. All three seasons of "So Weird" are available to watch on Disney+.
Scooby-Doo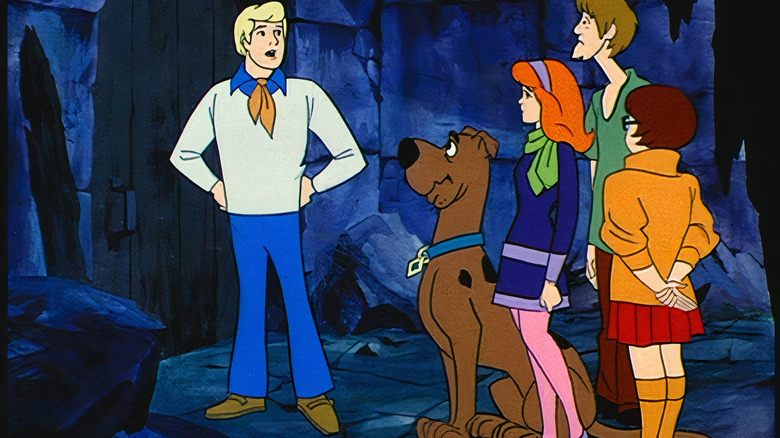 HBO Max
Series Run: Since time immemorial with no signs of slowing down. Ever.
Format: Cartoon
As someone who had multiple "Scooby-Doo"-themed birthday parties growing up and remains obsessed with Mystery Inc. to this very day, of course I'm going to include Scoobert Doobert and his pals on this list. Sure, the original gag is that many of the longstanding franchise's villains are just "some guy in a mask," but there's still plenty to love in pretty much every iteration of the show since the original cartoon debuted in 1969. In addition to the many cartoon makeovers and live-action movies given to the series over the years, there have been more than a few instances of genuine supernatural activity in the "Scooby-Doo" universe. For kids who aren't satisfied with the seemingly supernatural hijinx being explained away at the end of each episode, there's the 1998 animated movie "Scooby-Doo on Zombie Island," which contains real ghosts and ghouls and has one of the best songs ever created for a children's movie featuring a talking dog: "It's Terror Time Again." Go ahead and give it a listen. Try to tell me it doesn't slap. You can't. You just can't. You'd be lying.
In addition to spawning the creation of catchy tunes, there's a reason Scooby-Doo has managed to maintain relevance and a dedicated fanbase for decades: It's just good, wholesome fun. It's formulaic, sure, but it's a great formula that lends itself to longevity and creativity without sacrificing the essence of the series: just some kids (or teenagers, or young adults, depending on which version of the series you're watching) and a talking dog, eating snacks and solving mysteries while being best buddies. If that sounds like a good time, you can watch the original "Scooby-Doo, Where Are You?" series and several of the animated movies on HBO Max.