The Best Kids' Animation Of 2021
By escaping into worlds brought to life through hand-drawn or computer-generated animation, kids can find solace, lessons, and entertainment during precarious times. Animated films and television shows certainly helped maintain the young ones' sanity throughout the still-ongoing COVID-19 pandemic. It's easy to see why, too: From the highly regarded to the woefully overlooked, quite a few animated gems blessed the year of 2021.
In our opinion, these were the best animated productions that came out for kids this year. However, bear in mind that, in this case, "kids" is an inclusive term, not an exclusive one. After all, every fully-grown adult still has an inner child who should appreciate the playful innocence and the envelope-pushing maturity of today's animations. In fact, it's not until adulthood that many viewers can truly appreciate these productions' ambitions and their respect for children's intelligence. 
From adventures in far-off galaxies to those that unfold in magical worlds, across the World Wide Web, or in ordinary schools, these series and feature-length movies embrace the themes of longing, love, unity, and mortality. No matter your age, they really are some of the year's best.
Infinity Train
All aboard "Infinity Train," where human souls are spirited away to a mysterious train and must solve escape room-like puzzles and interact with the otherworldly denizens to find their way back home. Over the course of three seasons (or "books"), creator Owen Dennis dreamed up a foundation for rich stories about how both the human passengers and the train's permanent residents learn to grow up, either by playing by the train's cryptic rules or by defying them.
Book 4, which was released in 2021, focuses on two Asian Canadians, Min-Gi and Ryan, who embark on a trek of self-discovery decades before the events of Book 1. If they ever want to repair their fractured friendship, the reserved Min-Gi has to open up about his insecurities, and the reckless Ryan must learn how to lend a listening ear. Despite the challenge of meeting the high bar set by the tragic Book 3, Book 4 is still a compelling ride that offers closure to some of the passengers. Sadly, this might be the last stop for "Infinity Train"; despite plans for future seasons, the show was canceled.
Where to Watch: HBO Max
City of Ghosts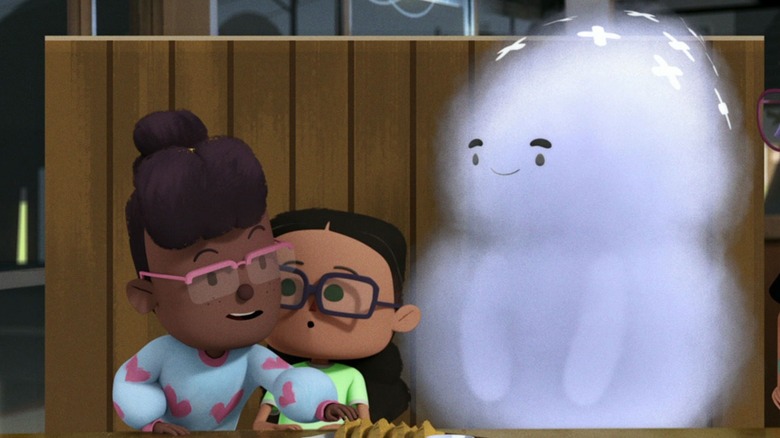 Netflix
Ghosts are usually spooky or scary, but "City of Ghosts" urges its young audience to see them differently. In "City of Ghosts," the spirits are the voices of the unheard, and they each have a story to tell. As such, the kid-run Ghost Club does some sleuthing to find and interview the ghosts, who live in diverse locations like Koreatown, a Japanese-American restaurant, a marionette theater, and a skateboard park.
With kid-friendly visuals that recreate the city of Los Angeles (or Tovaangar, as acknowledged by the show and the region's Indigenous Tongva residents), this mockumentary inventively pushes the envelope for edutainment. With real-life activists and artists speaking through their fictionalized avatars, "City of Ghosts" teaches both kids and adults to seek out the stories of the people who came before and those who are still with them, encouraging viewers to take notice of strangers and wonder what insights they have into the lands they call home.
Where to Watch: Netflix
My Hero Academia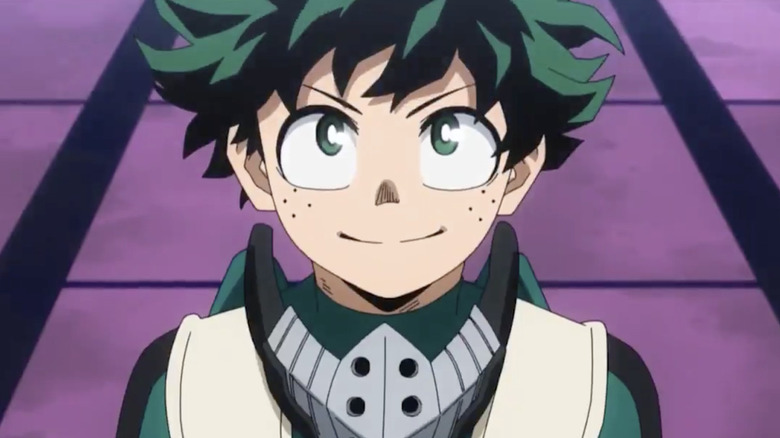 Funimation
The grimier undercurrents of superhero society have been present since season 1 of "My Hero Academia," the ultra-popular adaptation of Kōhei Horikoshi's shonen manga, but it wasn't until 2021's season 5 that the show really clawed deeper into the darker implications of its worldbuilding. In doing so, "My Hero Academia" strayed far from the headspace of its optimistic main character, Deku, who is secretly carrying the legacy and superpowers of his mentor, All Might.
In a deconstruction of redemption arcs, the superhero Endeavor is on the path to atonement after causing long-lasting psychological damage to his son, Shoto Todoroki, and the rest of his family. It's an arc that's honest about the cognitive dissonance of living under the care of a loved one who has caused massive personal harm. Healing, though not impossible, is far from view. In the meantime, an extremist group known as the Meta Liberation Army threatens to upend the show's superpowered society, especially when the League of Villains becomes entangled in its cause.
Where to Watch: Funimation, Hulu
Demon Slayer: Mugen Train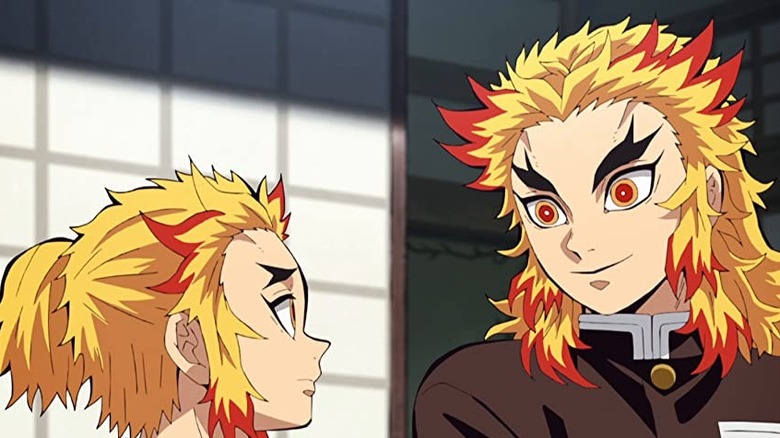 Funimation
"Demon Slayer: Mugen Train" is exactly what fans expect from "Demon Slayer." No more, no less. In this bridge between season 1 and season 2, which was released as both a feature-length film and an expanded seven-episode arc of the anime, Tanjiro, his demon sister Nezuko, and his fellow Demon Slayers ride into dangerous territory aboard the Mugen Train. First, they must endure a dangerous dreamscape. Next, a showdown against a deadly demon has tragic consequences. 
"Demon Slayer" has a way with swordplay, especially the images of primal elements that accompany the combat, as if it's celebrating humanity's potential to conquer the supernatural. Even if you're new to "Demon Slayer," "Mugen Train" has enough mystical intrigue that you should get lost in its world and its vibrant and eccentric cast.
Where to Watch: The movie and the seven-episode version are available on Funimation. The expanded edition can also be found on Hulu.
Centuarworld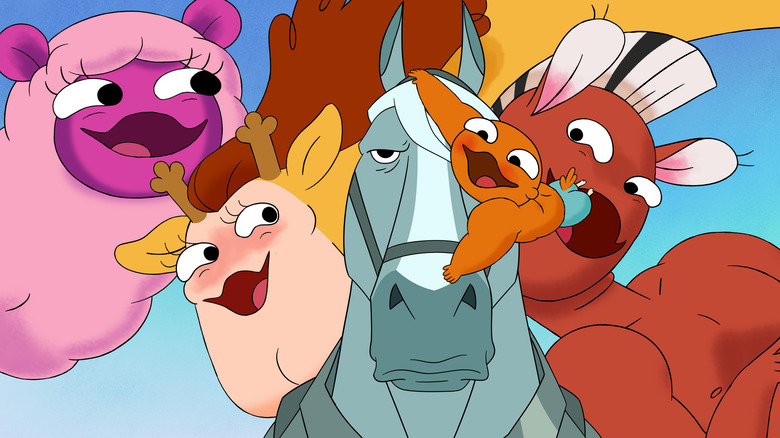 Netflix
Have you ever watched artists make goofy shapes out of chewed up wads of gum? That's the vibe of Megan Nicole Dong's eccentric "Centaurworld." The series follows a loyal steed named Horse, voiced by Kimiko Glenn, who is split from her human, Rider, and is spirited away to the colorful Centuarworld. There, the grumpy warhorse links up with the eccentric whatever-taurs, most of whom have quirky superpowers, and learns to channel her own burgeoning abilities as she tries to reunite with Rider in the war-torn lands.
If you've seen "Adventure Time" or the more serious "Over the Garden Wall," you know the drill: Wide-eyed whimsy and wackiness is the prelude to much darker material. Even when "Centaurworld" tests your patience with garish designs and 180-degree turns from kookiness into darkness, the ways it toys with structure and tropes are always bold and creative. Over 18 episodes and a feature-length finale, "Centaurworld" owes its musicality to Dong and composer Toby Chu, as well as a cast with powerful singing voices.
Where to Watch: Netflix
Belle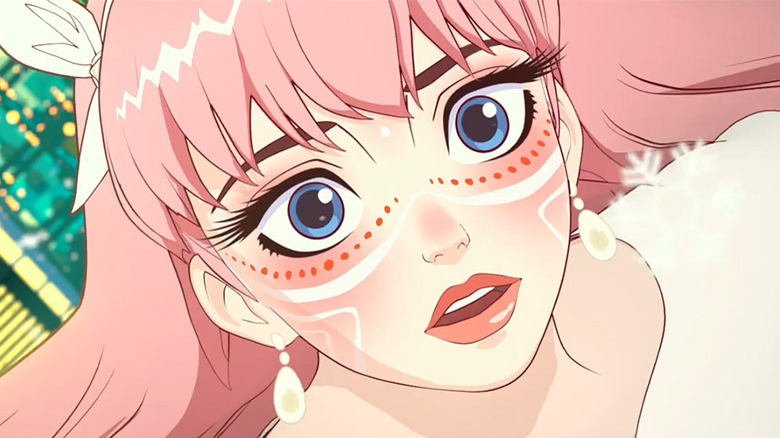 GKIDS
Under the direction of anime maestro Mamoru Hosoda, "Belle" is miles away from a modernized mimicry of Disney's "Beauty and the Beast," although elements of the classic tale are clearly discernible. Suzu, a 17-year-old with low self-esteem, has lost both her singing voice and her mother in a traumatic incident. However, she is eventually reeled into the digital world of U, where she begins performing again as the anonymous "Belle." As Belle becomes a virtual sensation, Suzu must deal with the surge of online fame. That's how she encounters the "Beast," a bestial brute who's wanted for picking fights with other netizens. While the rest of the internet reviles the Beast, Suzu sees a lost soul, and offers him solace through song.
The highly embellished oceanic world of U is stunning — studio Cartoon Saloon, best known for "Wolfwalkers," contributes some luscious backgrounds — while the soaring 11 o'clock number "A Million Miles Away" will light the hearts of many.
Where to Watch: Released in Japan on July 16, 2021; worldwide theatrical release coming on January 14, 2022.
Star Wars: Visions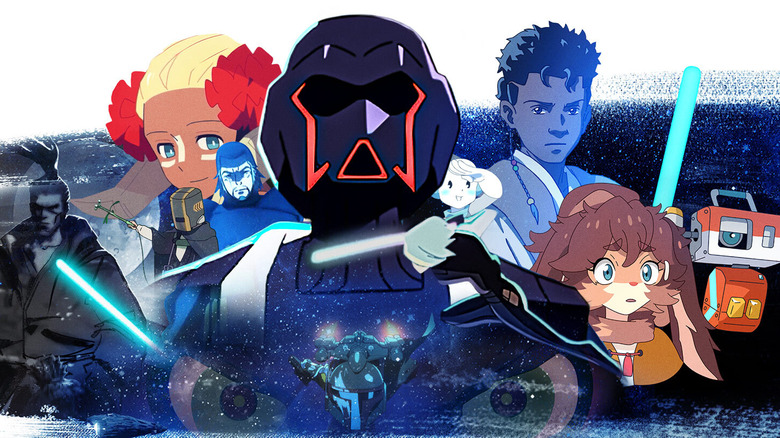 Disney
Star Wars has deep roots in Japanese cinema. The Force is inspired by Buddhist philosophy, and the Jedi are famously modeled after the samurai. This becomes clearer than ever before in the "Star Wars: Visions" anthology, where Japan-based animation studios reimagined George Lucas' seminal creation through nine anime shorts that explore the Force and Kyber crystals. The shorts range from silly to serious, each with a unique art style and story, dispensing morals about nature, spirituality, broken and reunited families, the relationships between students and teachers, and fate.
By giving the creative reins to artists with distinct and singular voices, "Visions" rejects the constraints of canon in order to bring new dimensions to the Star Wars universe and the expansiveness of the Force. Perhaps most importantly, "Visions" also eschews the sequel trilogy's glorification of bloodlines, insisting that the Force flows strongly in everyone, including adopted children and even droids.
Where to Watch: Disney+
Adventure Time Distant Lands: Together Again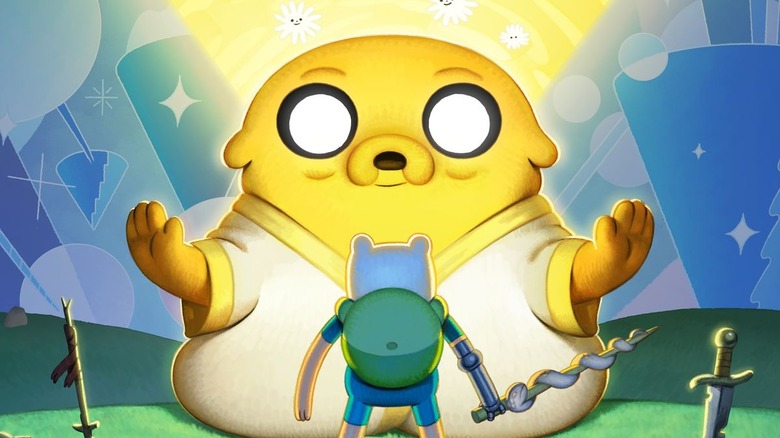 HBO Max
Your heroes are going to die someday. It's inevitable, and markedly pronounced in Pendleton Ward's boundlessly weird and philosophical "Adventure Time." Following the "Adventure Time" finale, "Together Again" reunites Finn the Human and Jake the Dog in the afterlife. While evading New Death, Finn shimmies through several different tiers of the Dead Worlds, meeting characters both old and new as he searches for Jake. After careening through the psychedelic afterworld, Finn learns that he has to let go, although, ultimately, his bond with Jake transcends time and death.
Time flies by in this 40-minute special, which ends like an average 11-minute "Adventure Time" episode, with rib-cracking gags and existential ruminations. Arguably, "Adventure Time" didn't need to cap off Finn and Jake's story (the ambiguity of the series finale was remarkably audacious for its time), but their epilogue provides us with both relief and tears.
Where to Watch: HBO Max
Kid Cosmic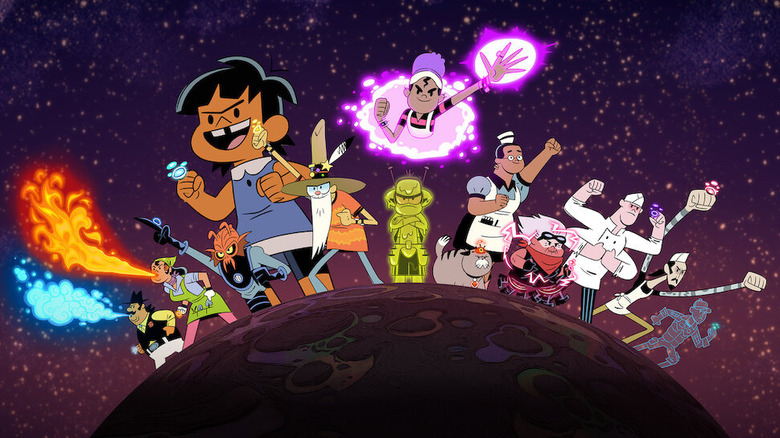 Netflix
From the team that brought you the screwball classic "Wander Over Yonder," "Kid Cosmic" is a saga about a kid who discovers magical stones from space that give their owners superpowers. With eye-popping animation and diverse hues, Craig McCracken's crack at a serialized story about a rag-tag group of heroes shakes up the superheroes-in-training formula by giving its cast tradable MacGuffins that manifest powers unique ways when they're wielded by different members of the show's eccentric cast.
With a retro, comic-inspired visual style and pinball-quick physicality, season 1 of "Kid Cosmic" saw the Local Heroes deal with intergalactic threats in a barren desert. Season 2 transports the cast to space, where they must stop a malevolent, planet-destroying force by finding even more power stones. Now the de facto leader of the team, teenage waitress Jo must also confront her insecurities, her overconfidence, and her rocky relationship with her mother.
Where to Watch: Netflix
The Owl House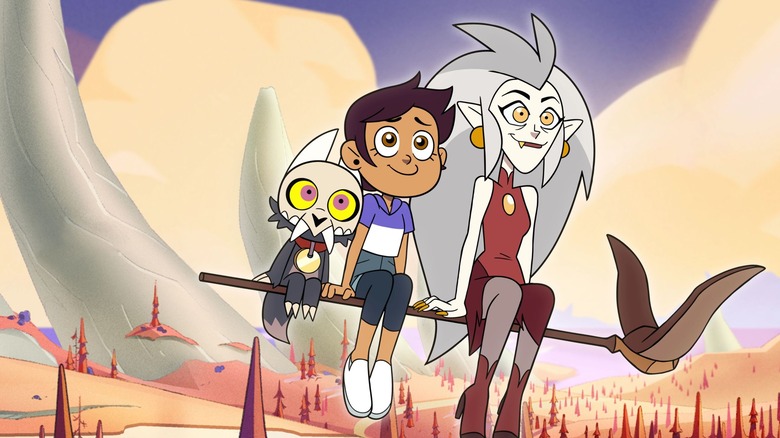 Disney
Dana Terrace's "Owl House" is the beguiling spiritual successor to Disney's "Gravity Falls." In it, the 14-year-old Luz Noceda slips into a magical world and ends up training under the washed-up but wise witch Eda, who harbors a curse of her own. Praised for tackling neurodivergence and disability metaphors with grace, "The Owl House" wields a powerful sense of comedy and imagination, particularly in the mid-season finale, which whisks Luz into a pocket dimension where she can communicate both with her new friends and her family back home
Luz is an ode to peculiar youths who embrace their creativity, whether or not society approves. Buoyant in its magic, "The Owl House" is also unapologetically queer, featuring one of Disney's first bisexual protagonists, who has a serious romance with a girl — her former archnemesis, no less!
Where to Watch: Disney+
Raya and the Last Dragon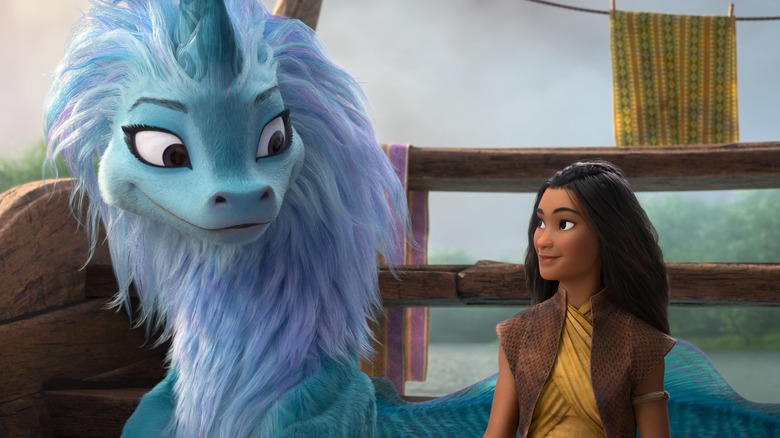 Disney
The kingdoms of Kumandra, a Southeast Asia-inspired fantasy land, have been fractured by war. In order to fix it, Raya, a wandering princess reeling after her kingdom faced disaster, must gather the shards of a magical gem. In so doing, she awakens the kind-hearted dragon Sisu, who teaches her about optimism and trust. At first, Raya thinks the key to saving her world is conquering the leaders of rival kingdoms, but she eventually realizes that actual salvation lies in linking up with the land's downtrodden.
Penned by "She Kills Monsters" playwright Qui Nguyen and "Crazy Rich Asians" screenwriter Adele Lim, "Raya and the Last Dragon" is an exuberant animated fantasy film. Boasting a vibrant ensemble that includes Kelly Marie Tran and plenty of sword-gnashing action, you'll find yourself lost in the world of "Raya and the Last Dragon" as much as you will in its message about harmony.
Where to Watch: Disney+
Maya and the Three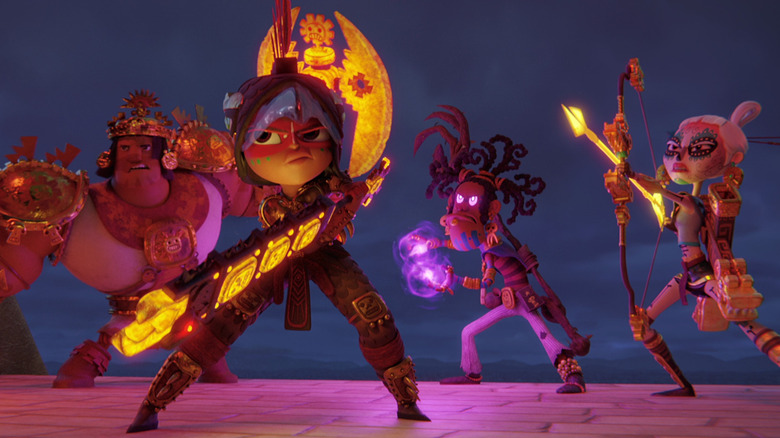 Netflix
From the brains that forged "The Book of Life," "Maya and the Three" is Jorge R. Gutiérrez's uncompromising Mesoamerican-based adventure, presented to younglings with elaborate embroidered characters and architecture. Like its predecessor, it has a myth-spinning panache that other American cartoons simply can't match. Princess Maya wants to be a warrior, while her royal mother is priming her to become a diplomat. However, all normalcy is disrupted when Maya discovers that she has a divine ancestry. Following a prophecy, Maya rallies three allies, each one outcast by their respective kingdoms, to cross the gates of the Underworld and face off with gods who could be either allies or foes. 
"Maya and the Three" pushes the envelope for young viewers, trusting that they'll be able to follow it's dense story. It's also one of the few kid-oriented cartoons that explores the emotional consequences of marital infidelity. A limited series that unfolds over 9 episodes, "Maya" feels like a miracle with all the time allotted to each quest. Early episodes open with the origin stories of Maya's respective allies, enriching its world with their motives, growth, and shaky legacies. In fact, that's largely the point: "Maya and the Three" is all about staying true to your legacy, even while challenging it.
Where to Watch: Netflix
Encanto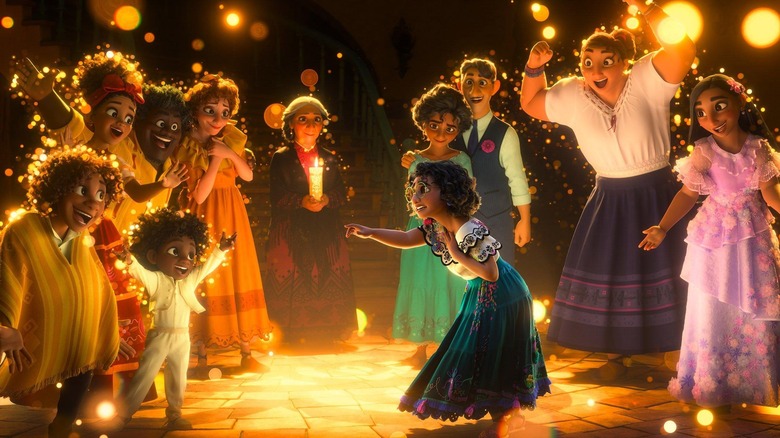 Disney
This enchanted Disney musical dives into the intergenerational trauma of a magical family in Colombia. As the only power-free member of the Madrigal clan, Mirabel pines for the approval of her abuela, who expects her family to keep up strong appearances. Then, their grand magical house begins cracking. It's up to Mirabel to solve the problem, which may be related to the one relative who no one in her family likes to talk about.
Accompanied by musical numbers from Lin-Manuel Miranda, "Encanto" examines a fractured family like no other animated Disney feature. What makes "Encanto" distinct is that it's an adventure film in which the heroine doesn't technically leave her domicile, instead having to repair her family's bonds by investigating their secrets in a contained space. Whenever "Encanto" meditates on family history, it submerges its viewers into an elegiac melancholy of grief and homesickness.
Where to Watch: Disney+
Words Bubble Up Like Soda Pop
An under-the-radar gem, "Words Bubble Up Like Soda Pop" shines a spotlight on the coming-of-age of two adolescents. One is a poet who can't read his stanzas aloud, and the other is a popular livestreamer who hides her buck teeth behind a mask. When the two have their meet-cute, their budding romance takes them through the full trials of youth as they encourage each other to emerge from their shells. Gazes are the key to this movie's charm, from the way a kid shudders at a compliment, overwhelmed by the sudden rush of validation, to the intensity of a teenage girl scrutinizing her own reflection.
The gushing colors look like they're about to escape their outlines, yet retain their enthralling shapes. "Words Bubble Up Like Soda Pop" perfectly captures the anxieties of growing teens who experiment with their own languages, and who yearn for more ways to connect.
Where to Watch: Netflix
Luca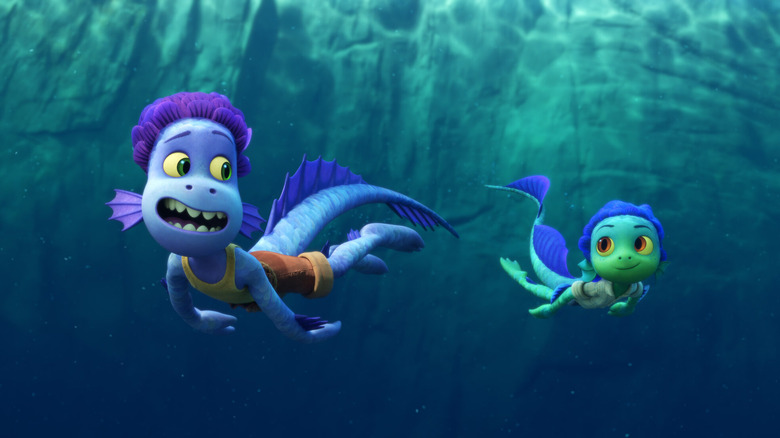 Disney
Pixar has been experimenting with different styles since "Soul." Just look at "Luca," which has bulbous human designs that echo Aardman's productions more than films like "Ratatouille" or "Brave." A coming-of-age tale set in Italy, the film follows two young sea monsters, Luca and Alberto, who disguise themselves as humans to have fun in the surface city of Portorosso, where they scarf down pasta, lust after an expensive scooter, and partake in a grueling relay race.
Operating as an allegory about prejudice and assimilation, the sun-soaked "Luca" is a slice-of-life film in the same vein as "Kiki's Delivery Service." Accompanied by an energetic soundtrack and scored sumptuously by Dan Romer, "Luca" will delight you with its playful sense of mischief, its childlike imagination, and the bittersweetness of growing up.
Where to Watch: Disney+
The Mitchells vs. the Machines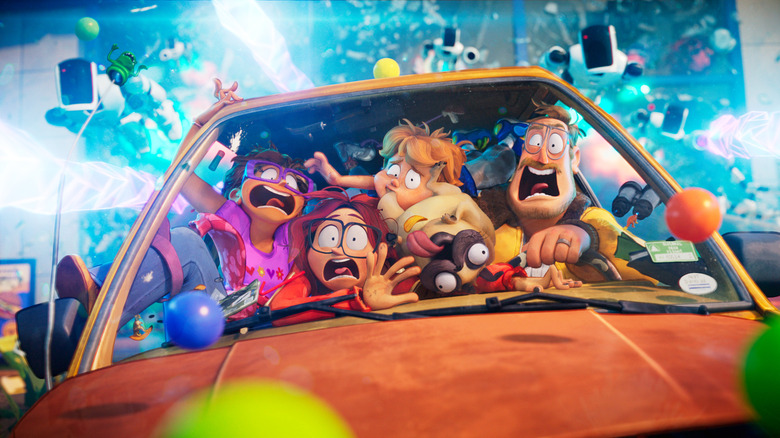 Netflix
A firecracker of a directorial feature debut by "Gravity Falls" animator Mike Rianda, "The Mitchells vs. the Machines" is like watching a fireball whiz through a pinball machine. The biggest weirdo in a family full of them, Katie, is dragged onto a family road trip on her way to her college. However, little does her family know that they're about to become humanity's last hope against a robot apocalypse led by a rogue A.I.
Employing a visual design that resembles "Spider-Man: Into the Spider-Verse," this sugar-rush of a romp is unlike most other CGI productions. Pop-up textual and scribbled 2D cartoons add extra sight gags, many of which lampoon social media. The funniest visual? A parent who uses an Instagram filter to make her family appear more beautiful. "The Mitchell vs. the Machines" is also a hilarious ode to the communicative and memetic wonders of technology and the social media age — and their pitfalls when they're overused. You may feel like this rollercoaster of a movie needs brakes, but its velocity is actually a plus.
Where to Watch: Netflix
Lamya's Poem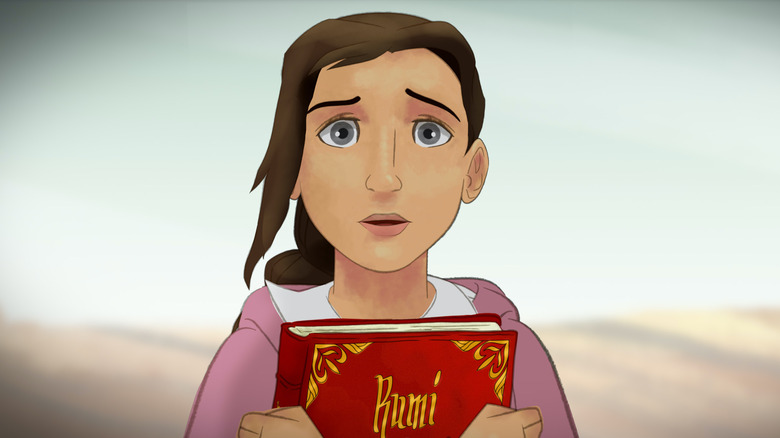 WestEnd Films
Released at the 2021 Annecy International Animation Film Festival, Alex Kronemer's "Lamya's Poem" is an ambitious feature about the transcendent nature of storytelling and spirituality. Forced to flee her war-torn home of Aleppo, Lamya and her mother become refugees. Along their perilous path, Lamya clings to a book of stories that may allow her to survive. Meanwhile, in her dreams, Lamya finds kinship with the 13th-century Persian poet Rumi, a boy who also lost his home. Finally, in the ancient past, Rumi's maturation propels him to compose the very words that may save Lamya's life. 
With an illustrious storybook visage, Lamya's perilous trek educates children on the price of war, the trauma of separation, the dangers of Islamophobia, and the importance of storytelling, while also celebrating the resilience of refugees.
Where to Watch: N/A
Arlo the Alligator Boy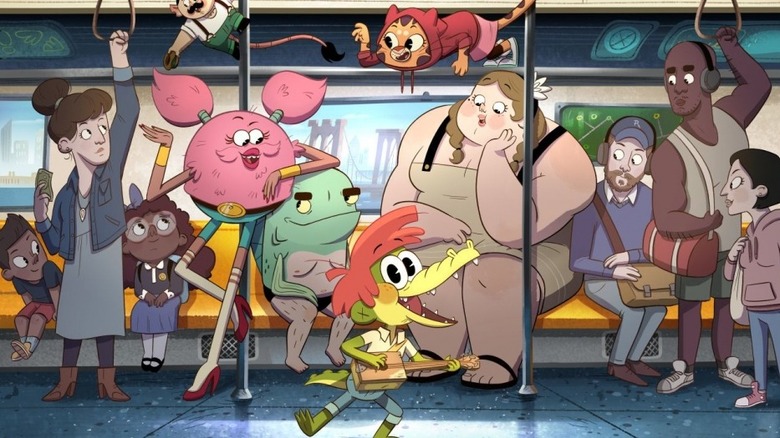 Netflix
Ryan Crego's directorial debut "Arlo the Alligator Boy" is a wholesome-as-pie musical about Arlo Beauregard, an orphan who is half-human and half-alligator. With a tune in his wishful heart, he leaves his comfort zone and ventures to the Big Apple to find his biological father, where he and a rag-tag group of weirdos form an inseparable found family. 
Although it was made for a streaming service, "Arlo" feels like a theatrical feature, with luminous musical numbers that rival the grandeur of Disney's films while championing self-acceptance ("Follow" is a particular highlight). If you like this world, you're also able to spend more there: The film is followed by the "I Heart Arlo" series, which is also available on Netflix.
Where to Watch: Netflix
Ranking of Kings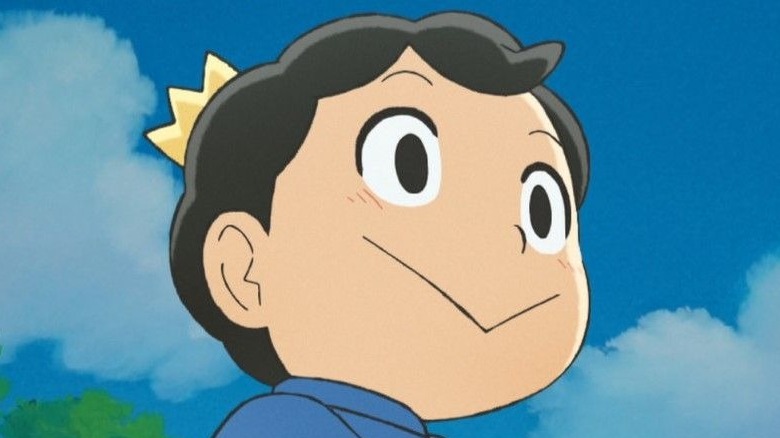 Funimation
Strength isn't found in muscle mass or might, but in the heart. That is the message of "Ranking of Kings," a sumptuous storybook production by Wit Studio. Unfortunately, the deaf Prince Bojji has been shunted aside in favor of more tangible representations of strength. Leaving his kingdom after the passing of his kingly father, Bojji goes on a quest to become stronger — whatever that means in this merciless fairytale world. Meanwhile, Bojji's half-brother is crowned king, and resorts to desperate measures to maintain power.
Don't be fooled by the show's innocuous and warm designs. The original manga is made for a young adult demographic, and the anime follows suit. "Ranking of Kings" is an exuberant watch that builds its world through both scattered breadcrumbs and major revelations. It also plays with size dynamics, such as Bojji's stunted growth, in a way that serves a particular thematic purpose. Although it may lull you into complacency with its lighthearted interludes, "Ranking of Kings" is a thrilling cocktail of fairytale tropes, including a corruptive magic mirror, potions, hubristic parents who curse their children, and magical strangers who could either be friend or foe.
Where to Watch: Funimation
Komi Can't Communicate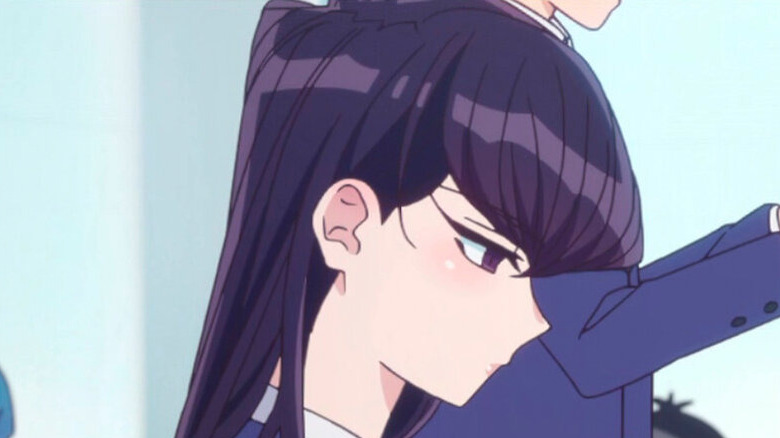 Netflix
Do you recall that time in high school when someone spoke to you and you begged the Earth to swallow you whole? The eponymous Komi knows this feeling all too well. "Komi Can't Communicate" is a slice-of-life anime that speaks to socially anxious kids and adults. 
From afar, Komi seems poised. And yet, despite the way her beauty and her quiet nature tantalizes her classmates, Komi freezes up when people speak to her. But no one other than the awkward Tadano notices that Komi's doe-like eyes often widen into frightened saucers when she's reeled into a conversation. He's not popular, but it's ultimately Tadano's patience that helps Komi snag some friends and grow more comfortable in social situations.
Where to Watch: Netflix
Poupelle of Chimney Town
Once upon a time, to dream of stars was an act of resistance in Chimney Town, where smoke from stacked chimneys blocks out the sky. But the Inquisitors' laws can't snuff out the human spirit forever. A tailor named Bruno used to tell banned stories about the clear night sky. Then, he suddenly disappeared. His bereaved son, Lubicchi, becomes a chimney sweep, only to be surprised when Poupelle, a walking and talking figure constructed out of garbage, comes his way. In spite of his initial prejudices, Lubicchi befriends Poupelle, and they embark on a journey to find the forbidden stars together.
Breathing into life the pages of Akihiro Nishino's children's book, "Poupelle of Chimney Town" is awe-inspiring thanks to the work of both director Yusuke Hirota and the pop-up book aesthetics of Studio 4°C. Burnished in lanternesque lighting, the film is enthralling, with its warmhearted friendships, unique mythology, and aerial climax.
Where to Watch: Released in theaters on December 30, 2021
Blue Period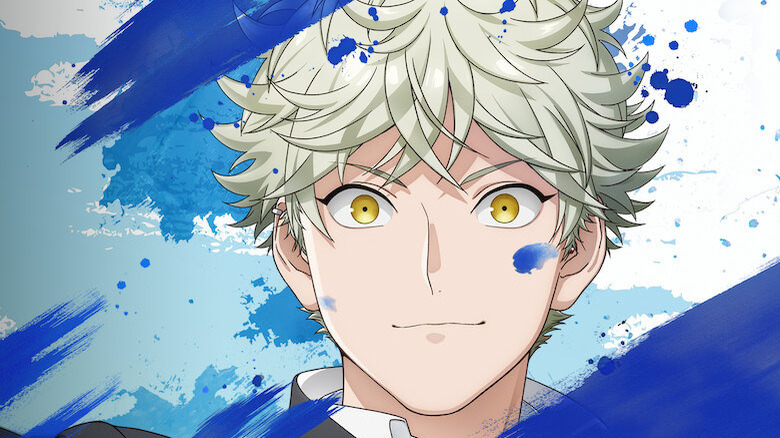 Netflix
When student Yatora Yaguchi gazes at a green-hued portrait of angels, he is so entranced that he decides that he wants to be an artist. Although he has an eye for analysis, he has to cram weeks of art lessons into his brain to apply to his dream art school. Instructions about dimensions, shading, and sketching help him understand his relationships with his artistic peers which, slowly but surely, color in the blank canvases of his mind.
Animated by Seven Arcs and categorized as a teen drama on Netflix, "Blue Period" adapts the seinen manga by Tsubasa Yamaguchi with a subdued direction that sensitively explores the pressures young people face. The title references Pablo Picasso's monochromatic paintings, which reflect his depression. It also appropriately echoes Yatora's blue period as he polishes his craft, and the blue period of his friend Yuka, who aches for acceptance in a world unkind to their queer identity.
Where to Watch: Netflix
Violet Evergarden The Movie
Based on a light novel written by Kana Akatsuki and illustrated by Akiko Takase, "Violet Evergarden" looks at communication as an emotional outlet. In the Germany-inspired steampunk world, war veteran Violet Evergarden is an Auto Memory Doll (i.e., a fancy name for a secretarial ghostwriter) who mourns the Major she served. In the anime series, Violet discovers a new purpose in ghostwriting letters that provide healing for bereaved clients. Outgrowing her past as a stoic and compliant child soldier, Violet matures over many years.
In the finale, Violet assists a boy on his hospital sickbed who is looking to express himself to his family. When she finds out that her beloved Major may have survived, she ventures to the island where he may be exiled. But to Violet, finding him is less important than reaffirming commitment to being a writer.
Though the practice of letter-writing may be rendered irrelevant by the arrival of radios and telephones, one constant remains: Any type of communication helps souls bridge their divisions and connect, with varying levels of resonance. Although the movie ties up a loose end from the series, the tear-jerking epilogue backpedals on further answers about Violet's fate, reminding us that the characters we bonded with still make an impact, even if they're gone from the world.
Where to Watch: Netflix
Masters of the Universe: Revelations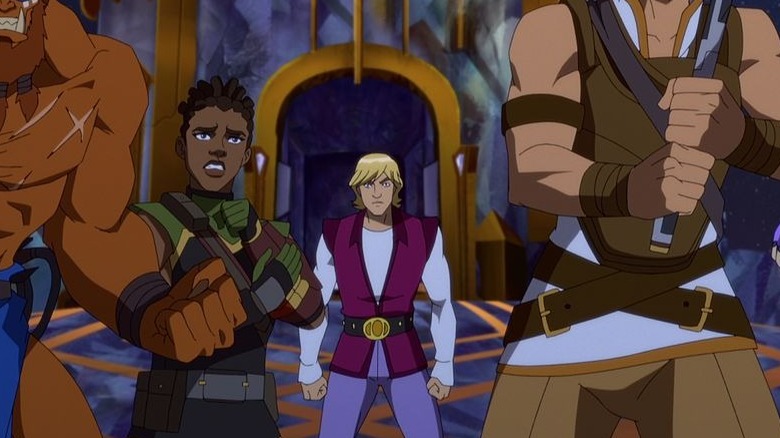 Netflix
In Kevin Smith's hands, the He-Man saga is an unabashed rock opera. Animated by Powerhouse Studios, "Masters of the Universe: Revelation" might be marked as "Watch with Family" by Netflix, but the series is technically geared at adults who have the 1985 cartoon series in their hearts. Even if you're not familiar with the Mattel cartoon (the premiere is full of exposition about its main relationships and general premise), it's hard not to get swept up in the series' electric music.
"Revelations" feels like a kid playing with his old action figures, though it's peppered with modern cartoon sensibilities, like fully-formed character arcs and some big stakes. Though it's outrageous in appearance, "Masters of the Universe: Revelations" plays everything with the utmost sincerity. It's not where you look for logical worldbuilding, but it is where you'll find a sci-fi fantasy realm full of flamboyant fashions, muscular bodies, stunning battle sequences, and a flood of feelings.
Where to Watch: Netflix
The Heike Story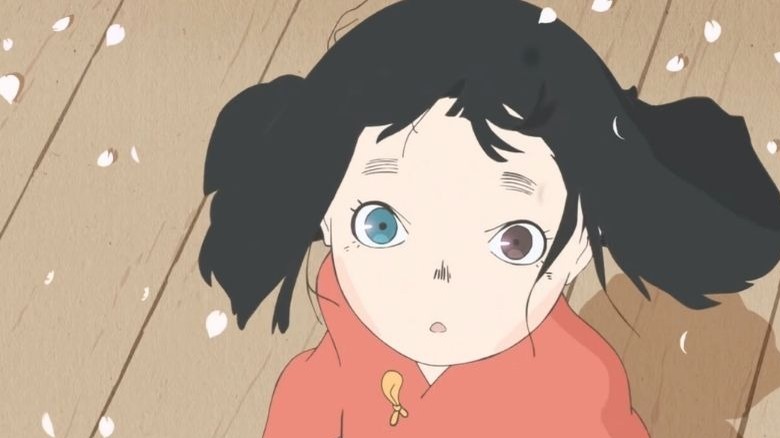 Funimation
How does one escape the ceaseless currents of history and become more than a bystander? Surviving the bloodshed of the Genpei War, young Biwa grapples with daunting prophecies she cannot contain with her heterochromatic eyes. The strings of her biwa, the instrument that serves as her namesake, strum aggressively and sublimely throughout the "The Heike Story," foreboding a gruesome end to the Taira clan, which she's informally adopted into.
Produced by Science SARU, this 11-episode adaptation of an epic 13th-century tale takes us through the Taira clan's rise and fall. It requires staunch discipline to watch; this is a dense series, full of various characters' conflicting motives, important offscreen incidents, and intermingling family trees, as if the creative team crammed paragraphs of the source material into expository dialogue. Although there are battle scenes, many "action" scenes involve strategizing and analysis. And yet, not a second of "The Heike Story" is wasted, as political struggles rumble on with conversational banality.
As she witnesses the Taira's follies and military ambitions, Biwa goes from victim, to witness, to storyteller. When we flash forward and see her aged form rattle her biwa strings and while she sings her elegiac lyrics, we understand that preserving a story can be an incredibly potent course of action all on its own.
Where to Watch: Funimation
Summer Camp Island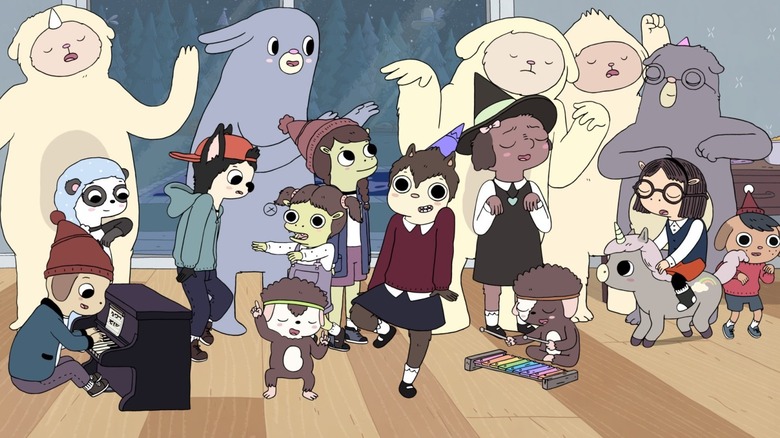 HBO Max
"Summer Camp Island" was woefully neglected from our "The 10 Best Children's Animated Series of the Decade" list. Sharing DNA with "Adventure Time" through creator Julia Pott, "Summer Camp Island" combines cartoony, abstract shapes with funny and smart kidspeak and a Charles Schultz-like forwardness.
In the series, Oscar and Hedgehog go on magical summer camp adventures while the latter also practices her witch training. The most recent season saw a no-dialogue episode akin to "A Quiet Place," and a vacation to a location where miniature jesters sequester themselves in the floorboards to write jokes for their royal employers. The standout of season 4, though, is "Hall of Mooms" which covers intergenerational trauma as Hedgehog unearths insecurities that can be traced down her lineage.
Where to Watch: HBO Max