Money Heist: Korea - Joint Economic Area Trailer: Welcome To Capitalism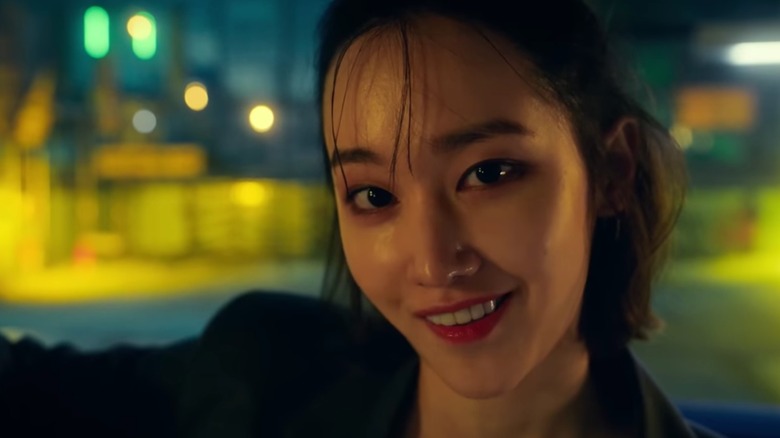 Netflix
The first trailer for "Money Heist: Korea – Joint Economic Area" is here, and it looks like a slick thriller that could be a big hit for Netflix. The streamer first announced its intent to remake the super-popular Spanish series "Money Heist" in 2020, before "Squid Game" took over the world. In the wake of the massively popular Korean thriller, though, the adaptation seems like even more of a no-brainer.
Though "Money Heist: Korea – Joint Economic Area" is billed as a remake of the popular five-part series that's also known as "La Casa de Papel," some differences are noticeable right off the bat in this teaser. The most major one, of course, involves the show's setting. The first look at the series begins with a television announcement explaining that North and South Korea will finally unite and "establish an economic union" with one shared currency between them. This is all the information a man called The Professor (Yoo Ji-tae, "Oldboy") needs to start assembling a team of thieves for a massive, Robin Hood-like heist.
A dream team of master thieves
"Welcome to capitalism," one of the team members says in voiceover after The Professor explains that the announcement from North Korea only led to the rich getting richer. "It's time for us, left with nothing, to claim our benefits," the team's leader declares. A pounding score makes the trailer's quick clips — which show a plot that mostly seems to follow the main beats of "Money Heist" — all the more propulsive. Honestly, this show looks fantastic so far, like a distinctive and stylish spin on a familiar story.
The cast of "Money Heist: Korea – Joint Economic Area" is also stellar. In addition to Ji-tae, the ensemble main cast also includes Park Hae-soo, who plays one of the resilient finalists in "Squid Game," Jun Jong-seo, who took on a lead role in 2018's masterfully enigmatic film "Burning," Park Myung-hoon, who played bunker-bound Geun-sae in "Parasite," and Kim Yun-Jin, best known in America as fan favorite Sun on "Lost."
Kim Hong-sun, who has directed shows like "Black" and "The Guest," is directing the 12-part adaptation. So far, "Money Heist: Korea – Joint Economic Area" looks sleek and visually epic, basically the opposite of that incredibly clunky title. Alex Pina, who created the original "Money Heist," lauded the adaptation's potential for originality to Variety when it was announced, saying:
"Korean creators have been developing their own language and audiovisual culture for years. They have managed, like our series, to go beyond cultural borders and become a point of reference for thousands of viewers around the world, especially among young people...The fact that the action is set on the Korean Peninsula also seems to me to be a milestone which I am really delighted about."
"Money Heist: Korea – Joint Economic Area" hits Netflix June 24, 2022.