The Stunningly Practical Way Shadow Achieved Its Signature Look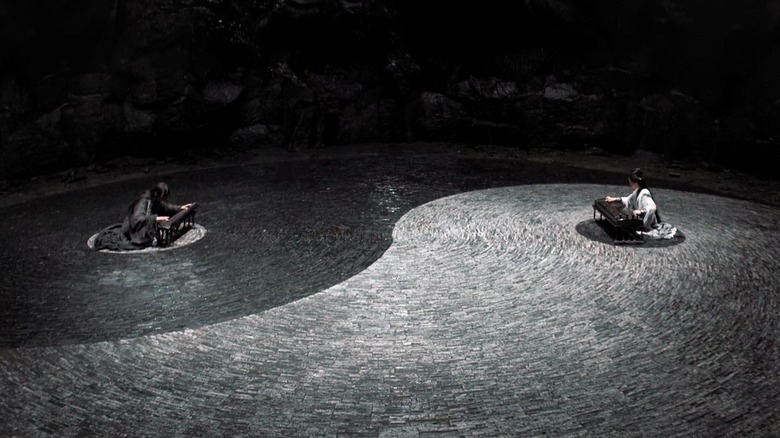 Perfect Village Entertainment
How does one even attempt to sum up the sprawling joys of 2018's "Shadow"? Take the operatic and larger-than-life nature of Shakespeare plays, mix in a little Kurosawa influence ("Kagemusha" in particular would likely pair well with this one), wrap it all in a surprisingly humorous tale about courtly intrigue, add in the fact that it just so happens to feature characters wielding umbrellas that unsheathe into countless serrated blades in one of the coolest weapon reveals you'll ever see, and perhaps that comes at least vaguely close to describing the sweeping drama at the heart of Yimou Zhang's film. A complete and utter tonal shift from 2016's "The Great Wall" and far less indebted to 2002's "Hero" than one might expect, "Shadow" stands apart from both Zhang's filmography and its contemporaries in several ways ... not least of all because of its distinctive and signature look, so at odds with the vibrancy of prior movies he's worked on.
Having chosen to wash out every frame in a sea of striking greys and blacks to better evoke the themes of the feature, Zhang and his creative team could've easily opted for digital techniques and other methods to achieve a similar look. Instead, the acclaimed Chinese filmmaker took a completely different route altogether.
'I decided to do something very different'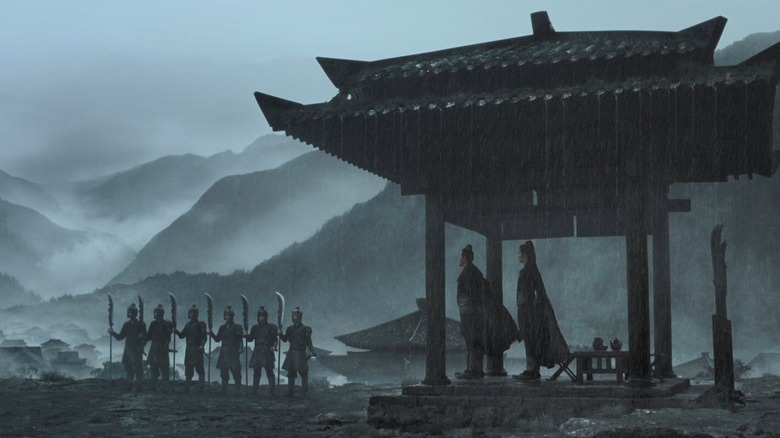 Perfect Village Entertainment
When "Shadow" premiered at the Toronto Film Festival in 2018, director Yimou Zhang had the opportunity to explain his thinking behind the film's unique color palette in an extensive Q&A. As he put it,
"I'm fully aware that I'm known to be a film director who likes to use really rich and vibrant colors, but this time I decided to do something very different just for a change, and to surprise the audience, and also to surprise myself. So I decided to adopt this artistic style of Chinese ink brush painting. As you know, with the development of computer technologies, with CGI, the black and whites desaturated effect can be very easily achieved just within seconds. But I didn't choose to use computer technology. Instead we decided to make the film with real objects with the saturated color palette."
Far from merely a gimmick, however, this DIY approach feels completely of a piece with the larger motivations driving the film and its characters in general. Zhang brought together varying disparate elements — many of which wouldn't have occurred to most filmmakers to smash together — to create perfect balance with "Shadow."
"So it took us a lot of work and a lot of preparation. We spent over a year simply preparing for everything we need to shoot, including picking the perfect color of the costume — the silk used in the screen and other props and the makeup, etc. — so we put in a lot of work to make it real. So we used all of these real objects instead of a computer and CGI to film this movie."
The meticulous attention to detail and commitment to going the extra mile certainly paid off, as anyone who's enjoyed the film for themselves can attest. For those who haven't, "Shadow" is available to stream for free (at the time of publication) on services such as Kanopy and Hoopla.