Andy Samberg Needed A Favor From Steven Spielberg For One Of Popstar's Most Memorable Gags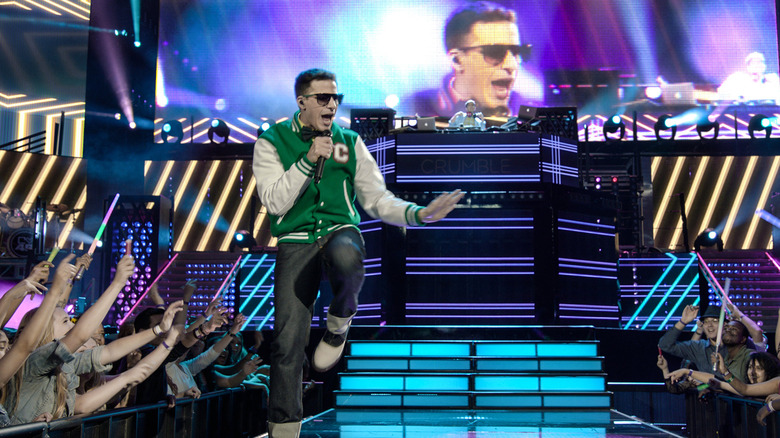 Universal
H.G. Wells' "The War of the Worlds" has been a source of terror ever since its debut in 1897. Orson Welles and The Mercury Theater On the Air's infamous 1938 radio adaptation caused near nation-wide panic when first broadcast, and director Byron Haskin's 1953 film version creeped out hundreds of Eisenhower-era kids with its special effects.
When director Steven Spielberg updated Wells' tale for a post-9/11 America in 2005, the scene where an alien tripod emerges from the ground and lets loose an ear-splitting klaxon before vaporizing entire swathes of unsuspecting humans with its death rays was just the tip of the scary iceberg for what is arguably the filmmaker's darkest genre movie. The effect was created by the film's sound designer Michael Babcock, who combined recordings of a didgeridoo and a djembe (two musical instruments with deep, rich, and loud tonalities) with the explicit intention of making the sound imposing, startling, and ominous. It is a sound not meant to be inherently comedic.
That's exactly why Andy Samberg, Jorma Taccone and Akiva Shaffer (collectively known as The Lonely Island) wanted it for a gag in their 2016 comedy "Popstar: Never Stop Never Stopping." When getting the sound for the movie seemed like it might be impossible, Samberg and the fellas went straight to the source: Spielberg4Real, aka Steven Spielberg.
Owen's helmet gets an alien tripod attachment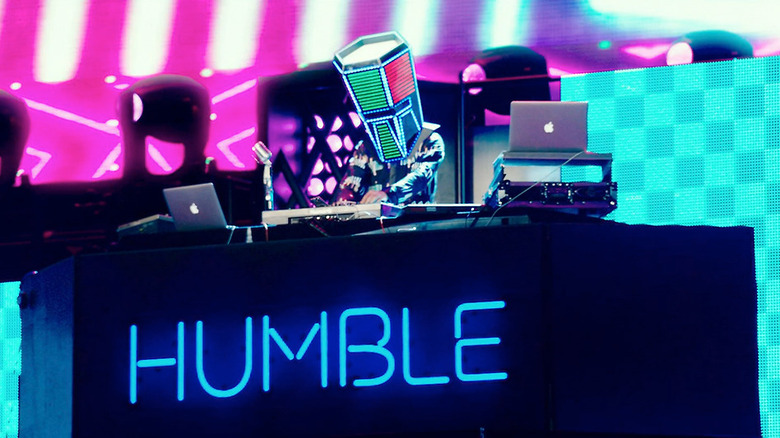 Universal
In "Popstar," the rise of singer Connor Friel, aka Conner4Real (Samberg), sees him embracing increasingly ridiculous gimmicks for his stage shows along with his growing egotism. Wanting to literally and figuratively take center stage over his partner and DJ Owen Bouchard (Taccone), Connor pitches Owen the idea of the latter wearing a giant robot-like helmet that, in addition to having various cool features, will also completely cover Owen's face.
But oh, those features! As Connor excitedly explains, the helmet's lighting is "like a Lite Brite, but it's moving!" It emits a huge light from its top that's like "a beacon to space," and, of course, it makes the sound of the tripods from "War of the Worlds." Take a listen:
As Taccone recalled to Collider in 2017 when asked how the decision to use that sound came about, he said, "I really think that was all of us, like collective." However, The Lonely Island agreeing on the bit, not to mention the fact "Popstar" and "War of the Worlds" were both Universal Pictures production, didn't make the sound easy to secure. Taccone continued:
"We were immediately shot down by many, many Universal lawyers saying that there's no way that we could ever get the sound. At that time we were like, "Well, we have to write to Spielberg," and we did, and we got his permission."
While Owen's helmet didn't necessarily need to make the tripod sound, its inclusion makes for one of the best gags "Popstar." In a movie chock full of hilariously memorable asides, as Connor says, "It's nice to know it's there."
Spielberg's no stranger to comedy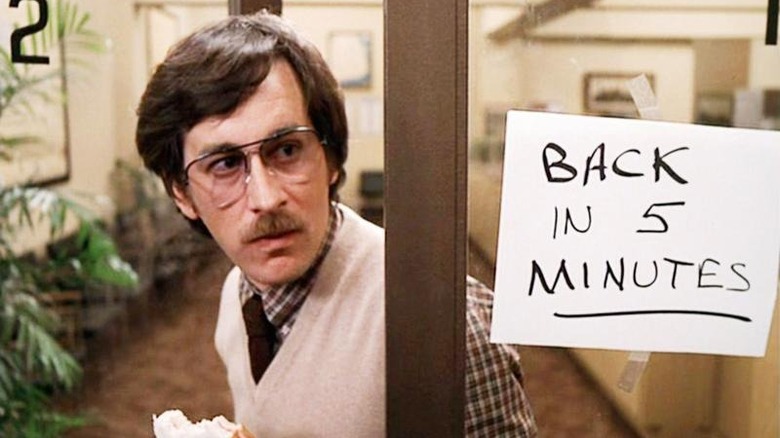 Universal
At first glance, it may seem odd that a prestigious filmmaker like Spielberg would help out such a goofy comedy like "Popstar," the director has a history with the genre that more than explains the connection.
First and foremost is "1941," the World War II screwball slapstick spoof that Spielberg himself made at the end of the '70s. Although the movie's poor reception upon release had the director swear off making any more comedies for the rest of his career, it's aged pretty well, so maybe the filmmaker will helm another one soon.
Even if not, Spielberg has made a habit of making cameo appearances in other people's comedies, especially alums of "Saturday Night Live." For instance, he can be seen in "The Blues Brothers" in a brief but pivotal role, and in "Austin Powers in Goldmember" as himself.
Of course, the most pertinent Spielberg cameo when it comes to "Popstar" is his appearance in one of the Lonely Island's SNL Digital Shorts: "Laser Cats 7." The gag of the recurring "Laser Cats" sketches saw Samberg and "SNL" cast member Bill Hader make DIY-style (or "sweded," if you prefer) versions of various blockbuster genre films based around the idea of cats who shoot lasers out of their mouths. Spielberg closed out the series as the "director" of the final installment.
As The Lonely Island sarcastically observed, Spielberg signing off on the use of the tripod sound in "Popstar" was likely because they let the filmmaker out of his "Laser Cats" obligations. "He got us back for us allowing him out of Laser Cats," Shaffer explained while laughing. However it happened, we have Spielberg to thank for making the already magnificent "Popstar" just a bit more special.