'Popstar: Never Stop Never Stopping' Review: Non-Stop Laughs Make For The Best Comedy Of The Year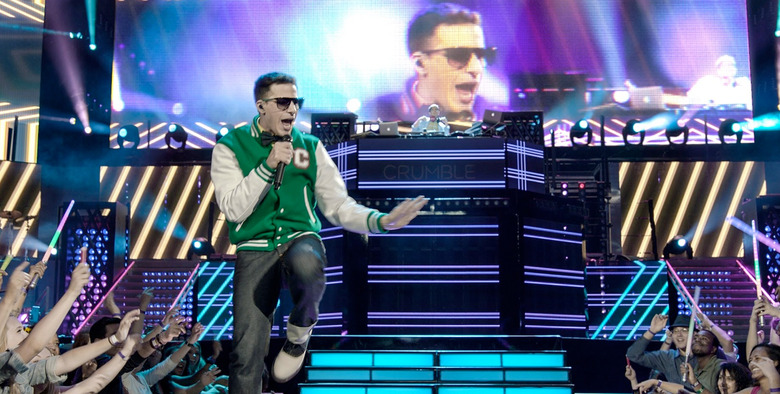 It may only be June, but it's going to take some damn good comedy to top the fits of laughter brought upon by Popstar: Never Stop Never Stopping. After The Lonely Island trio (Andy Samberg, Akiva Shaffer and Jorma Taccone) made a splash with their digital shorts on Saturday Night Live, it's amazing it took them this long to put together a mockumentary following the rise and fall of a faux musician in the real world music industry. But for as long as it took, the hilarity delivered by Popstar makes it well worth the wait.
Read our full Popstar review after the jump.
Popstar: Never Stop Never Stopping is a mockumentary following Conner4Real, a respected hip-hop star played by Andy Samberg. Conner has the respect of musicians and producers such as Ringo Starr, DJ Khaled, Simon Cowell, Usher, Seal, Mariah Carey and dozens more, all appearing throughout the movie as talking heads that help immerse you in this world where such a clearly goofy guy has become one of the biggest music stars in the world.
But the documentary has started to follow Conner at a difficult time as his new album is getting awful reviews (Rolling Stone gives it the shit emoji instead of a star rating). Plus, he's about to get outshined by his opening act Hunter the Hungry – played fantastically by Chris Redd, making a breakthrough comedic performance akin to Jerrod Carmichael's in Neighbors. There's a myriad of problems that begin to plague Conner as his star seems to be fading.
Though it's a simple premise at the center of the film, it is played in such a way that it's ridiculously funny yet not so silly that it's unbelievable. Conner is a bit of a dummy, but he's not so dumb that he doesn't see that the world of celebrity around him is starting to crumble.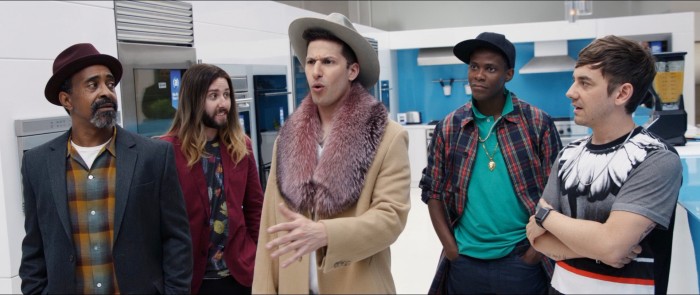 Helping to ground the story and keep it progressing are Conner's two childhood friends Owen and Lawrence, played by Jorma Taccone and Akiva Shaffer (who also co-direct the movie). Conner, Owen, and Lawrence used to be a trio known as the Style Boyz, another faux musical act who was influential on the music scene with their dance craze called the Donkey Roll. But as Conner went solo and became famous, he lost touch with his roots. It adds just the right amount of heart to the movie, and it's bolstered by the fact that these three stars have been friends in real life for a long time.
Stealing scenes here and there are the likes of Will Arnett as the head of a TMZ-esque gossip outlet, surrounded by other key comic talents such as Mike Birbiglia and Chelsea Peretti. But maybe the best supporting cast members are Sarah Silverman and Tim Meadows as Conner's publicist and manager respectively. Their talking heads alone are hilarious, but their interactions with Conner are even better. Meadows' explanation of "30 Seconds to Mars" to Conner is such a brilliant joke. And thankfully, this is one of those comedies where the best jokes haven't been spoiled in the marketing, so there's plenty more where that came from.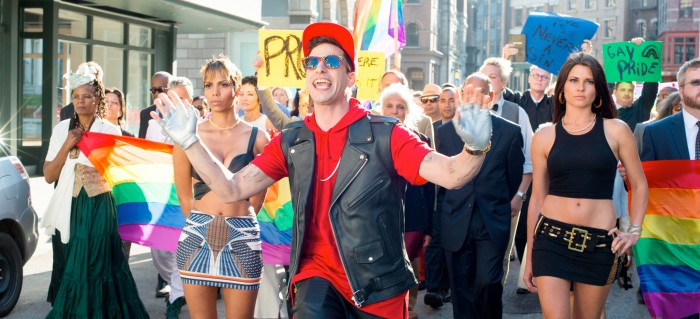 However, the true triumph of Popstar: Never Stop Never Stopping is the incredible soundtrack of silly songs composed and written by The Lonely Island. We knew these guys could deliver hilarious, well-produced music from their SNL Digital Short days, but with more time and a real budget allowing them to go even further, the concert sequences for Conner's songs are nothing short of awesome. Catchy instrumentals and beats blend with positively ridiculous lyrics to make songs that you'd want to play in your car over and over again. Again, artists like Adam Levine, Michael Bolton and Linkin Park help add some flair to these songs, grounding them in this universe where Conner is somehow a star.
Andy Samberg has struggled to become a star on the big screen despite a large number of fans, but this is the role he was born to play. With shades of Justin Bieber, Samberg's performance as Conner is never exaggerated to the point of being completely unbelievable. The film itself is clearly inspired by real documentaries like Justin Bieber: Never Say Never and Katy Perry: Part of Me, and Samberg's character doesn't feel too far removed from some real pop stars out there today.
Popstar: Never Stop Never Stopping is This Is Spinal Tap for the next generation, but it has a different kind of comedic energy to it that never slows down, packing a laugh into nearly every minute of the movie. There are plenty of stupid laughs here, but there's also an authenticity to the proceedings that allows the humor to stick the landing. While SNL movies sometimes feel like a sketch stretched out too long, Popstar feels like a sketch played out to its maximum potential . Honestly, I don't remember the last time I was laughing so hard for such an extended period of time. For my money, Popstar might be the best comedy of the year, and it's going to take one hell of a comedy to dethrone it./Film rating: 9 out of 10