Marvel Reveals First Look At New Mandalorian Comic Book Series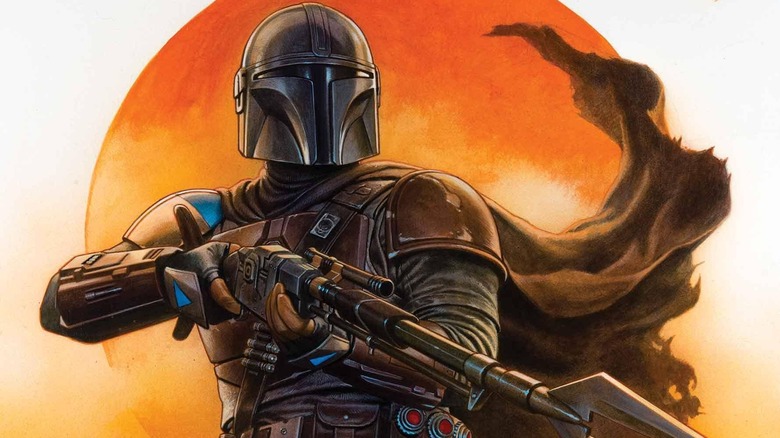 Marvel Comics
"Star Wars" fans who particularly enjoyed "The Mandalorian" season 1 are in luck as the show is being turned into a comic by the folks at Marvel. That's right, Mando and Baby Yoda are going to relive their initial adventures in a new way as Marvel Comics is publishing an eight-issue series beginning in July that will recount the whole season, episode by episode.
As reported by StarWars.com, "The Mandalorian" #1 comes to us from writer Rodney Barnes and artist Georges Jeanty. The first issue will be released with a ton of different variant covers, with the main cover (which we've included below) cooked up by Adi Granov. At the very least, this might be a good way for fans to kill some time before "The Mandalorian" season 3 arrives. Barnes had this to say about it in a statement:
"The story of the Mandalorian checks so many boxes of the stuff I'm passionate about. I love Westerns, fantasy, science fiction, comedy, drama...it's a dream gig for any writer. I'm just glad I was chosen for this assignment!"
Jeanty had this to add:
"I've always thought an artist's style is a lot like writing in short hand. It's very subjective. What I bring to Star Wars is my detail and love for a galaxy far, far away. Star Wars, especially where bounty hunters are concerned, is a messy landscape. I love drawing all the little details. My look has always be detail oriented, and with The Mandalorian there is so much going on with the character and in the background, and I look forward to adding visually to the already rich tapestry that makes up this universe!"
This is the way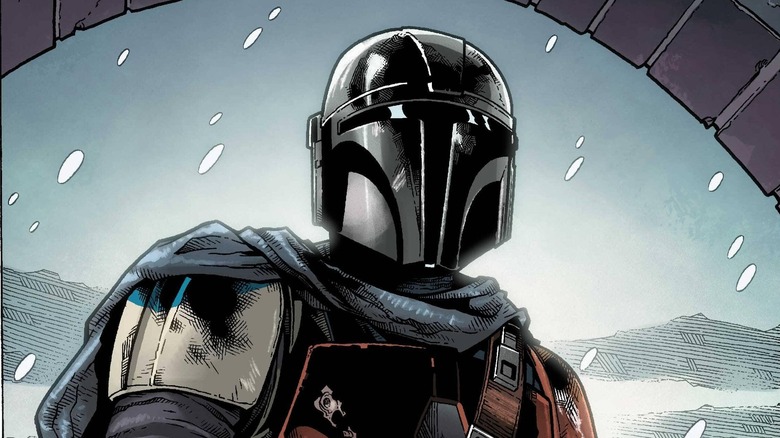 Marvel Comics
This has pretty much become standard practice for any major "Star Wars" movie under the Disney era of Lucasfilm, with the films later being adapted into comic book miniseries at Marvel. So it makes every bit of sense that the same would be done for this show, which rallied the fanbase in a way they hadn't been rallied in some time. Between learning more about Mandalorian culture, getting to explore the seedy underworld, and, of course, the introduction of the Child, aka Grogu, it became a sensation.
While the notion of a comic book adaptation might seem a bit redundant, these adaptations often offer a new perspective and new details that are worth it for hardcore fans. "The Last Jedi" adaptation, for example, gave Admiral Ackbar a particularly worthwhile moment just before his death that adds a much-needed something to that moment. So we can safely assume that some nice little tidbits will be included in these eight issues as well. We've included a bit of the preview art as well as some of the covers for you to check out below.
"The Mandalorian" #1 is set to hit shelves on July 6, 2022.