The Sea Beast Director Wanted To Make A Movie With King Kong And Indiana Jones Vibes [Exclusive]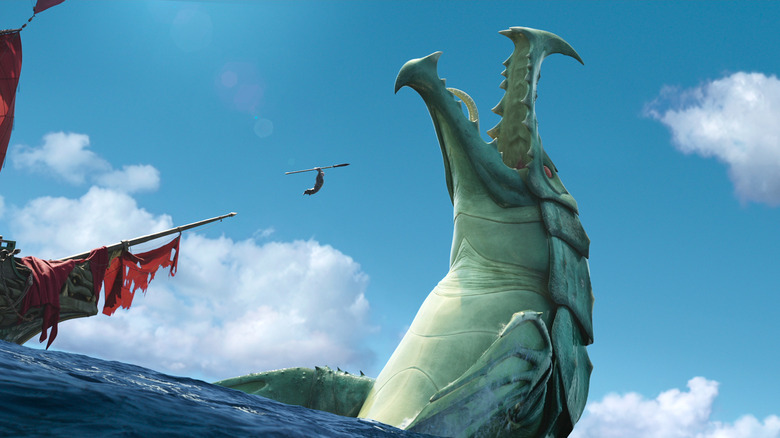 Netflix
A new animated adventure from the co-director of "Big Hero 6" and "Moana" is set to arrive on Netflix this July in the form of "The Sea Beast." The sea-faring flick is anchored (see what I did there?) by the voice talent of Dan Stevens, Karl Urban, Jared Harris, and Zaris-Angel Hator as Maisie Brumble, the film's protagonist. The trailer for the movie promised plenty of action on the high seas, run-ins with fearsome sea monsters, and a kid-friendly premise involving young Maisie stowing away on a ship and experiencing the adventure of a lifetime.
Ahead of the film's release, /Film was able to talk with director Chris Williams and pick his brain about his insights into making this movie. When asked about how he wanted viewers to feel after watching the heartfelt joys of "The Sea Beast." Here's what he had to say:
"Boy, that's a good question, because I know that so much of it was motivated by me wanting to make a movie that would make people feel the way I felt when I watched 'King Kong' or 'Raiders of the Lost Ark.' I think for me, one version of the answer to that question is, I wanted to feel like something that felt new and exciting in the fact that it was unique, but also acknowledged its influences –- that it sort of feels like a version of a throwback adventure story, something that felt hopefully timeless and new at the same time."
For anyone tempted to raise an eyebrow at those rather lofty comparisons, Williams himself is quick to add that "...it's dangerous to compare your movie to some of the greatest classics of all time, but hopefully it can have a similar effect on people who watch it now."
'There's a challenge with giant monster movies'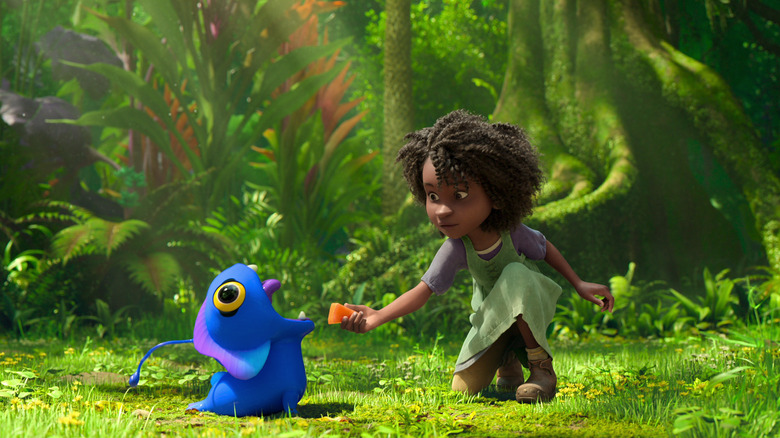 Netflix
It's clear that the director holds those two classics in high regard, remarking about how watching both "King Kong" and "Raiders of the Lost Ark" at such an early age helped Chris Williams make sense of the overwhelming world surrounding him — all thanks to the knowledge that adult storytellers, to a certain extent, could understand how he felt. He goes on to add that they played a significant role in his career of choice, saying:
"I watched 'Raiders' and I remember of course loving it, but also there was this conversation I was having with myself where I understood on some level that adults made this thing and they obviously love the things that I love. There was something strangely reassuring about that, that I could grow up and still care about the things that I care about now, and maybe even pursue that as a career or at least a passion. There's something about that experience that has really stuck with me."
Of course, Williams is hardly alone in his love for these movies, a fact that he is well aware of. But when it comes to monster movies like "King Kong" or "Clash of the Titans," which he also namedrops, their influence certainly factored into his latest film — especially when it came to navigating certain challenges.
"There's a challenge with giant monster movies, especially if you want them to be an actual sort of character because the scale is so different. If they're going to relate to a human, there's all these issues of how to portray that. We knew that would be one of the big challenges with our movie. We kept returning to 'King Kong' as a great example, where they managed to make King Kong awesome and big, and we had these massive set pieces, but there were still these relationships and still a connection, an emotional connection, with the monster."
"The Sea Beast" certainly sounds like a movie that both kids and their movie-loving parents will be able to enjoy. Look for it to arrive on Netflix on July 8, 2022.