Three Thousand Years Of Longing Trailer: Idris Elba Is A Djinn With A Past In George Miller's Fantasy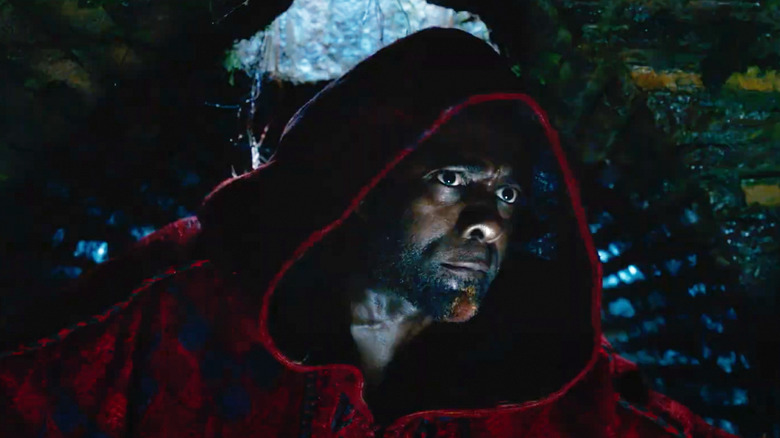 MGM
Seven years after blowing our collective socks off with 2015's rip-roaring "Mad Max: Fury Road," George Miller — who, let it never be forgotten, also directed "Babe: Pig in the City" and "Happy Feet" 1 & 2 — is finally back with a new movie titled "Three Thousand Years of Longing." With the film debuting at the 2022 Cannes Film Festival, MGM unveiled a teaser that could only be described as a furious(a) flurry of marvelous imagery from the time-spanning fantasy drama, with Idris Elba's nameless Djinn at the heart of the gorgeously rendered chaos. Luckily, the all-too-brief footage (a mere 19 seconds long, including the title cards) was merely the appetizer for today's grand meal of a trailer.
Tilda Swinton stars in "Three Thousand Years of Longing" as Dr. Alithea Binnie, a scholar who is content as can be when she crosses paths with Elba's ancient Djinn while attending a conference in Istanbul. But unlike Aladdin and his famous dealings with a genie, Dr. Binnie isn't ready to accept the situation at face value, much less agree to the Djinn's offer (three wishes in exchange for his freedom) without making sure this isn't some kind of monkey's paw, and not the one that makes awesome Jordan Peele movies, either. As such, the Djinn regales her with stories of his past, which is where things really start to get wild.
Watch the Three Thousand Years of Longing trailer
"Three Thousand Years of Longing" is based on A.S. Byatt's 1994 short story "The Djinn in the Nightingale's Eye," which George Miller adapted into a script he co-wrote with his daughter, Augusta Gore. Much of the footage released so far looks like a cross between the shiny (and chrome!) visuals of "Mad Max: Fury Road" and the "300" movies, not least of all in the flashbacks to the Djinn's past encounters with Ottoman royalty and enslaved 19th-century Turkish courtesans, among other historical figures.
Yet, despite their shared aesthetics, Miller has described his new film as the "anti-'Mad Max.'" He elaborated on his reasoning for doing so in an interview with Deadline, stating:
"But when I say it's the anti-'Mad Max,' I mean it only in the sense that it's got way more dialogue than the very laconic 'Fury Road.' Most of that was shot on location in the deserts of Southern Africa. This one was shot basically indoors, with only a couple of outdoor scenes. Its scale is smaller, at least in terms of its physical scale, even though, yes, it is set over 3,000 years. But also, 'Fury Road' was a story that essentially happened over three days and two nights, and this happened over 3,000 years, so that's what I meant by the anti-'Mad Max.'"
He also discussed what drew him to Byatt's source material, explaining it's "about all the mysteries and paradoxes of being human, or of being alive as a human. And, of course, it was allegorical; it's a fairy story." So think of the film's visual razzle-dazzle as less eye candy and more what Guillermo del Toro calls "eye protein."
"Three Thousand Years of Longing" opens in theaters on August 31, 2022.