A Personal Promise Pushed Neil Gaiman To Get Hands-On With Good Omens' TV Adaptation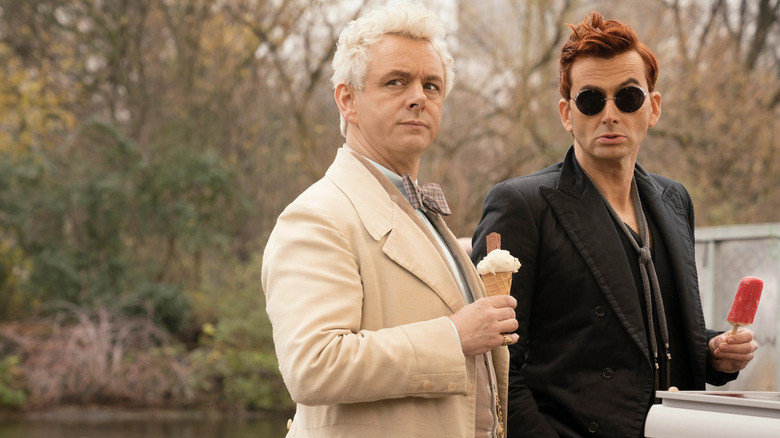 Prime Video
The oddest things inspire us sometimes. A chance remark could inspire a film. The color of a leaf could inspire a painting. The passing of a friend can inspire you to take a job you might not have considered before. According to The Guardian, the last is the reason we have Neil Gaiman as showrunner for the series "Good Omens." Back in 1990, "Good Omens: The Nice and Accurate Prophecies of Agnes Nutter, Witch" was written by Gaiman and Terry Pratchett, and it became a fan favorite. 
If you haven't had the pleasure of reading "Good Omens" (or listening to the audiobook; it's a delight), it's the story of an unlikely friendship between the angel Aziraphale (played by Michael Sheen in the series) and the demon Crowley (David Tennant, because who else would you cast?) that might just manage to stop the coming apocalypse. There is a baby switch involving the Antichrist, a hellhound who is just the cutest, and four crazy horsemen. The Prime Video series based on the books is a wonderfully wild ride, but Gaiman wasn't always going to adapt it. It was another friendship at a very unlikely time that inspired him to do so.
A friendship for the ages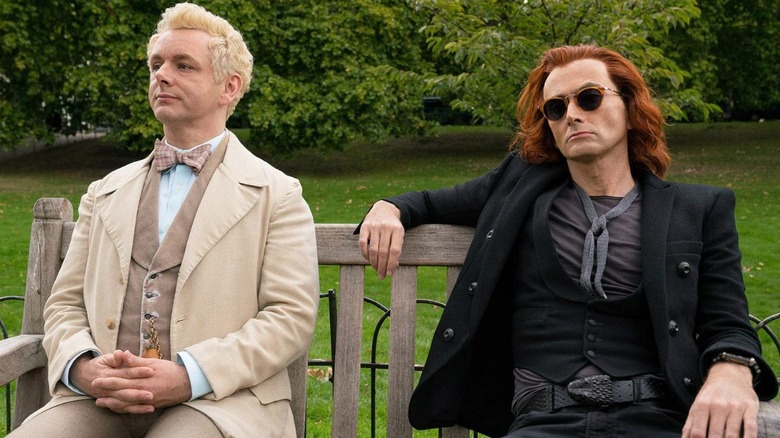 Prime Video
Neil Gaiman began adapting "Good Omens" into a series in a very surprising place and time, according to the article. He started to put pen to paper (fingers to keyboard?) on the adaptation after he got off the plane home from Terry Pratchett's funeral. Many writers, it seems, had turned down the gig. I somehow doubt it was because no one wanted to do it. It's likelier no one wanted to be compared to Gaiman and Pratchett. Gaiman told The Guardian that he began when "nothing seemed funny," but that he had made a promise to Pratchett to adapt the novel and that after his passing in 2015, that "suddenly it was a last request." 
He said he didn't want to just come up with the idea and pass it on to someone else. He joked that he cast it partially from his address book. The idea of said address book is intriguing, and considering who was cast in the series, parties at Gaiman's house must be incredible. Michael Sheen, David Tennant, Benedict Cumberbatch, Jon Hamm, Frances McDormand (who plays God, by the way, as she should), Nick Offerman, Adria Arjona, Miranda Richardson, Michael McKean, Jack Whitehall, Brian Cox ... this cast is chock full of wonderfulness.
Heaven and hell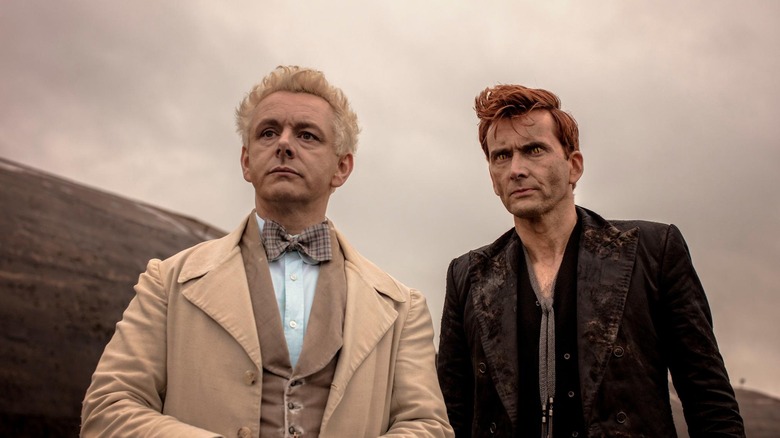 Prime Video
What's even more fun is how Neil Gaiman reportedly told the designers to go a little crazy with it all. Terry Pratchett's hat and scarf are even hanging in the secondhand bookshop as a tribute to the late author. 
The promise was a good one. Not only did the first season do well, but the second season is on the way. Yes, the first season of the series covered the entire book, but Gaiman has said that he and Pratchett had begun work on a sequel. You didn't think you just stop the apocalypse and everything after that is gravy, did you?
Gaiman said this is one of those stories you like so much that you don't care what anyone else thinks, which is a wonderful way to write. Is Pratchett watching from somewhere else? "He didn't believe in heaven or hell or anything like that," Gaiman told The Guardian, "so there wasn't even a hope that there was a ghostly Terry around to watch it. He would have been grumpy if there was. But I made it for him."
"Good Omens" season 2 doesn't have a release date yet, but filming has finished on the project. New cast members include Tim Downie ("Outlander"), Pete Firman ("The Magicians"), Andi Osho ("I May Destroy You"), and Alex Norton.