Everything We Know About Good Omens Season 2 So Far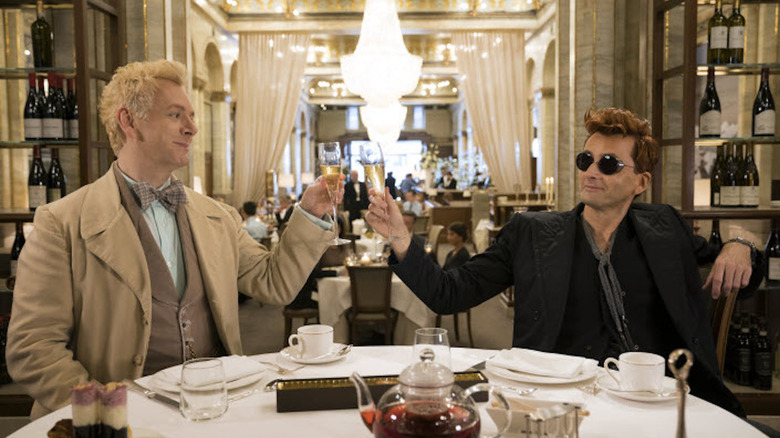 Amazon Studios
When "Good Omens" — a humorous book about an angel and a demon who band together to stop the apocalypse — was adapted for television, most assumed it would be a one-and-done limited series. Only one book was published, after all, and the ending was a conclusive one.
The series received critical acclaim, however, and there's now going to be a season 2. Here's what we know so far about season 2 of "Good Omens."
When and Where to Watch Good Omens Season 2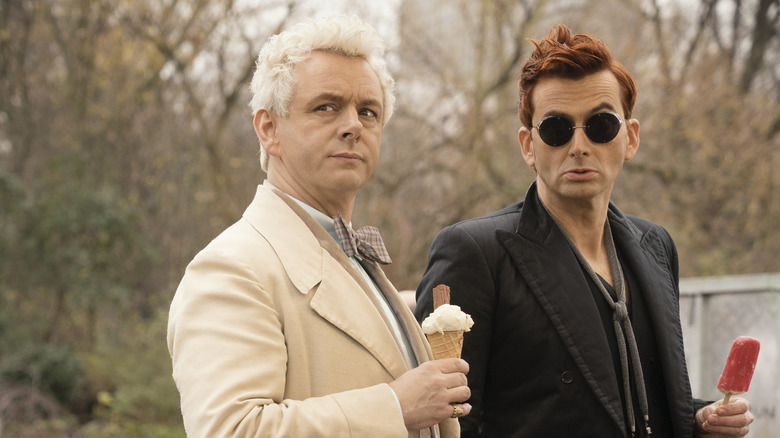 Amazon Studios
Just like the first season, the second season of "Good Omens" will air on Amazon Prime Video. We don't have a specific release date yet, but in June 2021, we found out that there will be a second season. Neil Gaiman, who co-wrote the book with Terry Pratchett, shared the news on Twitter:
What glorious (and dangerous) trouble will our favorite angel and demon find themselves in this time? 😇😈 Good news! #GoodOmens is returning for Season 2 on @PrimeVideo. pic.twitter.com/cFJQMo0Vkj

— Neil Gaiman (@neilhimself) June 29, 2021
Part of why we found out in June that Amazon greenlit a second season is because the production was building sets in Scotland. The second season will have six episodes, and as of August 2021, is filming in Scotland. Based on this timeline, it's likely we'll see the second season of "Good Omens" sometime in 2022 or early 2023.
What We Think Good Omens Season 2 Will Be About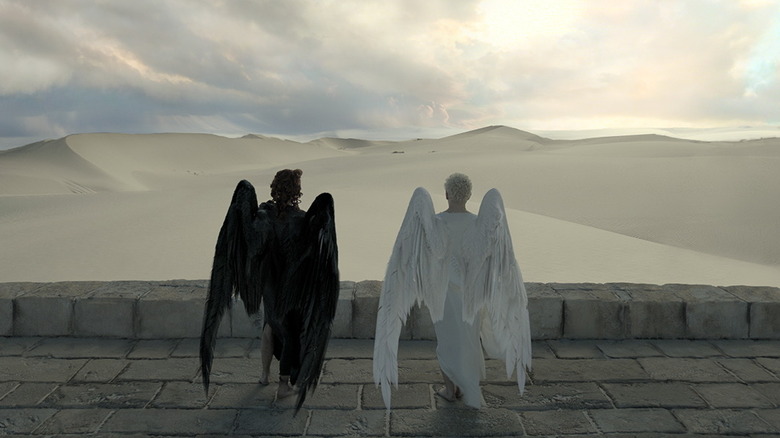 Amazon Studios
While the first season chronicled the events from "Good Omens," Gaiman has frequently shared that he and Pratchett had thought out a second book way back in 1989. Gaiman has also shared via his online journal that Pratchett, who passed away in 2015, was always keen to see both stories adapted to the small screen.
"Terry was clear on what he wanted from 'Good Omens' on the telly," Gaiman wrote on his website when season 2 was announced. "He wanted the story told, and if that worked, he wanted the rest of the story told."
Gaiman went on to explain how season 2 came to pass:
Once "Good Omens" the TV series had been released by Amazon and the BBC, to global acclaim, many awards and joy, Rob Wilkins (Terry's representative on Earth) and I had the conversation with the BBC and Amazon about doing some more. And they got very excited. We talked to Michael Sheen and David Tennant about doing some more. They also got very excited. We told them a little about the plot. They got even more excited.
While we don't know the details of what season 2 will be, Gaiman did tease what we'll see:
As "Good Omens" continues, we will be back in Soho, and all through time and space, solving a mystery which starts with one of the angels wandering through a Soho street market with no memory of who they might be, on their way to Aziraphale's bookshop.
(Although our story actually begins about five minutes before anyone had got around to saying '"Let there be Light.")
While Gaiman's description is vague, it appears that there will be a mystery afoot in the second season.
What We Know About Good Omens Season 2 Writers and Directors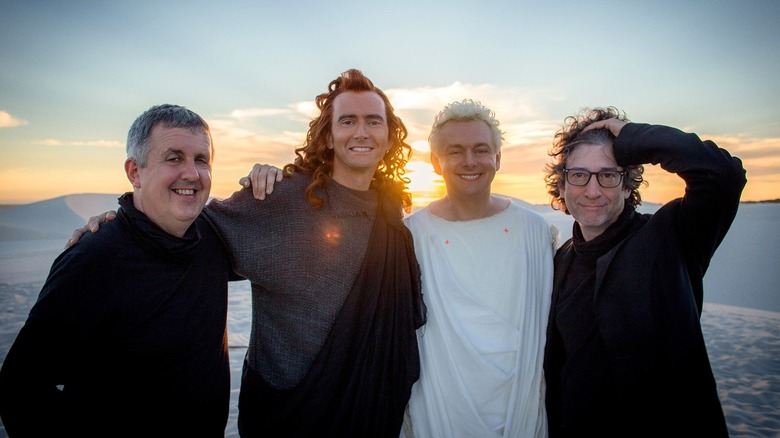 Amazon Studios
Gaiman is back as a showrunner for season 2, and season 1 director Douglas Mackinnon is also back, this time as a co-showrunner. Mackinnon is also working as a showrunner with Gaiman on another adaptation of his work — "Anansi Boys" — for Amazon Studios.
Gaiman brought on writer/actor John Finnemore to season 2 of "Good Omens" to help pen the scripts. "I'd been a fan of John Finnemore's for years, and had had the joy of working with him on a radio show called 'With Great Pleasure,'" Gaiman wrote on his website. "I asked John if he'd be willing to work with me on writing the next round of 'Good Omens,' and was overjoyed when he said yes."
Gaiman also teases other "surprise guest collaborators" for season 2, though who those collaborators are remains unknown.
What We Know About the Good Omens Season 2 Cast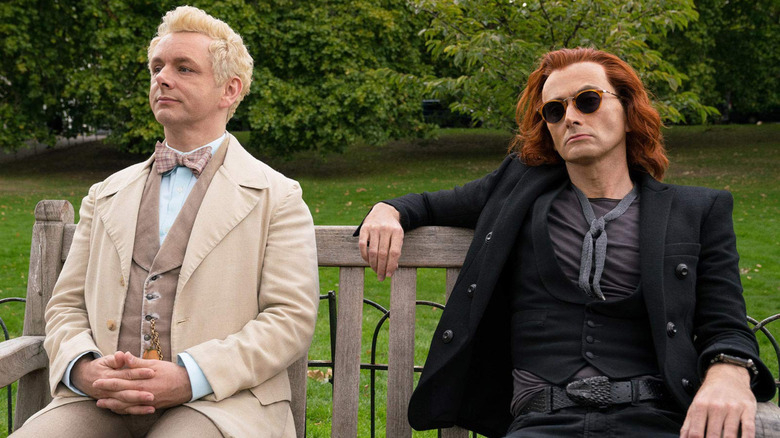 Amazon Studios
The duo at the heart of "Good Omens," the demon Crowley played by David Tennant and the angel Aziraphale played by Michael Sheen, will be coming back for season 2. Their chemistry in the first season was undeniable, and I know many "Good Omens" fans are eager to see the two together again. We don't know yet who will be joining everyone's favorite angel and demon in the second season, though one can't help but hope that Jon Hamm will reprise his role as the jackass angel Gabriel.