Uncle Buck Was A Playground For John Candy And The Cast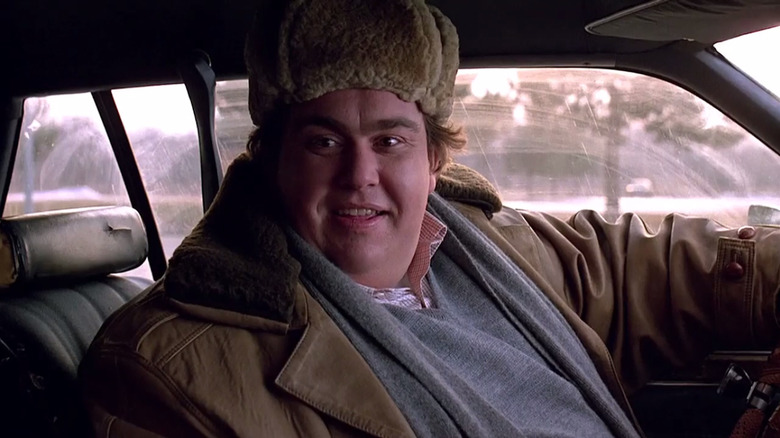 Universal Pictures
Few actors seemed to have quite as firm a grasp on John Hughes' approach to comedy as John Candy. The treasured Canadian funnyman could handle slapstick and sentiment with equal grace, which was the key to so many of Hughes' movies as a writer, director, and producer. It's this skill that allowed Candy to go from busting guts to breaking hearts in a film like 1987's "Planes, Trains and Automobiles," or even mix pathos with morbid humor during the brief scenes he shares with Catherine O'Hara in 1990's "Home Alone."
"Uncle Buck," the 1989 comedy written and directed by Hughes, stars Candy as Buck Russell, an irresponsible bachelor who gets a shot at proving he can play the role of father when he agrees to babysit his brother's kids during a family emergency. It's a movie that relies on the over-done comedy trope of having an immature man end up in a situation he's comically ill-suited to handle, forcing him to finally grow up. But Candy is the key to making it work as Buck, whether he's acting like a total slob, having very funny exchanges with his younger niece Maizy (Gaby Hoffmann) and nephew Miles (a pre-"Home Alone" Macaulay Culkin), or reckoning honestly with his flaws as a person.
Amy Madigan, who plays Buck's longtime girlfriend Chanice Kobolowski (who loves him but is rightly tired of his never-ending efforts to avoid responsibility of any kind), talked about her experience working with Candy on "Uncle Buck" with Vanity Fair in 2016. As she recalled:
"I had not met him before 'Uncle Buck.' Of course his reputation preceded him — all the hilarious stuff he'd done. We just kind of hit it off. We had a great time. He was the king of ad libs. He and John Hughes had worked together before, so they had a really neat shorthand. It was sometimes all I could do to keep a straight face since he was just so hilarious. You would be doing a closeup, so the other actors are off camera, and he would just throw this stuff at you to crack you up."
Candy and the cast were always improv-ing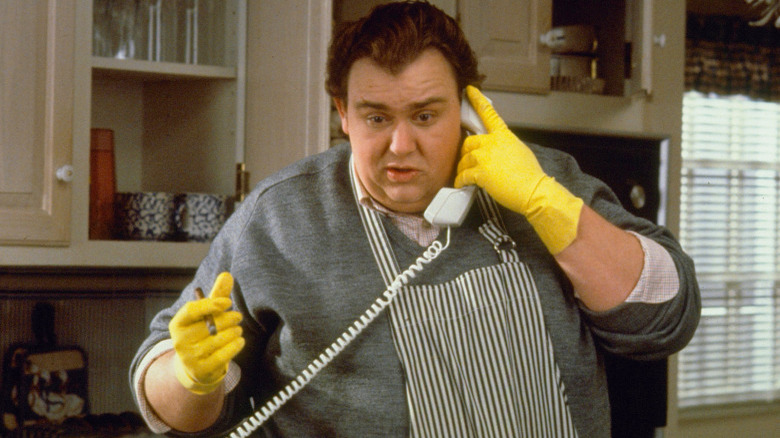 Universal Pictures
Buck's relationship with his teenaged niece, Tia Russell (Jean Louisa Kelly), forms much of the emotional core of "Uncle Buck." The latter, unlike her siblings, wants nothing to do with her uncle and frequently butts heads with him, not least of all when it comes to her spending time with her boyfriend (who Buck quickly recognizes as a jerk and predator). In time, of course, Tia comes to realize that Buck does, in fact, sincerely care for her and has a good heart beneath his crude exterior. This also helps her to re-examine her relationship with her parents, whom she's been at odds with since they moved away from their old home.
Kelly echoed what Amy Madigan said about John Candy and how making "Uncle Buck" was like a playground for the cast thanks to all the improv-ing John Hughes allowed during filming:
"I don't really remember the first time that I met [John Candy], but I do know that I felt very comfortable with him. He was obviously hilariously funny. He was a very warm person and the thing that lent itself to our chemistry was the fact that we were improv-ing quite a bit. Now I know how rare that is. John Hughes really just let John Candy take the ball and go with it through a lot of the movie. Particularly in the scene where we're in the bowling alley and we're sitting there talking to each other, he was sort of throwing stuff at me, and I was just responding to it like the unpleasant person that I was. [Laughs] I don't really know that you can write that stuff and get the same kind of organic authenticity that you would get when you're just responding with lines."
Reviews for "Uncle Buck" were fairly lukewarm compared to those for Hughes' most acclaimed live-action comedies, like "Ferris Bueller's Day Off" and "Planes, Trains and Automobiles." Again, though, it's Candy who breathes life into the film's familiar setup, coupled with the playfulness of his interactions with his younger costars. There's also something to be said for "Uncle Buck" having aged better than some of Hughes' more beloved movies from the 1980s. Perhaps it's only right that Buck Russell should emerge as one of the classier protagonists in Hughes' body of work.