David Duchovny Will Write, Direct, And Star In The Adaptation Of His Novel, Bucky F***ing Dent
In addition to being a talented actor, director, and everyone's first sci-fi TV imaginary boyfriend, David Duchovny is also a New York Times bestselling author whose novel "Bucky F****** Dent" is being adapted into a feature film. Duchovny will adapt his novel for the stage in addition to starring and directing. Duchovny is no stranger to directing, having helmed the feature film "House of D," and episodes of "The X-Files," Californication," "Aquarius," and the announced TV miniseries "Truly Like Lightning."
Set in 1978 New York City, "Bucky F****** Dent" is about a thirtysomething Ivy League grad named Ted Fullilove, aka Mr. Peanut, who moves back home with his dad Marty (Duchovny) after finding out he's been diagnosed with terminal lung cancer. Mr. Peanut is forced back into his childhood home and discovers that his father's illness seems to worsen every time the Red Sox lose a game. A gifted storyteller, Mr. Peanut enlists the help of a grief counselor to pull off an elaborate illusion to convince Marty that the Sox are on a winning streak, reversing the Curse of the Bambino and keeping Marty alive to see another day.
The film has been described as "an ode to the bond between father and son," as well as a love letter to the generations-old rivalry between Yankee fans and Red Sox fans. The title comes from the expression commonly used when real life Yankees player Bucky Dent hit an unexpected home run in a tie-breaker game against the Boston Red Sox at Fenway Park at the end of the 1978 regular season. According to the Macmillan publishers, "This tender, insightful, and hilarious story demonstrates how life truly belongs to the losers, and that the longshots are the ones worth betting on."
A dramatic turn for Duchovny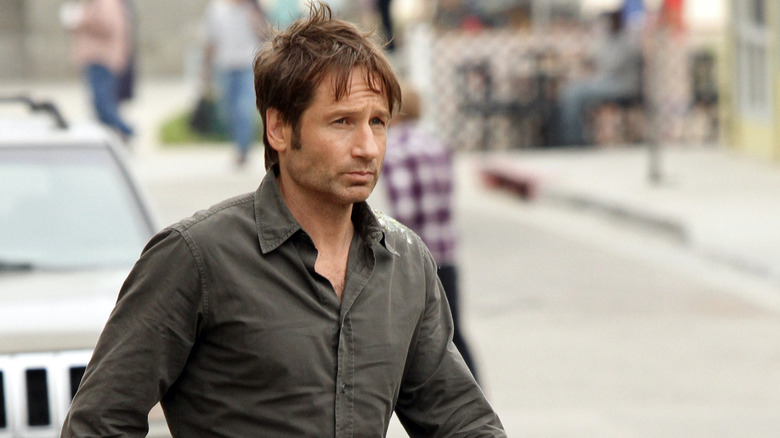 Showtime
David Duchovny is known for his edgy, humorous, and alternative roles, most notably as Fox Mulder on "The X-Files," but also as Hank Moody on "Californication," Jake Winters in "Red Shoe Diaries," and Sam Hodiak on "Aquarius." However, Duchovny is also a gifted dramatic actor, but really hasn't been given the opportunity to let that side of his skills shine. Characters like Moody and Winters are also pretty sexually charged, while the aging Marty would show Duchovny in an entirely different light. He recently sat down to chronicle his career thus far, noting that Moody was a role he had been looking to play his entire career. Now, Duchovny will get the chance to play Marty Fullilove, and embody a character he crafted on his own.
"Bucky F****** Dent" is set to begin shooting later this year, and is being produced by Jordan Yale Levine and Jordan Beckerman of Yale Productions with Nick Donnermeyer introducing the project to potential buyers at the Cannes film festival later this month under Yale's sales banner, Great Escape. 
"We're thrilled to be working with David to bring this amazing story to life," said Yale Levine and Beckerman. "His passion and vision for this film are so clear, and the themes of this story — father and son, life and death — are deeply meaningful and universal."