Keke Palmer Explains How Jordan Peele's Nope Will Be Different From Get Out And Us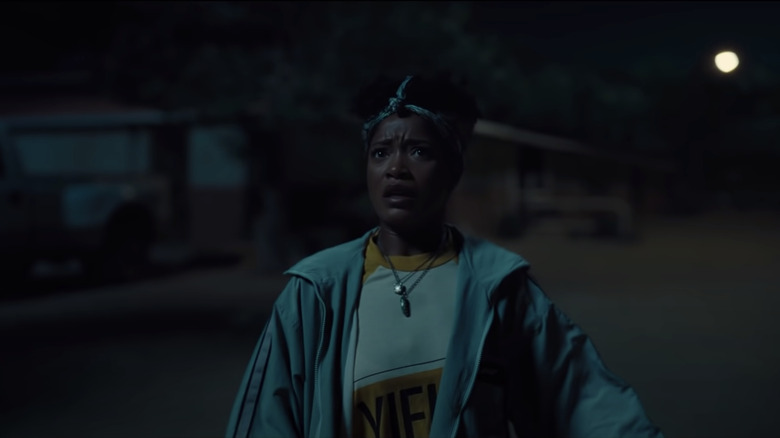 Universal Pictures
I don't know about you, but July 22, 2022, cannot get here fast enough. Jordan Peele has more than proven himself to be one of the most remarkable new voices in horror, and the anticipation for his upcoming alien horror flick "Nope" is palpable. Peele may have cut his teeth in the world of comedy, but the "Get Out" and "Us" director has showcased why expanding the worldview of horror storytelling is a recipe for success. Audiences were given a brief taste of what to expect with "Nope" at this year's CinemaCon with one viewer describing the preview footage as "f****** sick." Not that we should have expected anything less from the man who inspires us to break down the trailers to his films frame by frame. In a recent interview with Entertainment Weekly, "Nope" star Keke Palmer provided a little more insight into what we should expect from the film, and which preconceived notions we should leave at the door.
"'Nope' is nothing like 'Get Out' or 'Us,'" said Palmer, 28. "It's a totally different vibe, it's about something different — the themes are totally different, and the tone is totally different." Palmer said that the film is tackling a lot of tones seen in 1970s genre films. She recently starred in the genre-bending film "Alice" which takes place in 1973, so if she's saying "Nope" is giving a '70s vibe, we'd be wise to believe her. The 1970s were a heyday for exploitation cinema and science-fiction horror films, which should only increase the excitement level of horror fans everywhere.
Don't define Nope by the actors' race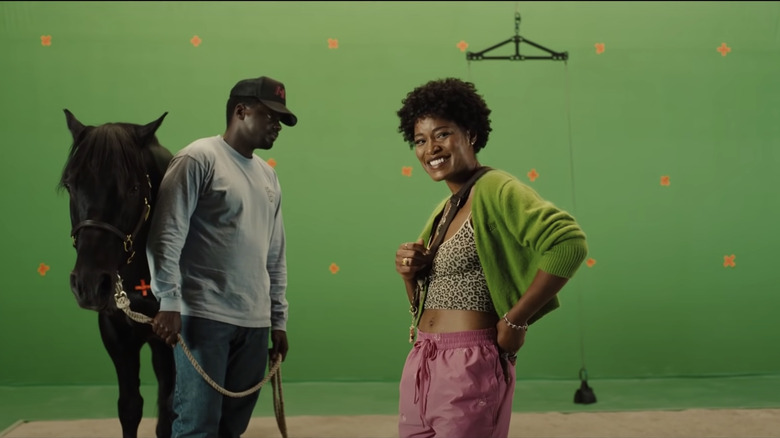 Universal Pictures
Some people possess the unfortunate and limited viewpoint that Peele is making "Black horror," when the reality is that Peele is doing so much more than that. "I'm excited to just represent a really cool character that is not solely defined by their complexion," Palmer said. "I think Jordan [Peele] has done a great job in all his films of talking about something." She continued by addressing that while "Get Out" is obviously a horror story about the realities of racism, "Us" is a film about class. Peele has been very vocal about how "Us" is a horror film featuring a Black family, but that the story is not about Blackness, and many film analysts have encouraged and affirmed his statement. 
"With 'Nope' you'll take whatever you take from that," said Palmer. "But I just love how with everything he does, while there will be Black leads, the gag isn't always that you're Black."
Palmer said that the film follows Peele's tradition of using horror as a vehicle to comment on something bigger, saying the film "uses the horror genre as a way to [examine] what we are all running from, or what we all get so totally obsessed with, how it defines us, how it brings us to the edge." If Peele's reputation has proven anything thus far, it's that we should never try to put him in a box or assume we know what tricks he's got up his sleeve. Rest assured, whatever style of horror he pulls out of his hat, it's going to be magical.