Clips Round-Up: Dr. Delirium & The Edgewood Experiments Trailer & More! [Exclusive]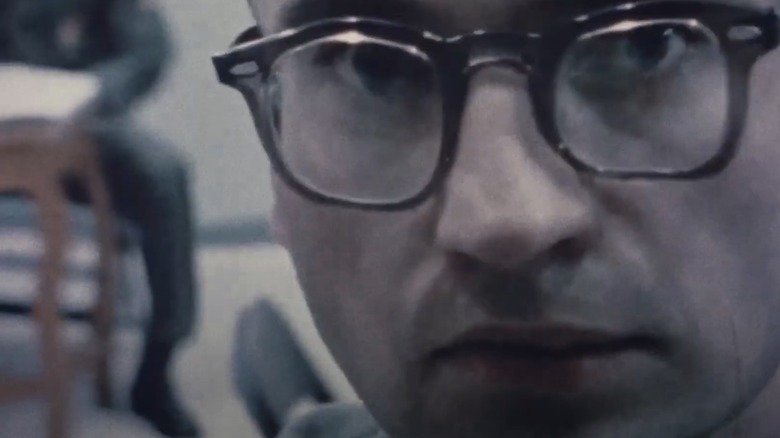 discovery+
(Welcome to SlashClips, a series where we bring you exclusive clips from hot new Digital, Blu-ray, and theatrical releases you won't see anywhere else!)
In this edition:
"Dr. Delirium & The Edgewood Experiments"
"Ninja Badass"
"Private Property"
"All My Puny Sorrows"
"Mau"
Dr. Delirium & The Edgewood Experiments Trailer
First up we are exclusively premiering the trailer for the upcoming discovery+ documentary "Dr. Delirium & The Edgewood Experiments," which offers a shocking look into the world of bizarre military drug experiments. The documentary is coming exclusively to the streamer (which just became available on Roku) on June 9, 2022.
Here is the official synopsis:
From 1955 to 1975, the United States Army Chemical Corps conducted classified human subject research on thousands of soldiers at the Edgewood Arsenal facility in Maryland. The purpose was to evaluate the impact of potent, mind-altering chemical warfare agents on military personnel as an alternative to traditional mortal combat. Today, many of those soldiers believe that the military broke the law and engaged in a decades-long cover-up to hide the truth about what really happened to them at Edgewood Arsenal. Through shocking, never-before-seen footage of the drug experiments, along with exclusive, first-hand accounts from both the mastermind behind the research and the soldiers who participated in it, "Dr. Delirium & The Edgewood Experiments" will uncover the true story of one of the most bizarre and controversial chapters in recent American history. 
Ninja Badass Trailer
Next up we're premiering the green band trailer for "Ninja Badass, the debut feature from Ryan Harrison (who also wrote, produces, and stars). The scrappy indie has garnered accolades at many film festivals, capturing awards such as "Best Comedy" at San Antonio's Rivercity Underground Film Festival, "Best Grindhouse Feature" at the Slash Night Film Festival, "Best Horror/Comedy" at Nightmares Film Festival, and the "Best Director" and "Audience Choice" awards at the GenreBlast Film Festival. "Ninja Badass" opens in Los Angeles at the Laemmle Monica Film Center and via virtual cinema on June 10, 2022.
Here is the official synopsis:
The Ninja VIP Super Club is doing a slow drag across the American Midwest, culminating in female sacrifice. When they kidnap a super hot babe that local scumbag, Rex, has his eyes on – it's up to him to become a ninja and steal her back! From exploding cows to bazooka cops, hillbilly senseis, even more super hot babes, deadly flying feet, badass ball rippers and an over-the-top ninja villain in cowboy boots with an appetite for everything that's soft and fuzzy – along with the original song "I'm a Ninja Now" from Vince Johnson, the singer-songwriter behind Joe Exotic's viral songs such as "I Saw a Tiger" — this outrageous twist on '80s B-ninja flicks is a singular, out-of-body experience moviegoers won't soon forget!
Private Property
Here we have an exclusive clip from the Lionsgate thriller "Private Property," starring Ashley Benson, Shiloh Fernandez, Logan Miller, Frank Whaley, and Jay Pharoah. It opens in select theaters, on-demand, and digital May 13, 2022.
Here is the official synopsis:
This tense and gripping neo-noir thriller walks the fine line between reality and deception. Stuck in a marriage to a rich Hollywood producer (Jay Pharoah, "SNL"), struggling actress Kathryn (Ashley Benson, "Pretty Little Liars") finds herself attracted to Ben, her new gardener. Then, she meets Ed, the eccentric millionaire who's just moved in next door, and a BBQ turns into a drunken party. Kathryn awakens to discover that Ben and Ed have been hiding secrets, and that her home — and life — may now be in grave danger.
All My Puny Sorrows
Momentum Pictures has just released the drama "All My Puny Sorrows" on-demand and digital, and we have an exclusive clip. Based on the internationally best-selling novel of the same name written by Miriam Toews, the film stars Tony Award nominee Alison Pill ("Scott Pilgrim vs The World"), Sarah Gadon ("Black Bear"), Amybeth McNulty ("Anne with an E"), with Donal Logue ("Blade"), and Academy Award nominee Mare Winningham ("St. Elmo's Fire"). The film was written and directed by Michael McGowan ("Still Mine").
Here is the official synopsis:
Based on Miriam Toews' best-selling novel "All My Puny Sorrows" unexpectedly infuses wry humor into this heart-wrenching story of two loving sisters: one a gifted pianist (Sarah Gadon) obsessed with ending her life the other a struggling writer (Alison Pill) who in wrestling with this decision, makes profound discoveries about herself.
Mau
Finally, we have a clip from Mau, the documentary about world-renowned designer Bruce Mau and his ever-optimistic push to tackle the world's biggest problems through design. Greenwich Entertainment will release the film in theaters on May 13, 2022, and on digital on June 7.
Here is the official synopsis:
"Mau" is a feature-length documentary about design visionary Bruce Mau and serves as an essential introduction to the wider non-design world audience someone who has been described by The New York Times as "one of the most creative minds in design today." Mau's insights into the possibilities of design, combined with his own unlikely backstory and inspiring creative journey will leave viewers with renewed optimism that we have the tools to tackle some of the world's biggest problems. Most think of design visually, we imagine a product, something expensive, the work of a singular artist. Bruce Mau doesn't. "Mau" is a glimpse into Bruce Mau's ideas and his mind.