Daniel Day-Lewis' Method For Locking Down Lincoln's Voice Required Some Digging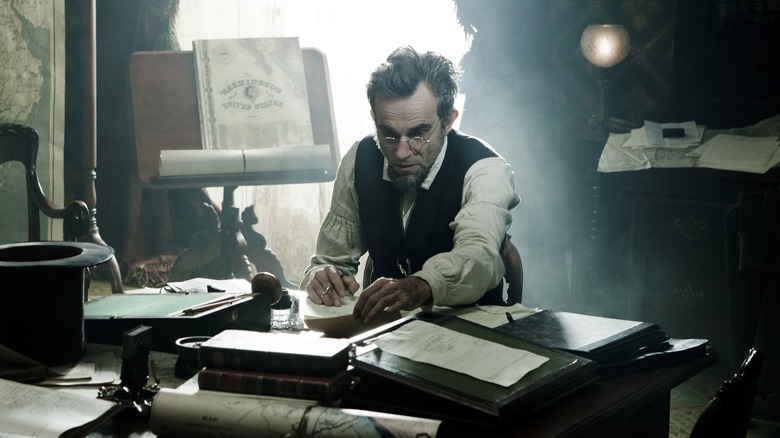 Disney
Steven Spielberg's 2012 film "Lincoln" is easily the filmmakers' best, and it's not even close. "Lincoln" tells the story of the 16th U.S. President's fight to pass the 13th Amendment after the signing of the Emancipation Proclamation, in the hopes to stymie Southern states' efforts to reinforce slavery after its abolition, but — being made in 2012 — it had more on its mind than a mere historical document. "Lincoln" was written by Tony-winning playwright Tony Kushner, who had finally legally married his husband Mark Harris in 2008. Same-sex marriage was slowly become legal nationwide in 2012 after far too many years of struggle — the landmark case Obergefell v. Hodges would be decided until June of 2015. Given the climate around same-sex marriage, one can see Spielberg using a historical precedent to explore a modern political issue. "Lincoln" was about slavery, but it was just as much about gay marriage. 
One can see Spielberg taking a similar tack in his films "Munich" (just as much about 9/11 as it is about the Israel/Palestine conflict) and "The Post" (just as much about Trump as it is about Nixon). 
Playing the title character in "Lincoln" was Irish actor Daniel Day-Lewis, who would (rightfully) win an Academy Award for his performance. In the American mythos, Abraham Lincoln has become something of an untouchable figurehead, often representing — as a symbol — the best of what the presidency can offer. This vaunted image of Lincoln isn't helpful, of course, when one is attempting to play him as the real-life human being he was. Day-Lewis, famously devoted to the Stanislavski Method, had to delve into who Lincoln was as a man, and how he would have communicated personally. It's been reported in The Observer and other places, that Day-Lewis would send text messages to Sally Field (who played Mary Todd Lincoln) in character.
It was important to Day-Lewis to nail Lincoln's voice just right. However, as there are no extant recordings of Lincoln's voice, so Day-Lewis had to do a great deal of research on the matter. The Hollywood Reporter reported on a Q&A Day-Lewis did in Manhattan with Time Magazine explaining how he came to the voice he did. Contrary to what one might assume, the 6'4" Lincoln did not have a basso profundo voice.
No one can say for sure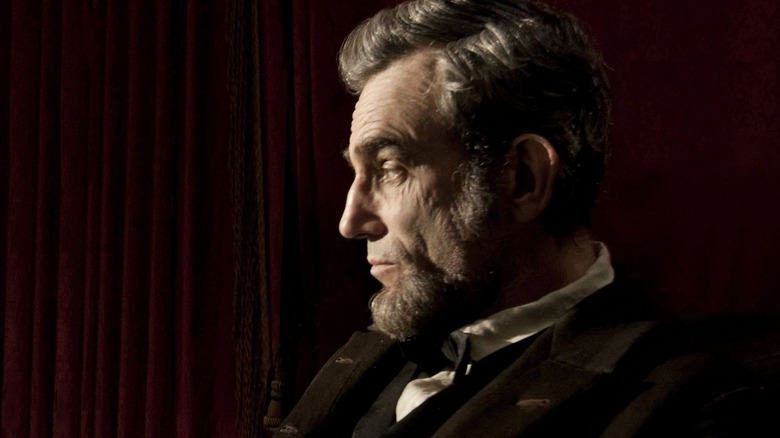 Disney
In the Time Magazine Q&A, Day-Lewis revealed some of his conclusions as to finding Lincoln's correct voice:
"Well you look for the clues, as with any aspect of the work. You begin with the places that would have made a huge difference in his life. Kentucky, Indiana and Illinois, and the counties that he came from. There are some early recordings, but no contemporary recordings — lucky for me, so no one can say positively that it's not what he sounded like." 
A loud, deep booming voice, Day-Lewis pointed out, wasn't always the only tool for giving great oratory in the 1860s: 
"There are also a number of contemporary accounts about the quality of his voice, and I'm inclined to think that having had a voice that was intended to be in the higher register, tended to be placed more in the head tones, that helped him reach a greater number of people in his public speaking. Stump speaking was such a huge part of their lives, they spoke sometimes for two hours or more without notes, at that time regularly."
But, at the end of the day, Day-Lewis was allowed some creative license: 
"And beyond that, I suppose it really was just an act of imagination."
The challenge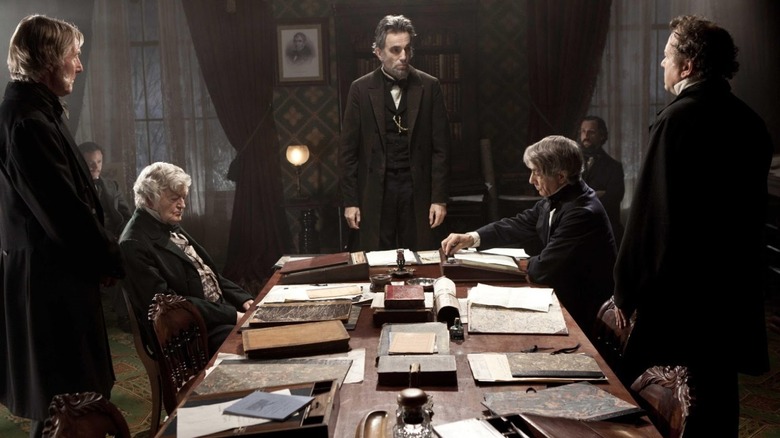 Disney
Despite Day-Lewis' notable acclaim as an actor, he doesn't always approach every role with confidence. Indeed, portraying such a well-known historical figure as Abraham Lincoln was intimidating for the actor, as he not only wanted to respect him as a man, but as do justice to history: 
"It's a disturbing privilege. And for that very reason, I was extremely shy about taking on this wonderful task. I'm not keen on history being tampered with to a great extent, or any extent really, and I felt with this man particularly, that it might just be impossible to find the life in him that would help tell this story. And I hope to goodness that people that do see this film will not feel that this part of their history, which is so vital, has been misrepresented."
"Lincoln" was nominated for twelve Academy Awards, including Best Picture, but only won two for Day-Lewis and for its production design (that was the year Ben Affleck's "Argo" won Best Picture). Day-Lewis has only made one film since "Lincoln": Paul Thomas Anderson's "Phantom Thread" in 2017. Shortly prior to the release of that film, the actor announced that he was retiring from the craft. whatever his next endeavor is, one can only hope that he is happy doing it.