'The Post' Review: Steven Spielberg Directs The Most Important Film Of The Year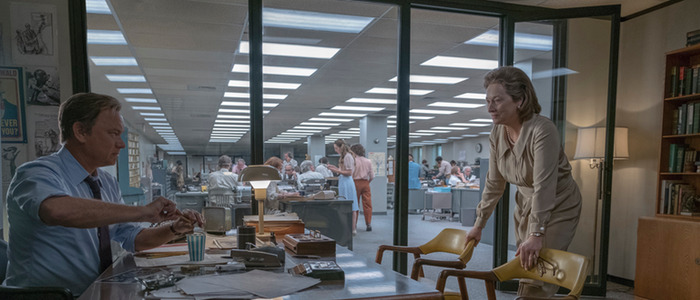 Steven Spielberg's latest film, The Post, once again proves that the acclaimed filmmaker hasn't lost his touch. In less than a year, Spielberg has put together an expertly crafted film. Even more than that: he's made what might just be the most important film of 2017. In tackling an historical story focused on the importance of a free press, Spielberg is holding a mirror up to today, reminding us what's past is prologue.Does the truth still matter? I'd like to hope so, and so would Steven Spielberg. His new film arrives at just the right moment: the end of a year that saw the current occupant of the White House employing empty cries of "fake news" and openly declaring members of the free press to be his enemies. It is impossible to separate the historical events of The Post from current events, and that was exactly Spielberg's intention. "I realized this was the only year to make this film," the filmmaker said in a recent interview. In 1971, The New York Times published excerpts of what would become known as the Pentagon Papers. The documents, leaked by military analyst Daniel Ellsberg, revealed that the United States government had been lying about the war in Vietnam for nearly 30 years. Talks of the pursuit of peace were bunk and that the military and the CIA had been secretly expanding the war. The news arrived at a time when the Vietnam War was still very much a reality, and here was a confirmation of what so many protesters had been shouting: the war was unjust, and it needed to end. But rather than end and admit defeat, the United States instead kept the fires burning, and had no real trouble doing so because their actions were kept secret. The Pentagon Papers threatened that, which meant President Richard Nixon and those around him had to act quickly to stop the spread of information. Their solution: try to use the courts to block the Times from publishing.Spielberg's The Post follows these events through the eyes of the journalists at The Washington Post, who picked up the story after the Times, tracked down Ellsberg, and dared to keep printing the papers even after the government told them to stop. But The Post isn't really a film about Vietnam. Nor is it really about the corrupt Nixon White House. Instead, Spielberg and screenwriters Liz Hannah and Josh Singer have crafted a rousing, inspiring, well-timed defense of the First Amendment; a film that champions the need for a free press. The current masthead of The Washington Post reads "Democracy Dies in Darkness," and The Post takes the spirit of that message and runs with it.The Post is also, surprisingly, the most feminist film Spielberg has made since 1985's The Color Purple. As great a filmmaker as the acclaimed director is, and as strong a storyteller he may be, his films have almost universally focused on male protagonists. The Post changes this, and does so remarkably well. The Post also serves as a closer in what could unofficially be called Spielberg's "Standing Man" trilogy, beginning with Lincoln, continuing with Bridge of Spies, and concluding here. These three films are primarily focused on certain people who do what they think is right, consequences and advice to the contrary be damned. Only here, the "Standing Man" at the center of the narrative is a woman (which means it's time to think of a new unofficial name for the trilogy).That woman is Washington Post publisher Katharine "Kay" Graham, played by Meryl Streep. Streep's Graham is a woman in a man's world: the lone female at the boardroom table surrounded by identical-looking men; the female hostess who takes her fellow female guests into the other room when the men at the dinner party start talking politics. The Post has been in her family for years, but her late father left the trust of the paper to her husband. Her husband's suicide, however, put Kay in charge, and now she finds herself becoming part of the paper's world. Early scenes brilliantly set-up Kay Graham: she's too timid to speak-up at a board meeting, not because she doesn't have ideas, but rather because she came up in an era where women weren't supposed to express themselves so openly. As The Post unfolds, we see Kay finding her voice, and taking a stand, and Streep handles all of this magnificently.At this point in her career, it seems almost silly to talk about what a great actress Meryl Streep is. Yet it can be easy, especially for people who cover film, to grow numb to the endless accolades that have been lavished upon her throughout her storied career. The Post is a staggering reminder of just why Streep is considered such a brilliant actress. There's a subtlety to her performance here that I don't think audiences are going to be prepared for. The way Streep nervously fidgets with the phone in her hand while making a big decision, or the way she bites her tongue when in the presence of others, all silently convey the character, making her fully formed and entirely believable.
Spielberg has assembled a killer cast around Streep, first and foremost being frequent Spielberg collaborator Tom Hanks, playing Post Executive Editor Ben Bradlee. Hanks is a delight as Bradlee, all gruff vocal mannerisms and sly winks to his staff. When The Post opens, the relationship between Graham and Bradlee is friendly and professional, but as the narrative unfolds we see it blossom into something more. Bradlee comes to respect Graham as she puts herself in a potentially dangerous situation for the pursuit of truth.Other members of the murderer's row of a cast include Sarah Paulson, Bob Odenkirk, Tracy Letts, Bradley Whitford, Bruce Greenwood, Carrie Coon, Alison Brie, Jesse Plemons, David Cross, Michael Stuhlbarg, Jessie Mueller, and many more. If there's one primary fault with The Post, it's that Spielberg has hired all these phenomenal actors as background players, and as a result, some of them don't get very much to do. Yet the filmmaker has a few tricks up his sleeve. The casting of Coon and Paulson, in particular, seems like a wasted opportunity, with Paulson playing Hanks' supportive wife and Coon playing editorial writer Meg Greenfield. But just when you think both actresses are being underutilized, Spielberg gives them each their own show-stopping moment: Paulson with a resonating speech about how admirable Graham's actions are, and Coon with a scene near the film's emotional climax, delivering a line that will send goosebumps up your arm.Of all the supporting players, Odenkirk shines the brightest. Who knew that one of the guys from Mr. Show (reunited here with Mr. Show co-star David Cross, no less) would evolve into an exemplary dramatic actor? Odenkirk has already proven his dramatic chops on the Breaking Bad spin-off Better Call Saul, and in The Post, he takes it to the next level. Odenkirk plays journalist Ben Bagdikian, who is able to track down Ellsberg and retrieve the Pentagon Papers for the Post to publish. Hanks' Bradlee is a brash, loud, unsentimental sort of newspaperman, while Odenkirk's Bagdikian is quieter; more contemplative; a bit sadder. It's a nuanced, unshowy performance that does wonders for the film.Spielberg and long-collaborating DOP Janusz Kaminski capture The Post in exhilarating fashion. I've read one or two comments calling the film "muted," and I'm not quite sure how anyone could take that away here. The camera is always on the move, rising as characters rise from their seats, or staying just a few steps ahead as they sprint from one location to the next. The newsroom set is alive, bustling with energy and accented with the musical sound of typewriter keys eternally tapping away. As the printing press roars to life in the basement, desks rattle, as if some long-dormant god has been roused from a prolonged slumber.And then there's the pacing. This is perhaps the breeziest film of Spielberg's career. At a lighting fast 1 hour and 55 minutes, there's almost no fat on The Post, save for a prologue set in Vietnam which could've been excised. Pacing has never really been a problem for Spielberg, but with The Post he has crafted a film that carries its audience along at breakneck speed, turning what easily could've been a stuffy chamber room drama into an exhilarating thrill-ride. Editors Sarah Broshar and Michael Kahn know just where to cut to keep scenes snappy and impactful. The end result is a narrative that punches fast and hard, like so many typewriter keys against a blank sheet of paper.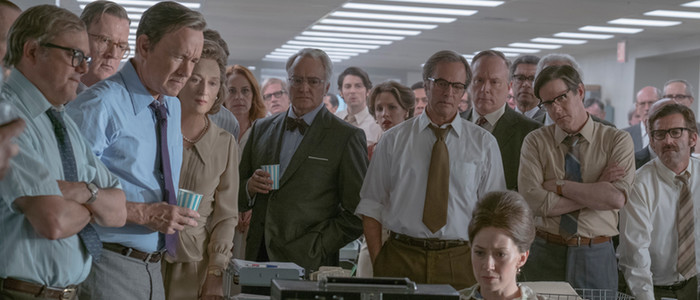 When the editorial staff of Post gets ahold of Ellsberg's papers, Bradlee has no reservations about running them: to him, it's a First Amendment issue, cut and dry. But The Post's script is also wise enough to show that the act is not just a righteous cause for Bradlee, it's a professional one too. As the film opens, the editor is embittered that the Post is still thought of a small local paper. "Wouldn't you like to report the news instead of reading it elsewhere?" he asks during an editorial meeting. Publishing the Pentagon Papers would elevate his "small local paper" to a national stage, and he knows that. Hanks handles these warring narratives inside the character with a cool, infectious grace.But the choice isn't so easy for Graham. She's just taken The Post public, and publishing excerpts from the Pentagon Papers could both be considered illegal enough to land her in jail, and scandalous enough to destroy her paper in the eyes of the shareholders. And then there's that built-in self-doubt; the self-doubt that's been ingrained into Kay Graham through a lifetime of being made to assume she didn't know best because she was a woman. "When to [male colleagues], you're not even there," Paulson says about Graham's predicament at one point, "when that's been your reality for so long, it's hard not to think it's true." Yet Graham does the right thing. "Let's do it," she says when the time comes to publish the Pentagon Papers, uttering her decision in a voice both nervous and exhilarated.
Lurking in the background is Nixon, always spotted at a distance ranting and raving in the White House. An actor plays the part, but it's Nixon's real voice, picked up from the hours and hours of audiotapes that would eventually contribute to his downfall, that we hear. As the President declares newspapers to be his "enemies" and issues threats, the indication is clear: we've been here before.
"We can't have an administration dictating our coverage just because they don't like what we write about them in our newspaper," Hanks' Bradlee says early in The Post, and it's this line that colors the whole film; this is essentially what this movie is all about. Yes, it's a rousing historical drama; yes, it's a strongly feminist film; yes, it's a killer ensemble piece loaded with some of the best actors in the business. But this above all: The Post is a celebration and a much-needed defense of a free press. In an era where people in power try to shrug off unflattering reports as "fake news," Steven Spielberg, one of the most popular and renowned filmmakers of our era, and his team have crafted a film that trumpets the importance of truth, and commends those with the courage to keep fighting for it. Whether you like the news or not, you cannot bury it for long.Near the end of The Post, a quote from Supreme Court Justice Hugo Black is repeated by Carrie Coon's Meg Greenfield. "The press was to serve the governed," she quotes, "not the governors." That 46-year-old quote rings out across time and serves as a rallying cry for today. The Post isn't precisely the best film of the year, but it is the most important./Film Rating: 9 out of 10