Year Of The Vampire: Hotel Transylvania Gave Monsters A Friendly Face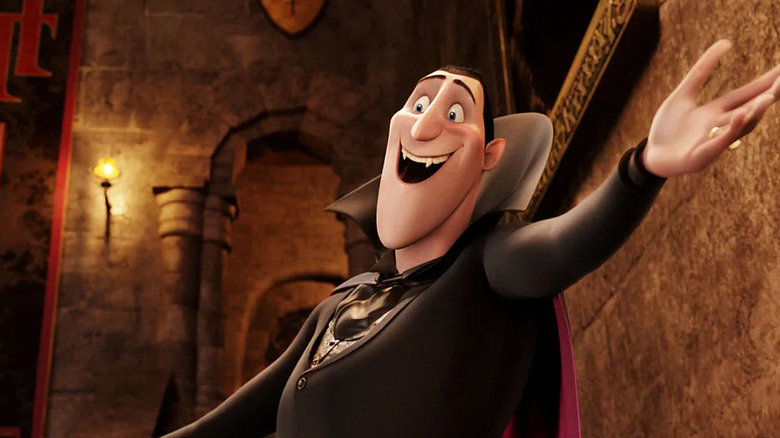 Sony Pictures
(Welcome to Year of the Vampire, a series examining the greatest, strangest, and sometimes overlooked vampire movies of all time in honor of "Nosferatu," which turns 100 this year.)
It's been about a decade since Columbia Pictures swooped in with "Hotel Transylvania," a 2012 animated movie that brought together the classic monster archetypes in a fun, family-friendly story. In addition to putting Universal's Dark Universe later attempt to shame, "Hotel Transylvania" was a welcome spin on the typical Adam Sandler movie — it featured many of his frequent collaborators, but in a decidedly "PG" form. The approach worked shockingly well: Since then, the franchise has grown to include four feature-length films, three short films, and a television series (not to mention all the merchandising deals).
"Hotel Transylvania" is not the first attempt to use spooky creatures to appeal to children — this is actually very common. The Universal Classic Monsters have a special appeal to young children; Sara Karloff — daughter of famous "Frankenstein" actor Boris Karloff — has spoken at length about the special relationship he father's iconic character had with child fans:
"My father always said that kids got it — they weren't afraid of the monster. They understood that he was the victim, not the perpetrator."
Over the years, there have been a ton of "monster" properties aimed at young viewers: not just the family-friendly '60s sitcoms "The Adams Family" and "The Munsters," but also Saturday morning cartoons like "Frankenstein Jr. and The Impossibles" and "Groovy Goolies," feature films like "The Monster Squad," and even transmedia franchises like "Monster High." The Columbia Pictures and Sony Pictures Animation capitalized on this trend with "Hotel Transylvania," which found the perfect balance of spooky fun and kid-friendly gags to launch a whole new franchise. 
What it brought to the genre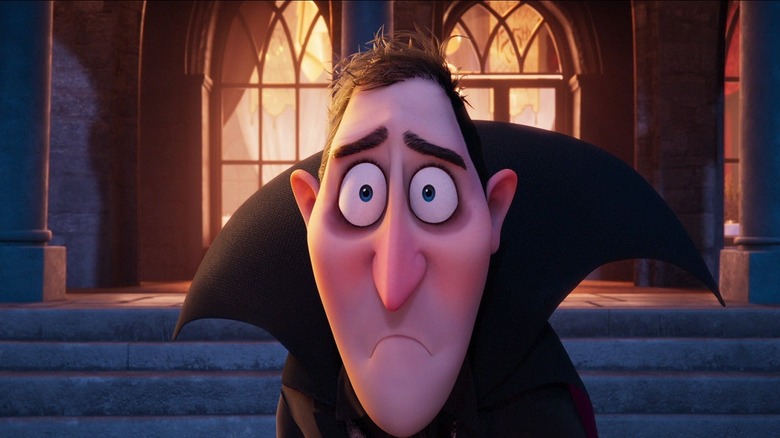 Sony Pictures
"Hotel Transylvania" is about a hotel for monsters, run by Count Dracula himself. He arranges a massive party each year for all of his pals, giving the various creatures an opportunity to be themselves and let loose, without fear of being discovered — and subsequently hunted — by humans (how Drac's wife, Martha, met her tragic end). In the film, they are celebrating the 118th birthday of his beloved daughter Mavis; however, the gathering is accidentally crashed by Jonathan, an average human — and the matters are made even more complicated when Drac's own daughter falls in love with the man. 
The end result is a surprisingly endearing story of a young woman discovering her independence, and a single father gradually coming to accept that his "little girl" is no longer a child. What's more, there's a strong message of acceptance here: the monsters are shocked to learn that humans no longer fear and hate them, breaking down a social barrier that had kept them hidden in the shadows for countless years. 
Although "Hotel Transylvania" is more broadly about monster archetypes than vampires, it does feature two blood-suckers as its central figures: Count Dracula and Mavis. The movie subverts the gothic horror subgenre of "vampire" movies; rather than being powerful and in control, the vampires are the ones who are afraid. It's more subtle than the "humans are the REAL monsters" subtext of films like "I Am Legend," and it offers a fresh new angle for these kind of stories. The ending also left the door open for further stories exploring a world where humans and monsters learn to coexist, without the emphasis on a predator/prey relationship. "Hotel Transylvania 2," for example, is centered on Mavis and Jonathan's son, Dennis, and whether or not he inherited his mother's vampire abilities. 
While the franchise is on the decline narratively ("Hotel Transylvania 3: Summer Vacation" is about the monsters ... taking a cruise (really) while the streaming-only release "Hotel Transylvania 4: Transformania" is essentially about the monsters losing their abilities while the humans gain them) you can't deny that the IP has had a major impact on pop culture. 
From frightening to family-friendly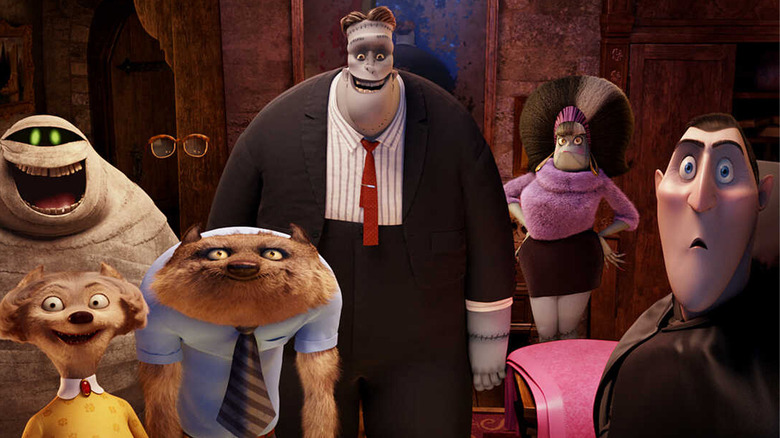 Sony Pictures
Let's face it: by 2022, it's very difficult to make a genuinely scary movie using the classic monster archetypes. With the exception of 2020's "The Invisible Man" — which took the best elements from the classic Universal movie, but updated the story to draw on contemporary fears like toxic masculinity, domestic abuse, and even surveillance technology — the attempts to make vampires, werewolves and especially mummies scary in 21st century have largely failed. Even the '90s movies "Bram Stoker's Dracula" and "Mary Shelley's Frankenstein" had mixed success, banking largely on massive budgets, literary prestige, and gorgeous period sets and costumes. People may like "Bram Stoker's Dracula," but did anyone actually find it scary?
"Hotel Transylvania" is evidence further proving that these horror figures work best in parodies and comedies today. The idea of an immortal being with a major aversion to UV rays and caesar salad feels a bit silly. It doesn't help that "Twilight" made them sparkle. I will always appreciate a good vampire story, and there's still a lot to do in the genre — but when it comes to Count Drac and his motley crew of spooky monsters, the tone of "Hotel Transylvania" hits all the right notes.