Danny Elfman's Score For Sam Raimi's Spider-Man Is Finally Coming To Vinyl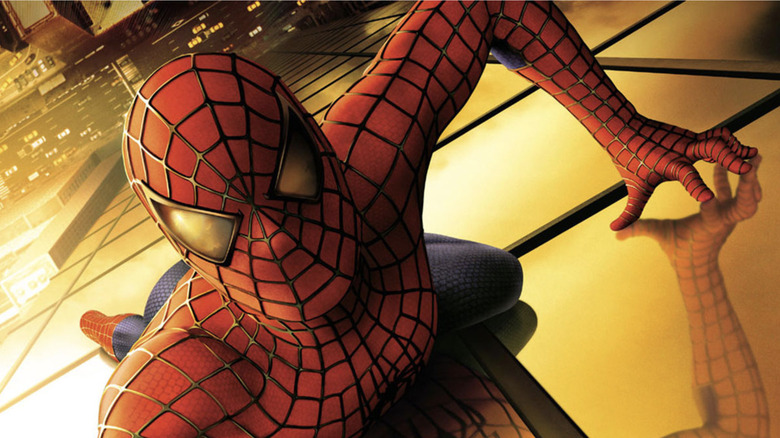 Sony Pictures Releasing
We may receive a commission on purchases made from links.
Twenty years ago, Sam Raimi set the groundwork for the superhero cinematic takeover we find ourselves in today when "Spider-Man" arrived in theaters. The Marvel and Sony flick lit the flame of the comic book adaptation powder keg, scattering its ashes of inspiration for decades to come. The anniversary of "Spider-Man" has been an absolute delight to celebrate, as it coincides with Raimi's return to superhero films with "Doctor Strange in the Multiverse of Madness" hitting theaters. To continue the celebration, Sony Music has announced that Danny Elfman's musical score for "Spider-Man" is getting released on vinyl for the first time, ever.
* @DannyElfman's Spider-Man theme intensifies *

The soundtrack to the #SpiderMan film that started it all, available for the first time ever on vinyl!

Pre-order your copy today, details below:

🕷 https://t.co/f6V9O5mYyb
💿 https://t.co/M5uciv1NPu
📀 https://t.co/hSO5zWhqS8 pic.twitter.com/phj9dpAH3b

— Sony Music Soundtracks (@SonySoundtracks) May 6, 2022
Raimi and Elfman have had a couple of winning collaborations, as Elfman previously scored for Raimi's films "A Simple Plan" and the monstrous superhero noir "Darkman" before crafting the perfect theme for "Spider-Man." Elfman is most well known for his collaborative efforts on 16 Tim Burton films, but "Spider-Man" is some of Elfman's career best work. Parts of his original score were interwoven in "Spider-Man: No Way Home" when Tobey Maguire's Peter Parker (aka Peter Two) and Doc Ock (Alfred Molina) shared the screen together. We should have known a re-release of some sort was on the horizon, as Elfman included selections from "Spider-Man" during his Coachella performance last month. Regardless, the "Spider-Man" score is getting a limited run release with three different color variants, making this a must have for record collectors, movie score fans, and anyone who appreciates the brilliant work of "Spider-Man."
Pre-orders are available now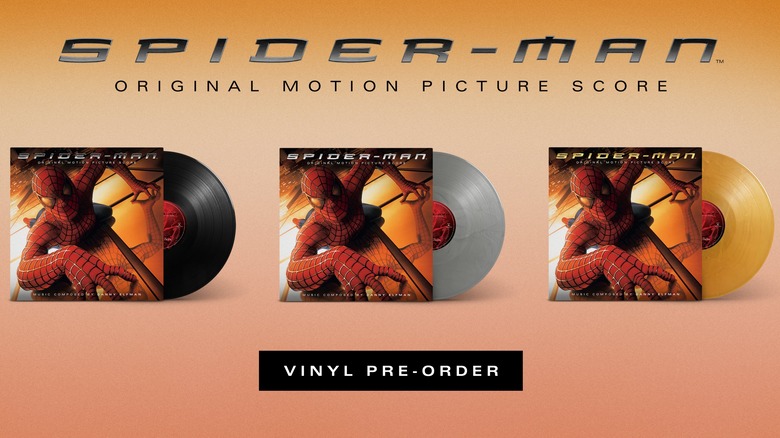 Sony Music Soundtracks
Elfman also scored "Spider-Man 2" but did not return for "Spider-Man 3" due to interpersonal issues between he and Raimi. Fortunately, the two made amends at some point with the two reuniting for 2013's "Oz the Great and Powerful" and again for "Doctor Strange in the Multiverse of Madness." For those interested, the Dashboard Confessional EP for "Spider-Man 2" is already on vinyl and has been for years, in case all of this "Spider-Man" music talk has you itching to scream-sing "Vindicated." No, I did not just Google that information for my own wants and desires, why do you ask?
According to Sony Music Soundtracks on Twitter, the "Spider-Man" score will be available on 180-gram black, gold, or silver vinyl, safely nestled inside a soft-touch gatefold jacket with spot gloss, a poster insert, and a printed sleeve containing original film photography. The limited edition silver and gold variants will also feature silver and gold-foil lettering on the front cover, and are limited to 5,000 individually numbered copies in the U.S. The black vinyl sells for $29.98 while the silver and gold variants go for $34.98. The score is available to purchase through Amazon but will not ship until December, just in time for the holiday season.