The Very Sam Raimi Doctor Strange Joke You Probably Missed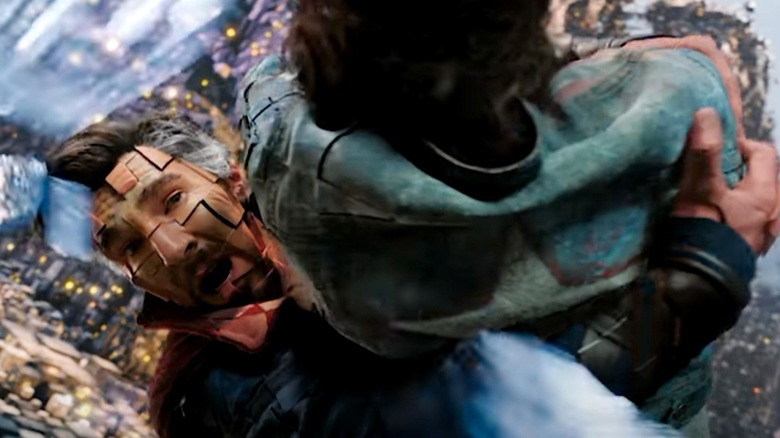 Marvel Studios
If you know anything about director Sam Raimi — apart from his penchant for snap-zooms, affinity for splatstick horror comedy, and skill at ecstatic genre filmmaking — you know that he's a working-class guy from Michigan. He was born in a town called Royal Oak, a suburb of Detroit, and attended high school in Beverly Hills, Michigan, before attending college in East Lansing. Raimi has always been cognizant of his roots, and his frequent collaborator Bruce Campbell has been described as a blue-collar hero. This has been especially clear in Raimi's insistence in including his very own 1973 Oldsmobile Delta 88 in almost every one his movies, not merely for nostalgic reasons — Raimi was driven around in that Olds as a teen — but perhaps to evoke Detroit's reputation as a motor city.
Raimi, a Detroit kid, of course has a favorite baseball team: The Detroit Tigers. He was so fond of the team, he even made a movie about it in 1999: "For the Love of the Game" starring Kevin Costner and Kelly Preston. "For the Love of the Game" is about a fictional Tigers pitcher named Billy Chapel who is nearing the end of his career and has pitched nothing but perfect games. It's easily the most Detroit-centric film in Raimi's career. 
The Tigers were founded in 1901, were the home of a young Ty Cobb starting in 1905, and currently has 29 former players in the Baseball Hall of Fame. The Tigers won the World Series in 1935, 1968, and 1984, and their best season was in 1934 with 101 wins and 53 losses. The reason a team from Detroit was named the Tigers remains a matter of speculation, urban legend, and fan theory. 
Watch "Doctor Strange in the Multiverse of Madness," and you'll find that Raimi snuck in a very clever joke about the Tigers.
The 2003 Season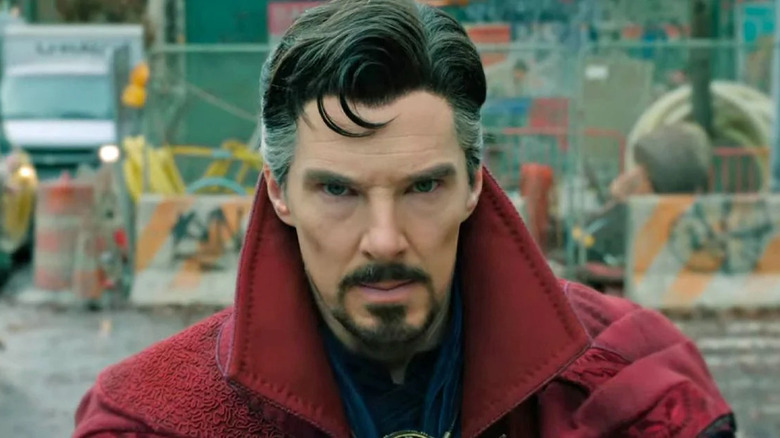 Marvel Studios
The villain of "Doctor Strange in the Multiverse of Madness" is The Scarlet Witch (Elizabeth Olsen), who — according to the events of the TV series "WandaVision" — has become immensely powerful. She also has come to fantasize about living inside of a sitcom with two imagined sons whom she has become convinced exist in a parallel universe. One of the notions introduced in "Multiverse" is that dreams are, in fact, psychic projections into parallel universes, and every dream you've ever had is, in fact, you visiting upon parallel version of yourself. Seeing as the Witch has been dreaming of her sons, that's proof enough that they're out there somewhere, and now she seeks to absorb the superpowers of a dimension-hopping teenager (Xochitl Gomez) in order to find the universe where her kids exist. She and Dr. Strange will end up having an intense wizard battle over Gomez' life and powers. 
As it turns out, the sons in question do indeed exist, and there is a parallel version of the Scarlet Witch who lives with her kids in a suburban, sitcom-like idyll. There are numerous scenes in "Multiverse" devoted to parallel Scarlet Witch hanging out, sharing ice cream, and swapping sports trivia with her two parallel universe sons. And what team are the two sons Billy and Tommy obsessed with? Naturally, the Detroit Tigers. 
It's worth noting that the above scenes take place in a dimension alien to ours — one that the Scarlet Witch longs for as her ideal universe — which may be why Billy and Tommy argue that 2003 was the best possible year for the Tigers. The fact that this is an imaginary universe will be incredibly clear to those who know the history of the Tigers. 2003 was notoriously the worst year for the Tigers in their entire history, with 43 wins and 119 losses. 
Hope for the future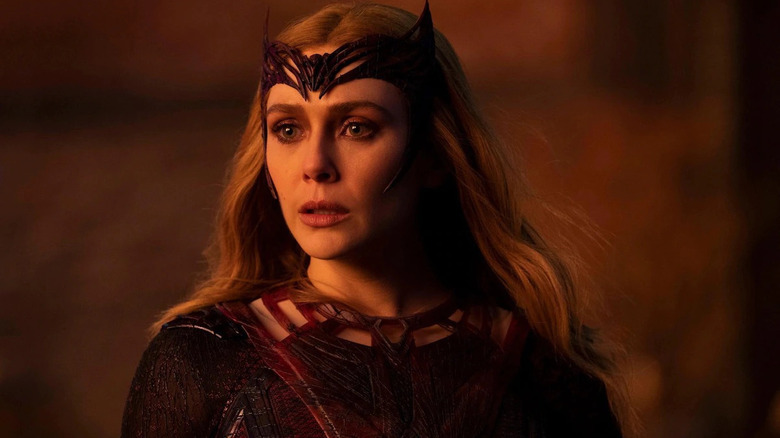 Marvel Studios
There's no way Raimi didn't insert that joke into "Multiverse." The film is credited to screenwriter Michael Waldron, and either an enterprising writer inserted a Detroit Tigers reference as a wink to the film's eventual director, or Raimi went in and polished things up a bit. 
Raimi is a Tigers fan to this day, and, at age 62, has begun devoting some of his free hours to more modest pursuits. In an interview with The Detroit News, Raimi talked about tending to his garden and growing fruit. He also reflected on his career in the same article, stating that he would no longer be able to hammer 2x4s together in order to haphazardly mount a camera like he did with his low-budget horror films in the 1980s. He mentioned that, on a gigantic studio production, there are 300 artists at work at a time, so a lot of the handmade spirit of his filmmaking is now taken care of. 
He also mentioned the Tigers who just finished their 2021 with a 77 – 85 record, outperforming all predictions, and with pitcher Spencer Turnbull pitching only the eighth perfect game in the team's history. Raimi was in good spirits about the team, saying, "I still have really high hopes for them."