Netflix's Sudden Cancellation Of Boons And Curses Was Devastating For The Team
Netflix
The comedy-action animated series "Boons and Curses," which was set to premiere sometime in 2023 on Netflix, has been unfortunately axed by the streaming service quite suddenly (via The Hollywood Reporter). Creator and executive producer Jaydeep Hasrajani and co-executive producer Jake Goldman and their team were left feeling pretty dejected after the series cancellation, a decision made by Netflix after their fairly recent announcement of losing 200,000 subscribers in the first quarter.
"Boons and Curses" was not the only animated series to be canceled, as Netflix also shut down other projects in production, including Jeff King's "Dino Daycare" and Meghan Markle and Prince Harry's animated series, "Pearl." These sudden, haphazard decisions by the streaming platform can be deemed problematic and unfair, to say the least, as it also involves a dozen journalists (mostly women of color) being laid off unceremoniously months after they were hired for Tudum, with only two months of severance pay.
The axing of animated shows like "Boons and Curses" might be Netflix's method of damage control, but it is one that comes at a great cost, both on personal and professional levels.
The problem with authentic, representative stories getting sidelined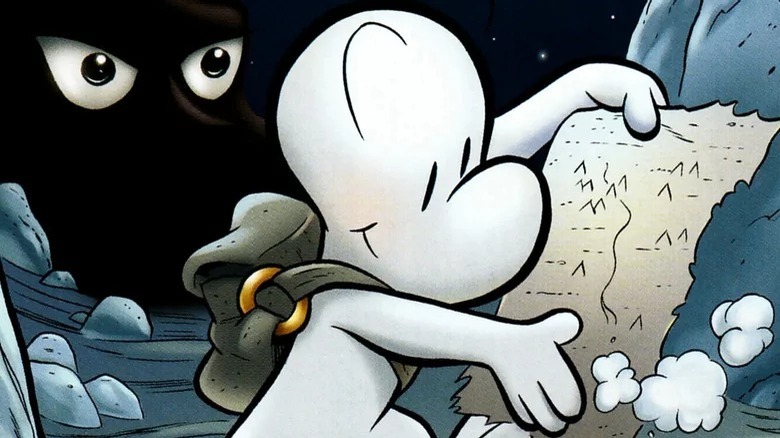 Jeff Smith
Hasrajani and Goldman had previously worked together on the "Powerpuff Girls" reboot, circling back to work on "Boons and Curses," which incorporates South Asian myths into its storyline. Hasrajani spoke about the importance of the storyline, especially how the cast and crew brim with emerging South Asian talent and how the news of the cancelation was "pretty devastating" for everyone involved:
"This was a first go at a purely authentic South Asian animated series, and we really rallied behind it as a team and a crew, and it was very genuine and a lot of hard work. Not only were we able to get a lot of South Asian talent behind the scenes, but we were also able to get a lot of allies to help support that vision, and also get an all-South Asian voiceover cast and an all-South Asian writers room. It was pretty outstanding that we were given a wide-reaching platform to make this effort. And so the news that came was pretty devastating."
Hasrajani and Goldman also stated that they had gotten positive responses for their pitch from every studio, and had decided to go with Netflix in the end due to the involvement of Jane Lee, manager of original animation and enthusiastically supports AAPI creators. Hasrajani also commented how he thought Netflix would have been an apt universal platform for his project, given how the story subverts stereotypical portrayals of South Asian characters on screen, allowing for a narrative that "combats" these harmful portrayals with love.
Hopefully, "Boons and Curses" will be picked up soon by another network, allowing the creators to bring their story to life. Here's the logline for the Netflix show that could have been:
"In the magical land of Maya, a cosmic war is on the horizon. The Raj and his monstrous army threaten to destroy any who stand against them! The universe itself hangs in the balance and our only hope is... 3 feet tall and made of butter. Claiming to be a cursed warrior from another time, Baan may have been transformed into solid ghee but he won't let that stop him!

 Teaming up with Rani, a young thief with delusions of grandeur, Baan must use every arrow in his quiver if he wants to defeat the Raj. Heavily inspired by ancient South Asia, Boons and Curses is an adventure-comedy highlighting the myths and legends that have enraptured generations."