The Star Wars Radio Drama You've Never Heard — That George Lucas Sold For $1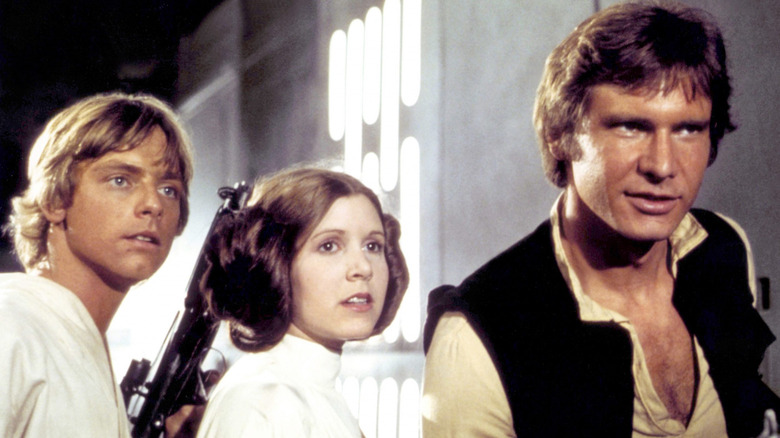 Disney/Lucasfilm
When I was very young, my siblings and I used to listen to a lot of stories via the millennia-old tech known as audio cassette tapes. I have clear memories of taking in many "Berenstain Bears" and "Sesame Street" books this way, along with the tie-in children's books for several of Disney's animated movies from the 1980s and '90s.
Most of all, I recall listening to the audio cassette version of "Star Wars – The Original Radio Drama," a multi-segment radio series dramatization of 1977's "Star Wars: A New Hope." The serial was first broadcast in 1981 on National Public Radio and is divided in 13 parts totaling just under six hours. (As you can imagine, my family often listened to the radio drama during our long road trip vacations.) George Lucas sold the "Star Wars" radio rights for just $1 to KUSC-FM, the public radio affiliate at his alma mater, the University of Southern California, based on his early script drafts for the film. A radio version of "The Empire Strikes Back" would debut two years later in 1983, with "Return of the Jedi" eventually following suit in 1996 after spending a decade tangled up in rights disputes between KUSC, Lucasfilm, and Los Angeles (which had produced the previous two radio dramas).
You can check out the first chapter of "Star Wars – The Original Radio Drama" below. The other 12 parts have also been uploaded to the same YouTube user's account.
Listen to the version of Star Wars you never saw
Part of what makes "Star Wars – The Original Radio Drama" such a joy is, of course, the cast. Years before he became a legend in the voice acting business, Mark Hamill reprised his role as Luke Skywalker for the radio serial. He's honestly better here than he was in "Star Wars: A New Hope," as much as I would argue Hamill's not-so-refined acting in that film befits where Luke is at, in terms of his emotional maturity. Also great is Brock Peters, whom I knew for playing Tom Robinson in "To Kill a Mockingbird" and Admiral Cartwright in TOS "Star Trek" movies when I first listened to the radio drama. He voices Darth Vader here and comes as close as anyone possibly could to matching James Earl Jones in the role, bringing the perfect blend of menace and intimidation with his vocal delivery.
The other thing that makes the "Star Wars" radio drama such a delight is the way it expands on "A New Hope." Due to the nature of the medium, the radio serial ends up adding a lot of dialogue to scenes lifted directly from the film, often to its benefit when it comes to clarifying plot points or character motivations. Best of all, it restores the movie's many famous deleted scenes, like the one where Luke goes to hang out with his pals at Tosche Station (including his BFF, Biggs Darklighter). It even features scenes that were either never shot and/or left purely to the imagination in "A New Hope," the most upsetting (in a good way?) of which is the moment where Vader tortures Princess Leia Organa (Ann Sachs) aboard the Death Star, hoping to learn the location of the Rebel Alliance's secret base.
To put it simply: even those who've seen "A New Hope" countless times would do well to give the radio version a listen and experience its story in a whole new way. Between its serialized format and pulpy chapter titles ("A Wind to Shake the Stars," "While Giants Mark Time," "Rogues, Rebels and Robots"), it's as faithful to the spirit of "Star Wars" as anything else in the franchise.