Cyrano De Bergerac Review: James McAvoy Is A Charismatic Cyrano In Brooklyn
Marc Brenner
James McAvoy's Cyrano is introduced as a sullen statue facing the sole mirror upstage, back turned from the audience and the ensemble before he blazes as a one-man stampede into someone else's soliloquy. By estranging Cyrano outside the chorus and fixating on his reflection, the blocking cements his preoccupations with his imagined ugliness and his ego. He abhors imperfections, but he abhors his own perceived imperfections the most.
Transported from its 2019 London world premiere (which was broadcast in cinemas) to Brooklyn, New York, a temperamental "Cyrano de Bergerac" performs at BAM. Its director, Jamie Lloyd, ensures a maximalist passion with the minimalism of moving and shifting bodies.
A rom-com told many times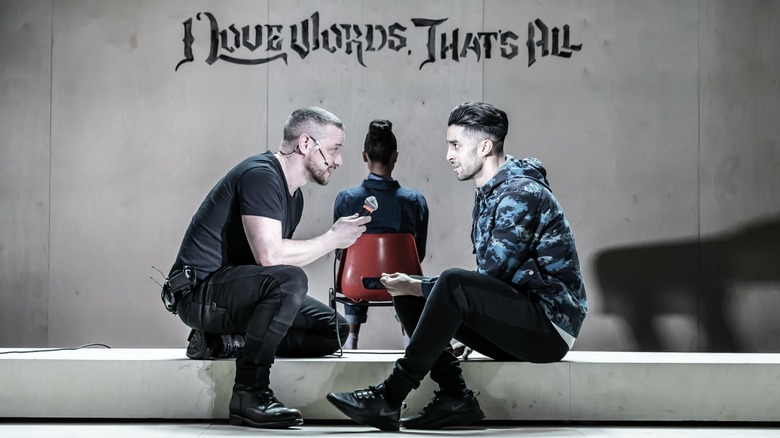 Marc Brenner
I start with a disclaimer that I have never experienced any straightforward staging of the 1897 verse-written "Cyrano de Bergerac" by Edmond Rostand. I am not the best arbiter on whether this is a "fresh" take on Rostand's play, from stage to movies. I know the source material in the fragments and have seen Erica Schmidt's stage musical rendition with a sparer translation starring Peter Dinklage — as well as its recent Joe Wright-directed film adaptation with Dinklage's reprisal.
To be clear, this "Cyrano de Bergerac" is also not straight from the Rostand text but a modernized "freely adapted" translation by Martin Crimp that involves rap battles of verses (Vaneeka Dadhria supplies the excellent beatboxing). The world of Rostand here is an anachronistic 1640 with a modernized attitude and the environment just archaic enough that letters are the mode of long-distance communication and the maiden Roxane (Evelyn Miller), a writing instructor in this version, is forced to be married off to De Guiche (a punchable Tom Eden) against her will.
As it goes, the calvary officer Cyrano de Bergerac is a poetic hothead. To demonstrate, he duels an inferior actor, not with a literal sword, but with words and a mic at his lips (fight movement by Kate Waters). Like in Rostand's original play, Cyrano savagely self-depreciates his ugly nose — a prosthetic is not applied to McAvoy's handsome face. For all his verbal gymnastics, Cyrano cannot admit his love to his cousin Roxane and he's sure that his ugly nose — or the metaphor of internal insecurities — is in the way of romance. He crumbles when he discovers her heart yearns for newbie soldier Christian (Eben Figueiredo). Her love for Christian is unabashedly one of physical attraction but she hopes to test Christian as her intellectual equal. So devoted Cyrano is to her that he offers Christian to ghostwrite his love letters to her—on the pretense he's flexing his wit.
Uniformly excellent cast and creatives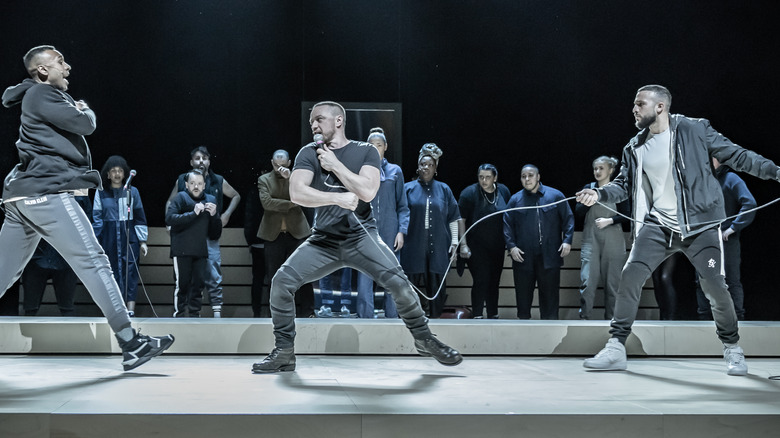 Marc Brenner
Overplaying the doofus buggy-eyed effect at times, Figueiredo's Christian is a charming dolt who asks "What is this deal with language?" from the beginning but also imbues him with a sincere appetite to learn and mature. Roxane remains confined to a love interest but she exercises formidable fortitude — she flashes her mischievous grin when she weaponizes her words to delay her forced marriage. When she's disappointed in Christian's first face-to-face improvised love poem, the writing teacher in her is workshopping Christian out of mediocrity.
Performed on a threadbare stage (set designer Soutra Gilmour, who also did the contemporary costumes), the power of this play requires a few chairs, mics, a mirror that descends and ascends, and a chorus of bodies that shift. The ensemble's wavelengths consist of not so much active movement but delivery as they shift into formations. Even when required to make conversations with their stage mates, they perpetually maintain frontal eye contact with the audience yet forge believable rapports within their universe. And Jon Clark's minimalist lighting design is razor-sharp in its shaded simplicity—when Act 1 goes dark, Cyrano and Christian death march into a literal void. Two hours and 45 minutes fly by.
With his sensual voice purring on the mic, a head-shaven McAvoy commands with the power of a conductor. He can enthrall an auditorium of 800 audience members into transfixed silence with his softening murmurs. He confronted three mic mishaps so nimbly that I second-guessed if they were calculated. The first two, the mic did not swing where he wanted it and it tumbled the other way. He flashed a sheepish smile at his miscalculated slickness. The third time, he flipped a microphone pole upside down to untangle a wire when the pole failed to deploy correctly. He had that magic of converting these blunders into character insight that aligns with the rest of his performance: a performative Cyrano who has to accept that he can stumble.
Critiquing an old love story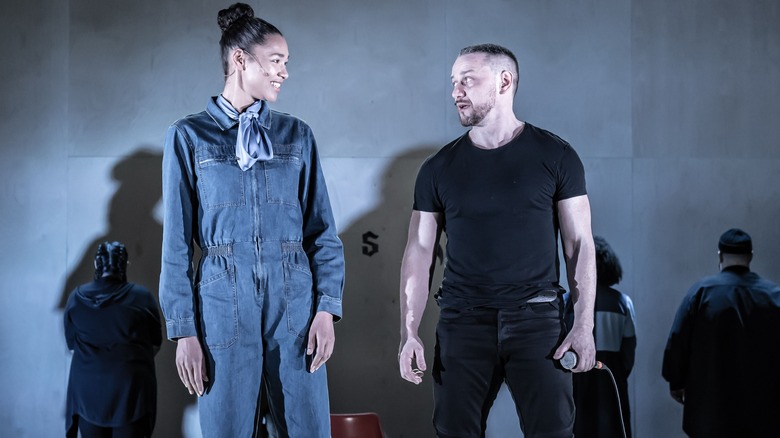 Marc Brenner
The tragedy stems from the main players beginning the play with narrowed imaginations. They are in love with intellect, but they must move forward to realize the limitations of their own consciousness. Roxane realizes too late the possibility of loving two men. Likewise, Cyrano and Christian (the latter comes to it first) realize that romance had been possible for them—and they share a magnetic kiss that is self-contained rather than resonant in the following consequences.*
*The Schmidt staging, indeliberately, bubbled a more effective romantic chemistry between Peter Dinklage's Cyrano and Blake Jenner's Christian, though they don't ever entertain romance. While it was for the better Jenner wasn't cast in Joe Wright's film, the movie could not achieve the loving bond of the Cyrano-Christian dynamic on stage. When Christian proclaims "I would prefer to be loved for my true self or not at all" before his death, I had this epiphany that the great tragedy (greater than Cyrano's delayed love confession for Roxanne) of this version is that Cyrano himself has grown to love Christian for his true self and the two men had none of the cognitive language to admit that.
Flicking on my Roxane-mode writing workshop lens, I would critique Crimp that the text "does feel written by a man" despite its best intentions for his heroine. Certainly, Roxane's beautifully raw and extended callout is undercut by her indirect apology for not grasping Cyrano's well-intentions.
The play is one of my most compelling experiences this year, but I also acknowledge it isn't a radical "Cyrano de Bergerac" as marketed (actual timely and compelling NYC plays this year include "The Chinese Lady" and "English"). Fitting an able-bodied normative definition of handsome and hot and bearing a whiteness flanked by a diverse cast, James McAvoy may sell the internal insecurities gnawing at Cyrano's core though he shouldn't be considered a unique casting choice. At one point, Crimp has Cyrano invoke the word "political correctness" but shies away from any specificity nor does the staging interest any implications of a white guy preaching against the idea of the word.
But in spite of my questions, the nature of this play where words reach, hit their limits, and transform seems open to engaged critiques. The lyrical clockwork of words and movement absorbed me into its soul-bearing.
"Cyrano de Bergerac" is playing at the BAM Harvey Theater at Brooklyn on 651 Fulton Street until May 22, 2022.