Tom Holland Paid A Huge Price To Commit To His Role In Cherry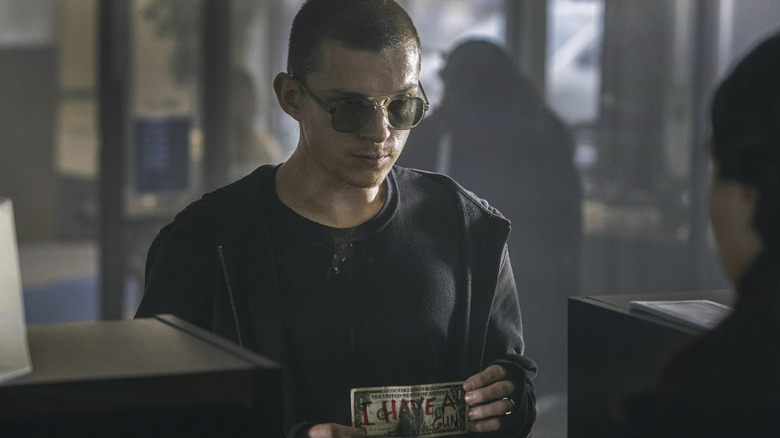 Apple
Hollywood values physical transformation. Whether the industry is giving awards to Gary Oldman for his Winston Churchill makeup, normalizing actors gaining and losing tremendous amounts of weight, or perpetuating the myth of the method-acting Joker, the film industry seems obsessed with seeing performers change before our very eyes. In reality, a lot of the changes actors make for roles are unsustainable, damaging, or even dangerous. Just ask Tom Holland.
In an interview for GQ, the actor spoke about the stress he put his body through for the film "Cherry," and the "Spider-Man" franchise star quite reasonably concluded that some physical transformations just aren't worth it. "I had to lose a lot of weight for 'Cherry' and I don't think I would ever do that again," he told the magazine. The actor took on the lead role in the Russo brothers' film, and had to shoot some scenes as a bulked up marine and others as a gaunt drug addict. The latter part came first, meaning Holland had to push his body to extreme lengths to lose weight quickly.
The Hollywood transformation problem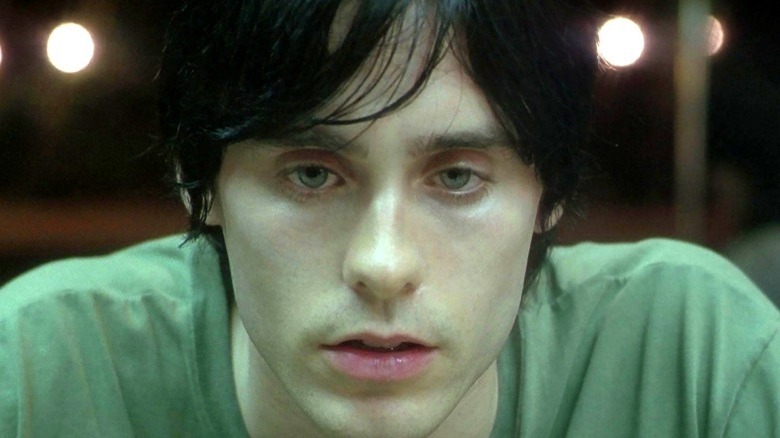 Artisan Entertainment
Unlike many stars who try to make risky dieting sound easy, giving audiences unrealistic expectations for their own bodies, Holland cuts straight to the chase. "It was awful. Truly," he told GQ of the experience that saw him lose a significant amount of his body weight. The actor says his trainer, George Ashwell, restricted his diet to 500 calories per day and told him to run 10 miles. After surviving the shoot on these unsustainable numbers, Holland then had to regain the weight with similar quickness.
"I got very sick, actually," he says about the process. "And it's changed my relationship with food completely. I think I would find it very difficult to find a role that would warrant that sort of abuse on my body again." As miserable as it is that the actor went through this, it's great to hear him call it what it is: abuse to one's body. By any professional measurement, that diet would be diagnosable as an eating disorder. Yet for some reason, it's been seen as an industry standard for actors for years.
This type of dangerous change has never gone without consequences, but it seems like actors are only recently beginning to open up about saying no to unhealthy dieting. Way back in 2000, Jared Leto said he felt like he was "addicted to losing weight" after "Requiem For A Dream." In 2017, Tom Hardy admitted that his crash dieting for roles like that of Bane in "The Dark Knight Rises" permanently changed his body, telling The Daily Beast, "I think you pay the price with any drastic physical changes." And Kumail Nanjiani memorably spoke about his complex relationship with his masculinity and self-image after undergoing some serious changes ahead of his role in "Eternals." Nanjiani told GQ in 2021, "It's about defeating. And that's what the male ideal has been."
Impossibly unhealthy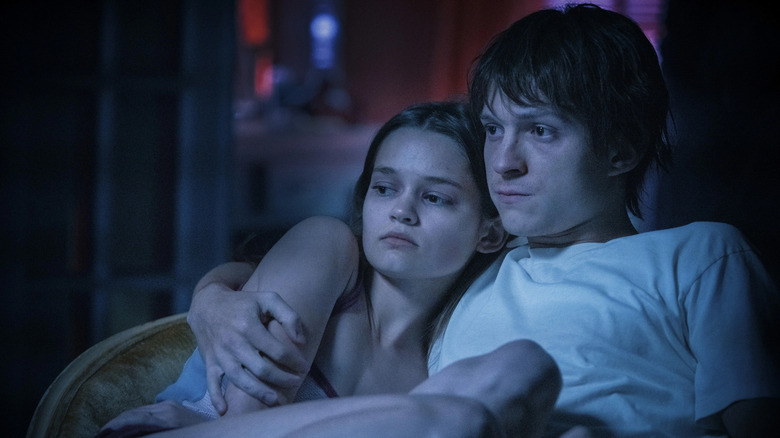 Apple
According to Holland, the restrictive diet and training regimen weren't the only unpleasant things he tried out for his role in "Cherry." Apparently a consultant for the film named Brian, who also works at a rehab facility, gave the actor "supercharged energy shots, the kind of thing that gym freaks neck before a big session." The concoction apparently left Holland "plugged into the mains" for three hours, an experience that he says felt horrible.
The energy shot was clearly intended to safely mimic the experiences of a drug user, but Holland doesn't give these his seal of approval either. "I would steer clear of those things, by the way," he says of the energy shots. "They must be impossibly unhealthy." Yeah, that seems to be a trend in this business. Hopefully, when it comes to crash dieting and radical pre-production transformations, we'll see more and more actors able to prioritize their own health and safety first in the years to come.