The Daily Stream: You're The Worst Is Actually The Best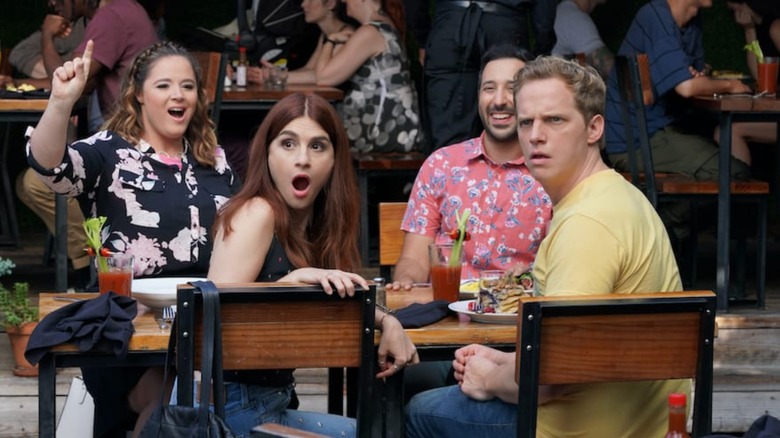 FX
(Welcome to The Daily Stream, an ongoing series in which the /Film team shares what they've been watching, why it's worth checking out, and where you can stream it.)
The Series: "You're the Worst"
Where You Can Stream It: Hulu
The Pitch: An anti-love story, Stephen Falk's "You're the Worst" chronicles the caustic, messed-up, darkly funny, and begrudgingly romantic relationship between two self-destructive cynics. Lapsed novelist Jimmy (Chris Geere) is a narcissistic, childish, perverted jerk. Publicist Gretchen (Aya Cash) is a checked-out, self-indulgent, depressed partier. Together, somehow, they're perfect.
Along for the ride are Gretchen's cheerfully horny best friend Lindsay (Kether Donohue), who's stuck married to a rich dweeb, and Jimmy's sweet, PTSD-stricken roommate Edgar (Desmin Borges). Screamingly funny, wildly dysfunctional, and ultimately emotionally rewarding, "You're the Worst" takes a jokey premise and turns it into an incredible, no-holds-barred five-season saga that'll grab a hold of your heart, if you let it.
Why it's essential viewing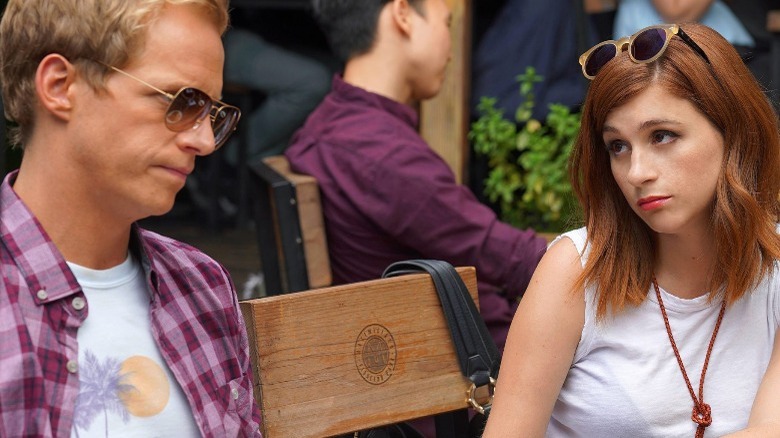 FX
"You're the Worst" starts off by hinging on its premise of two cold-hearted a**holes trying to make a go of it, but the show evolves beautifully over time, as do its main characters. Few comedies I've ever watched have grown on me as much or as fully as this one. It has a better handle on its characters' psychology than most shows, so by the time it reaches its home stretch, these characters who were initially sketched as unlikable have slowly and surely been shaded in with deeply relatable color.
Cash is both a comedic and dramatic revelation as Gretchen. Every time her face falls or her jaw sets, it's impossible not to feel her feelings along with her, and when she busts out into a manic rendition of The Cranberries' "Zombie," it's impossible not to laugh. The PR rep seems like she's simply a darkly hilarious woman in a state of arrested development — until her recurring mental illness comes rushing to the forefront. In the show's second season, both Jimmy and the show's viewers learn that she has depression, and the revelation shifts "You're the Worst" into something deeper and even more unflinching. The tectonic shift results in some of the best single episodes of TV the 2010s has to offer, including the Justin Kirk-led "LCD Soundsystem," the Edgar-centric "Twenty-Two," and the show's masterpiece of a finale.
The LA-set series is too wild to describe with a word as mundane as "sitcom," yet like the best comedies, it comes with its own set of references and terms, from Sunday Funday to Jimmy's disgusting erotica book to the term "abobo." It's a one-of-a-kind world full of reckless weirdos that's extremely fun to visit. The characters are casually transgressive and the plots frequent evade easy explanation, but "You're the Worst" is always funny and shocking.
In the end, despite all its cynical grumblings, it's lovely, too. The series signs off with a final season that brings its central questions into razor sharp focus. Can we grow as people, or are we destined to keep making the same mistakes? Is vulnerability worth the pain? Why commit to anyone when you know you might change your mind? The show provides heartfelt, satisfying answers that never drift from its rebellious spirit. Sure, maybe it's an anti-love story, but it's one that's built on the premise of perpetually ruining everything and choosing to get through it together. If that's not love, I don't know what is.