The Stephen King Movies That Helped Define Drew Barrymore's Career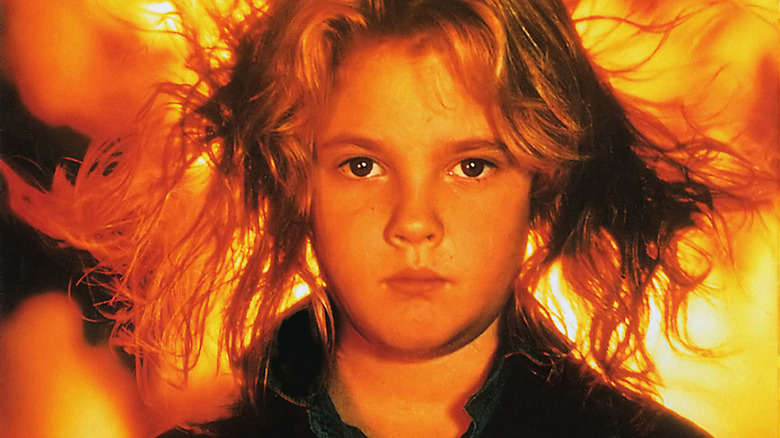 Universal Pictures
In 1982, Drew Barrymore became America's little sister thanks to her adorable turn as Gertie in Steven Spielberg's "E.T." But she has another Steve to thank for solidifying her child star status. "E.T." might have made her famous, but back-to-back Stephen King films made her a star.
Barrymore followed up "E.T." with a little-remembered 1984 drama called "Irreconcilable Differences," about a young girl suing her neglectful parents for emancipation. It was a mild success at the time, but is now mostly known for being prophetic since Barrymore herself would go on to sue for emancipation from her own parents at the age of 14.
Producer Dino De Laurentiis saw her potential as a child star — and also happened to have the rights to a bunch of Stephen King stories — so he cast her in "Firestarter" as Charlie McGee, a girl on the run from a shady government agency who wants to study her pyrotechnic powers.
We can argue all day about the merits of the film itself, but what's undeniable is Barrymore was the centerpiece of the marketing for the movie. The poster is just her sweaty face, hair going wild in the updraft, caused by her ability to summon fireballs out of thin air. It's one of the most recognizable poster images from the 1980s. In fact, the upcoming remake essentially just re-created the poster but with Ryan Kiera Armstrong slotted into Drew Barrymore's spot.
"Firestarter" was a notoriously difficult production and in fact was the very first movie Barrymore shot after "E.T." in 1982. It took two years to finally find release, but the producers never lost their faith in Barrymore as a star and performer.
Dino De Laurentiis was all-in on Drew Barrymore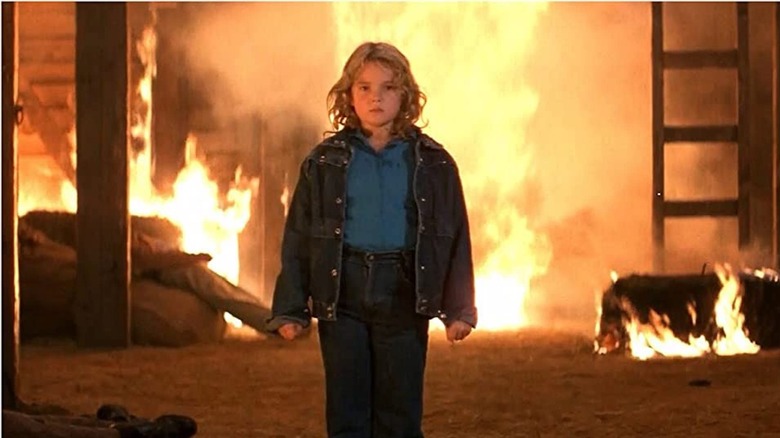 Universal Pictures
Drew Barrymore followed up "Firestarter" with "Cat's Eye," an anthology movie built around multiple Stephen King short stories, also produced by Dino De Laurentiis. Now Barrymore isn't just an actor in the film, she's the figurehead the whole thing is built around. Well, her and a cat named General, of course. She plays a series of different characters, all tied to the cat, who goes in and out of all the different King stories. In one story she's James Woods' daughter, who is threatened by a mysterious organization hired to help him quit smoking by any means necessary. In another part of the movie she appears as a kind of vision to the cat calling for his help.
This all builds up to the memorable final story in the anthology, in which the cat must protect poor Barrymore from the evil little troll that lives in her wall, comes out at night, and tries to steal her breath. Barrymore's character, Amanda, spends the entire segment trying to convince her disbelieving parents that the cat is good and there to protect her. This is an '80s horror movie, so of course they don't believe her — not until the bloody finale that sees the heroic cat flinging the deranged little monster into spinning fan blades and saving the day.
Positive memories and lasting impressions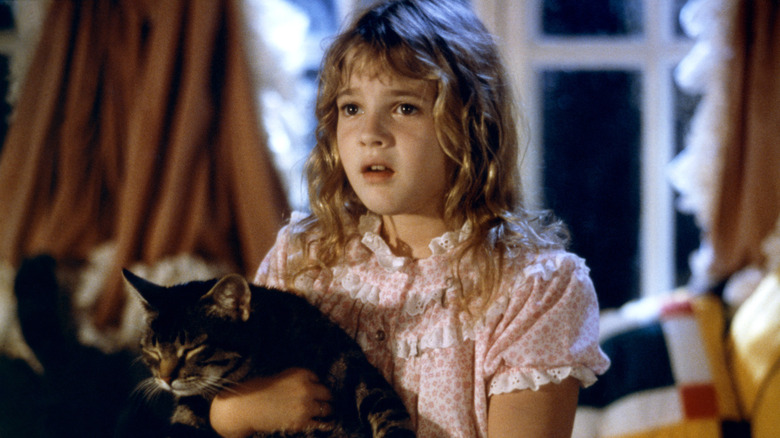 MGM/UA
Stephen King had nothing but praise for young Drew Barrymore's performances in both films, and in a 2021 appearance on "The Drew Barrymore Show," King revealed that he still has a picture Barrymore autographed to him that says "To Stephen, I love you dearly, Drew Barrymore" and that it has hung in a place of honor on his office wall for over 40 years. On her part, Barrymore said working with King and getting to know him and his family made "important lifelong impressions" that the young actress said she "holds dearly" in her heart.
After the two King movies, Barrymore became more famous for her troubled personal life than for her films. America's little sister became America's Troubled Teen, but she was able to get the help she needed and re-emerged in the mid-'90s as a bona fide movie star, appearing in huge hits like "Scream," "Never Been Kissed," "The Wedding Singer," and, of course, "Charlie's Angels."
Barrymore is almost the textbook example of a child actor success story, a rarity in Hollywood, and that's all the more interesting because for the vast majority of her "child actor" years, she was the face of Stephen King's work on film. During the mid-'80s it wasn't Jack Nicholson's sneering face or Sissy Spacek drenched in blood that came to represent King on film, it was a precocious blonde girl, and from what Barrymore and King have stated publicly, that moment in time was something that meant the world to them both.