Ridley Scott Arranged A Star Wars Reunion To Get The Last Duel's Stunts Just Right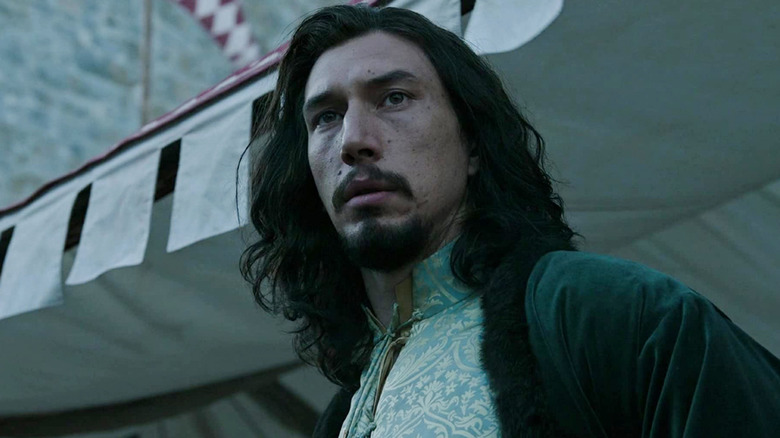 20th Century Studios
When 20th Century Studios announced "The Last Duel" in 2019, there was reason for pause. Set in 14th-century France, the film centers on the real-life trial by combat between knight Jean de Carrouges (Matt Damon) and squire Jacques Le Gris (Adam Driver) after the former's wife, Marguerite de Carrouges (Jodie Comer), accuses Jacques of raping her. It's a story that's tragically relevant as ever, coming on the heels of so many powerful men facing credible allegations of sexual assault, yet only a small handful having to deal with any real consequences.
Given the many ways "The Last Duel" might have gone wrong, it's admirable how well it works. Damon, his co-star Ben Affleck (who nearly steals the film as the hedonistic Count Pierre d'Alençon), and screenwriter Nicole Holofcener ("Can You Ever Forgive Me?") split writing duties on the period piece, itself based on Eric Jager's book, "The Last Duel: A True Story of Trial by Combat in Medieval France." Damon and Affleck handled the first two acts told from Jean and Jacques' point of view, with Holofcener penning the third act, as seen through Marguerite's eyes.
The result is an engrossing narrative in the style of "Rashomon." It deftly exposes the fragile egos of its male leads, both of whom project their fantasies of who they are onto Marguerite. If the movie is guilty of presenting Marguerite as someone to be admired more than a fully fleshed-out person, Comer makes up the difference with the nuances of her performance. That she wasn't even nominated for an Oscar is a travesty. The way she tweaks Marguerite's reactions every time a scene is revisited from a different character's perspective is a master-class in subtle acting.
Behind the camera, Ridley Scott directs "The Last Duel" with his usual aplomb. Sure, the "Gladiator" and "Kingdom of Heaven" filmmaker could probably stage the movie's swordplay in his sleep at this stage in his career (and he would probably be just as grumpy about it). But just because he makes it look easy doesn't make the film's titular showdown any less dramatic or brutal to behold. Of course, most of the credit really belongs to the stunt crew led by Rob Inch, a stunt coordinator who had previously collaborated with Driver on the "Star Wars" sequel trilogy.
Rob Inch knows his swordplay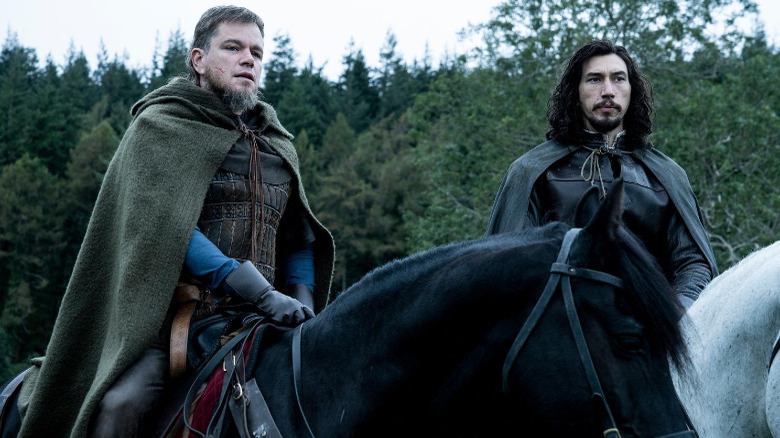 20th Century Studios
Far from strangers, Rob Inch and Ridley Scott have been working side-by-side since 2001's "Black Hawk Down," where Inch acted as Ewan McGregor's uncredited stunt double. He would go on to serve as a stunt coordinator on Scott's "Robin Hood," "Prometheus," "The Counselor," "Exodus: Gods and Kings," and "The Martian." For "The Last Duel," Inch made the jump to second unit directing on top of coordinating stunts like the ones in the climactic scene, where Jean de Carrouges and Jacques Le Gris do their very best to stab one another in the face while up to their necks in muck and mud.
"It was taking me back to my roots because ultimately that's my background," Inch told The Hollywood Reporter. Indeed, he's an expert when it comes to movies full of sword-clashing action, be they of the metal variety ("The Legend of Zorro," "Snow White and the Huntsman") or the lightsaber battles from the first two films in the "Star Wars" prequel trilogy. Inch would later return to a galaxy far, far away for "Star Wars: The Force Awakens" and "The Last Jedi." The movies would see him collaborating with Adam Driver on his fight scenes as Kylo Ren, not least of which is the awesome throw-down in Supreme Leader Snoke's throne room where Kylo and Rey make short work of Snoke's red-clad guards.
On "The Last Duel," Inch and Scott needed the movie's big, drawn-out final fight to build upon itself in a satisfying fashion while also leaving room for the actors to emote. It begins with Jean and Jacques jousting one another before tumbling off their horses and slagging it out in the frosty sludge at their feet. "I've got such a good shorthand with [Scott] that he lets me have at it. I kind of go away," said Inch. He and his stunt team spent two months plotting out and shooting a test version of the duel before showing it to Scott and the cast. As Inch recalled:
"Matt [Damon] was like, 'That's it. I have no notes. That's it.' Normally with a pre-vis, you would do a round robin of three passes at least. And it has to go back to the drawing board several times."
Don't worry about historical accuracy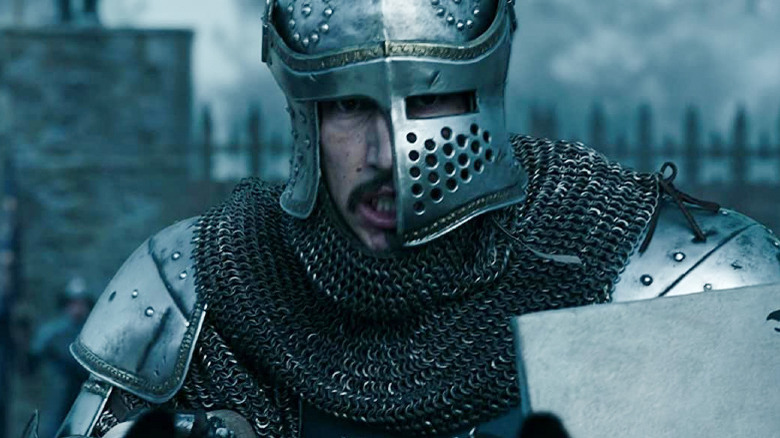 20th Century Studios
Ridley Scott has never been a director to get hung up on historical accuracy when it comes to his period pieces. In his customary DGAF manner, he justified not having "The Last Duel" cast speak in French accents in an interview with Deadline, "In 'The Last Duel,' there's no French accent. That would've been a disaster, and yet, it's all French," he told the outlet. "Who cares? Like, shut the f*** up, then you'll enjoy the movie."
As far as the film's climactic duel goes, Scott requested Matt Damon and Adam Driver wear historically inaccurate visors that only cover half their faces, allowing the audience to see their facial expressions throughout the fight. "We could keep their helmets on because we could use stunt doubles," said Rob Inch, explaining his initial doubts about Scott's decision. But as it turned out, Damon and Driver were equally up to learning the choreography needed to carry out the majority of the fight without their stunt doubles.
Far from being surprised, Inch recounted having a similar experience with Driver during their collaboration on the "Star Wars" franchise:
"Adam Driver never likes to have a stunt double. Matt is driven by that, and he wants to do as much of the action as he can."
In its finished form, Jean de Carrouges and Jacques Le Gris' battle to the death is as vicious and unsparing as any sword fight Scott or Inch have brought to the screen before. That the winner's victory rings as hollow as it does is a testament to the movie's overriding messages about rape culture, misogyny, and the failings of "traditional" masculinity. Turns out, men will literally murder their so-called best friend instead of admitting the truth.