The Unusual Way Sam Raimi Landed Spider-Man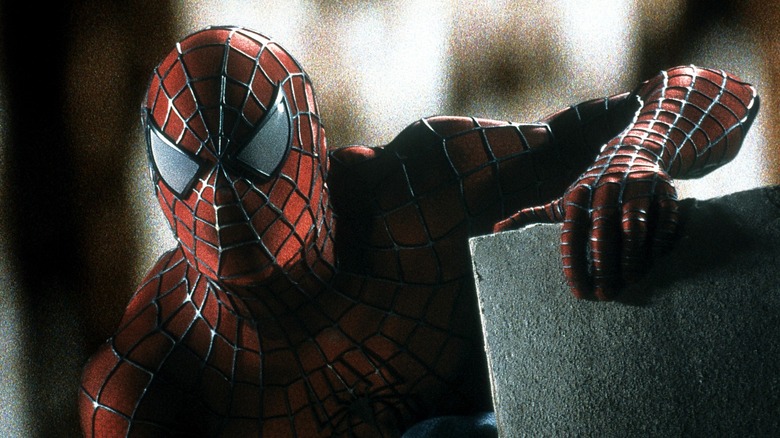 Sony
Sam Raimi's "Spider-Man" trilogy changed superhero movies forever, as the concept of a major movie with comic book origins was not a sure thing in the early 2000s. And Raimi, at the time, may have felt like an odd choice for the character — he was best known as the creator of the "Evil Dead" franchise, as well as films like "A Simple Plan," "The Gift," and "For the Love of the Game." Of course, there's 1990's "Darkman," Raimi's very own, delightfully twisted rendition of a superhero film (which heavily departed from established superhero trappings). 
However, when Sony Pictures was looking for a director to helm the first "Spider-Man," Raimi was nowhere near the top picks considered for the project, which included Roland Emmerich, Ang Lee, Chris Columbus, and David Fincher. Although Raimi's chances were pretty slim, he ended up bagging the job, but the manner in which he went about to do so was unusual, and even endearing, in many ways.
'A soap opera about a boy who loves a girl'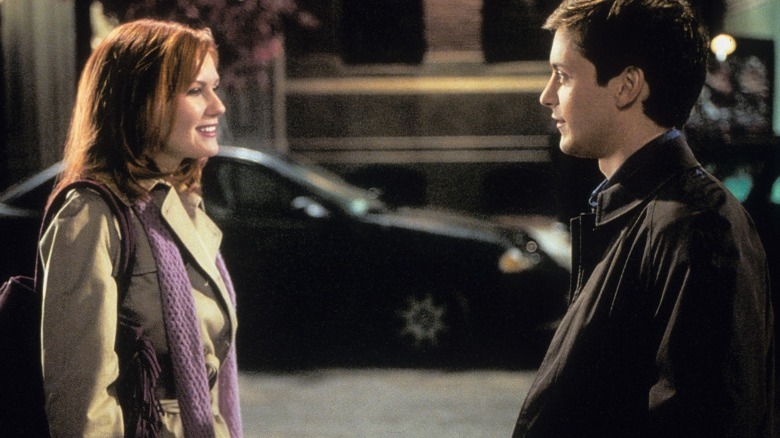 Sony
As a superhero figure, Spider-Man has always been relatable. Forget about the web-slinging and the wall-crawling — at the end of the day, Peter Parker is just a kid with real-world struggles. Raimi understood this aspect of the character to the core, which was further cemented by his childhood love for the superhero. It is perhaps this genuine love that led to things working out in his favor when he first pitched himself to direct "Spider-Man."
Acutely aware that there was no reason to expect the executives to pick him for the job — as they already had plenty of options to choose from — Raimi still gave it a shot, and thank the spider gods, that he did. Explaining his experience with the pitching process, Raimi told Variety how he might have been the "19th" choice or so for "Spider-Man":
"My agent, Josh Donen, said, 'They want to be honest with you. There's about 18 directors they'd rather have than you on a list.' And I said, 'OK, well, tell them I'm number 19.'"
When he was in the room with the executives to make his pitch, Raimi spoke about his love for not only Spider-Man, but also Peter Parker. The assembled crowd included Sony Pictures CEO John Calley, Amy Pascal (Columbia Pictures), and Avi Arad (Marvel Studios), among others. Pascal recounts the meeting, and how Raimi's simple, yet effective vision was in sync with theirs:
"He [Raimi] came in and said it's a soap opera about a boy who loves a girl, and that's what I want to focus on. John Calley and I just looked at each other and said, "Well, that's the movie we want to make too."
While things were going really well for Raimi in the meeting, he abruptly halted his pitch and left, as he knew that his allotted one hour was up and that he did not wish to "overstay [his] welcome." Due to the practical circumstances surrounding the hiring process, Raimi was "very aware of how they didn't want [him]," which led him to leave promptly after thanking everyone in the room for their time. It sounds like Raimi underestimated his own vision at that moment, as he not only went on to helm 2002's "Spider-Man," but also managed to make a commercially successful box office hit that altered the way in which we view superhero movies in the public consciousness.
Why Raimi was perfect for helming a superhero movie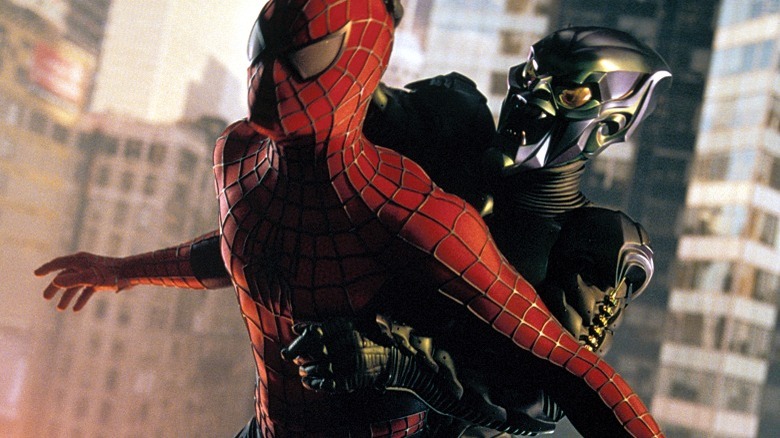 Sony
The success of the "Spider-Man" films led to the rise (and dominance) of the superhero genre, paving the way for everything that came next. Raimi's track record as a director was one that proved he was not afraid of taking risks — be it in the form of oddball humor or campy, yet unforgettable horror elements — and exploring subject matter he was personally invested in and passionate about. For this reason, Arad calls Raimi "unique," as it was clear to him and the others in the meeting room that for Raimi, it was more than money: it was a passion project.
One also has to keep the development hell that the live-action "Spider-Man" project was in since the 1980s. Several filmmakers were attached to the project over the years, including Tobe Hooper of the "Texas Chain Saw Massacre" fame, James Cameron, and Joseph Zito. Licensing and financial issues hindered the project from taking off until it was licensed for worldwide release by Columbia Pictures in 1999. This long, arduous process somehow led to Raimi belting out a solid pitch, and honestly, the results speak for themselves.
This is how Raimi described Peter Parker, who he saw as a grounded kid with worldly issues instead of an "idealized" comic book version of a superhero:
"Peter Parker wasn't some idealized kid. He came from a broken home and he wasn't the best-looking. So you could really identify with him. They [the executives] probably did recognize that we need to have someone tell the story that can also relate to this kid. And I certainly could."
Given Raimi's experience with investing depth in characters that are broken by the toils of life, like in "Darkman," no wonder he was the right choice to helm the "Spider-Man" franchise at the time. The rest is history, and the future holds more Raimi-directed superhero extravaganzas, such as the highly-anticipated "Doctor Strange in the Multiverse of Madness," which will be infused with the "flavor of horror" that Raimi is known to be a master of.