The Eugenics War And World War III In The Star Trek Universe, Explained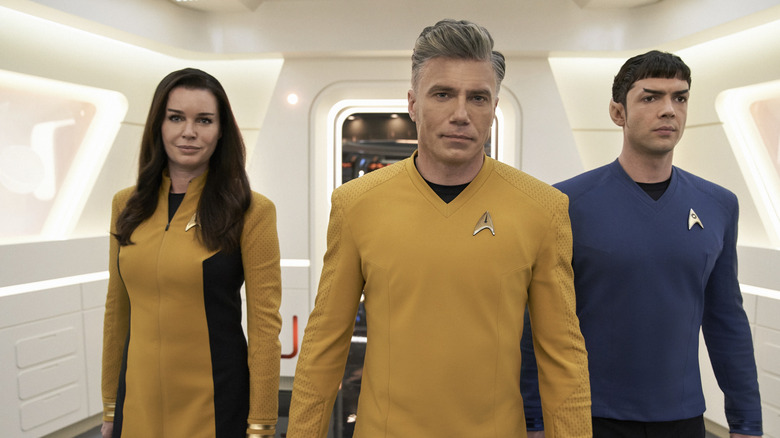 Paramount+
"Star Trek: Strange New Worlds" reaches deep into "Trek" canon. You don't need to know about the Eugenics Wars and World War III to enjoy the mostly standalone show, but ... has a little extra knowledge never hurt? Especially when the first episode of the new Paramount+ series references these past events so heavily.
When "Star Trek" was first conceived in the mid-1960s, the '90s still seemed like a far way off. It was far away enough that the writers of "Trek" felt completely comfortable extrapolating a future history that would begin as early as 1992. "Star Trek" did not predict Boyz II Men's "The End of the Road" being the biggest album that year, but they did predict the eventual rise of Khan Noonien Singh, a genetically enhanced ruler who would, thanks to his ambition, enhanced intellect, and increased strength, take over the world. 
Although none of the extant "Star Trek" canon has depicted it directly, there are two major world conflicts in the "Star Trek" timeline that were necessary to bring about Gene Roddenberry's peaceful vision of the future: The Eugenics Wars and World War III. Roddenberry, after all, created "Trek" in the mid-1960s, a time when he could look out his window and see a great amount of turbulence that likely didn't leave him feeling hopeful. Racial segregation was on the books, greed was corrupting the world, and the Vietnam War was raging. It was not an optimistic time. Roddenberry seems to have sensed — or at least feared — that a collapse was imminent. That is, if the future built into the history of the "Star Trek" universe is any indicator of Roddenberry's attitudes. 
As such, the world — to Roddenberry's eyes — would need the Etch-A-Sketch treatment before a better future could begin. Shake up the whole planet, erase the picture, and begin drawing again. Humanity, by Roddenberry's assumed estimation, needed to nearly collapse under its own destructive hubris before it realized that looking up to the stars was preferable to killing one another en masse. 
While the timeline has shifted around a lot as the decades have passed (the latest season of "Star Trek: Picard" takes place in 2024, and the Eugenics Wars are not in full swing), they still seem to hang heavily over the near-future of "Star Trek." Indeed, genetic engineering is a large part of the second season of "Picard," one of the main villains being Dr. Adam Soong (Brent Spiner) a geneticist who wants to enhance humanity for the better ... and for the worse. 
The Eugenics Wars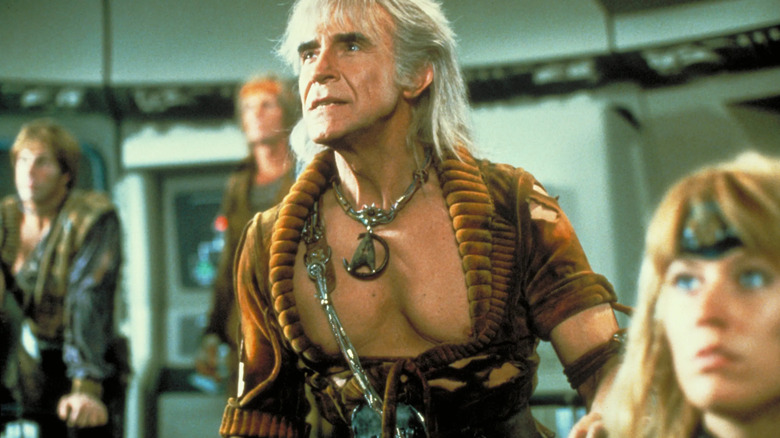 Paramount
The first time audiences heard of The Eugenics Wars was the during the "Star Trek: The Original Series" episode "Space Seed," which first aired on February 16, 1967. In it, the Enterprise discovers a seemingly deactivated "sleeper ship," the S.S. Botany Bay, wherein a small group of human beings have been in cryogenic sleep for 200 years. Of the 84 people frozen, 72 are still alive. The Enterprise rescues and resurrects their leader, finding him to be none other than Khan Noonien Singh (Ricardo Montalbán), the onetime dictator of Earth. "Space Seed" offers a good deal of exposition regarding Trek history: In the 1990s, humans were subjected to breeding experiments, resulting in arrogant and powerful superbeings who took over much of the world. 
Although "Star Trek" is ultimately a show centered on pacifism, there is a lot of dialogue in "Space Seed" to describe how awesome Khan is as a warlord. Several characters describe him as a benevolent dictator — reminiscent of Plato's philosopher kings — who didn't engage in genocide and who didn't start a war until he was attacked. The episode's writers, Gene L. Coon and Carey Wilbur, seem torn between writing a show that touts a philosophy of pacifism, and their own Nietzsche-like admiration of a powerfully willed man. 
The actual catalytic event that kicked off the Eugenics wars has never been made explicit in "Star Trek," although from "Space Seed" we know that augmented human beings were taking over the world as despots. Khan wasn't as despotic as others of his generation, but he was still a dictator. Indeed, Khan eventually tries to take over the Enterprise. Kirk convinces him that a greater challenge would be to begin society fresh on an uninhabited planet. Khan accepts the challenge, and he — along with all the other augmented people — are dropped off on a planet called Ceti Alpha V. Anyone who has seen "Star Trek II: The Wrath of Khan" knows that a major environmental disaster left Khan stuck on a planet that had become a desert. He was stranded there for 20 years. Hence his titular wrath. 
Borderland, Cold Station 12, and The Augments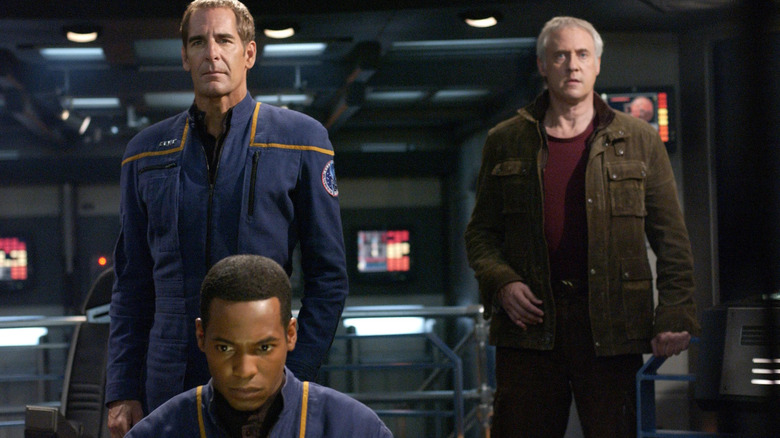 Paramount
Additional ex post facto details about the Eugenics Wars were filled in during the fourth season of "Star Trek: Enterprise." In a three-part episode ("Borderland," "Cold Station 12," and "The Augments"), audiences were introduced to Dr. Arik Soong (Spiner again), who was on the run for developing a race of generically enhanced people, a few of which were running amok among the Klingon Empire. Recall that "Enterprise" takes place nearly a century before the events of the original "Star Trek," so this was long before Khan was resurrected. 
The Augments in this three-parter talk about how Khan was considered their grandfather. There is also a lot of dialogue devoted to the long-held ban of genetic enhancements in the world of "Star Trek." The ban is mentioned multiple times throughout "Star Trek: The Next Generation," and it will be considered something of a scandal when one of the main cast members of "Star Trek: Deep Space Nine" was secretly an augment since the start. The idea of shaping human history via genetic manipulation has largely been taboo in Trek, seeing as it draws from similar evil ideas of genetic purity often parroted by white supremacists throughout history. Two different Soongs will be responsible for carrying this idea forward: Arik and Adam from "Enterprise" and "Picard."
The three-part episode ends with a cute twist: Arik, having been apprehended, is convinced that genetics is not the path to making perfect people. But maybe cybernetics is. He says to himself that he could likely create a realistic humanoid android, provided he pass the project down a few generations. Boom. This is how we got Data on "Next Generation."
World War III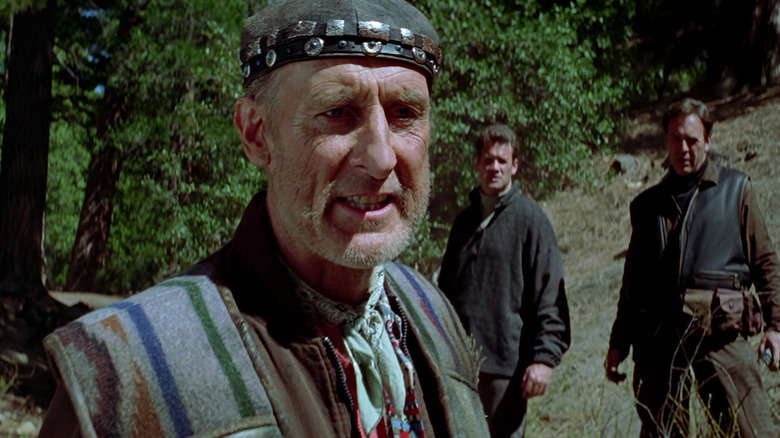 Paramount
The details of World War III are often left vague by canonical dialogue. Here's what Trekkies do know:
That World War III was fought from 2026 to 2053. That the war was kicked off by arguments about genetic manipulation left over from the Eugenics Wars, very much the way much of the damage left by World War I led frighteningly directly into World War II. We know from the original series episode "The Savage Curtain" — an episode that sees the resurrection of one Colonel Phillip Green (Phillip Pine), one of WWIII's nastiest dictators — that World War III will involve nuclear attacks, and the utter waste of the Earth's surface. The nuclear apocalypse was also alluded to in "The Next Generation," as well as an episode of "Star Trek: Discovery," wherein a character describes how bombs were being dropped as late as 2053, leading to the devastation that cause all sides to lose. According to dialogue in the "Star Trek: The Next Generation" pilot, "Encounter at Farpoint," World Ward III's ancillary conflicts would continue to rage until the 2070s. 
Viewers also know from "Encounter at Farpoint" that soldiers were controlled by addictive drugs — we see Q (John De Lancie) wearing the uniform of a World War III soldier — and that deliberate acts of eco-terrorism were par for the course. Humanity was bombing one another to no end and deliberately destroying the planet, all while high on drugs. Additionally, humanity would be overrun by brutal, miniature dictatorships, overseen by medieval-style kangaroo courts wherein people would be judged and executed with very little evidence; Q would also put on the garb of the judge seen in these courts. What a pleasant time.
This was the Etch-A-Sketch moment, Roddenberry seemed to feel, that humanity required. In the 1996 film "Star Trek: First Contact," the crew of the Enterprise-E were sucked back to the year 2063, after the bulk of Earth's carnage had ended, and our species was struggling to survive. It was during this time that Zefram Cochran (James Cromwell) would invent the world's first faster-than-light engine. While testing the engine, it would attract the attention of a passing Vulcan vessel, giving them license to come visit. Making First Contact with the Vulcans was a wake-up call for all humanity, and people began to unify, realizing that we weren't doing so well on our own, but might improve if we see ourselves as neighbors in a broad, cosmic community. 
Humanity may be in a dark tunnel now, but there will always be a light at the end.