The Grey Man Images Reveal Ryan Gosling, Chris Evans, And Ana De Armas In The Netflix Spy Thriller From The Russo Brothers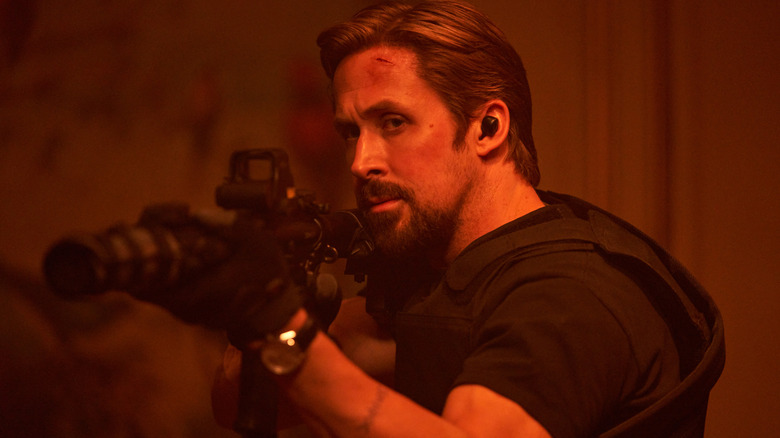 Netflix
Don't call it a comeback, but you can definitely call it a reunion — or multiple reunions, for that matter.
After officially being announced back in 2020, we're now getting our first look at "The Gray Man," the newest Netflix blockbuster set to arrive at some point later this year. Directed by Anthony and Joe Russo, the filmmakers behind some of the most beloved episodes of the comedy series "Community" and most well-known for their work in the superhero scene with "Avengers: Infinity War" and "Avengers: Endgame," "The Gray Man" has brought the directing duo back together again with Captain America himself, Chris Evans. Of course, that reunion extends to other members of the cast as well. Evans and star Ana de Armas will collaborate once more after their twisting and turning performances in Rian Johnson's excellent murder-mystery "Knives Out." Not to be outdone, the presence of Ryan Gosling also ensures that audiences will be in for another Gosling/de Armas reunion after Denis Villeneuve's utterly brilliant "Blade Runner: 2049."
Previously, the hype for "The Gray Man" rested on these mere facts alone. Now, we have something a bit more tangible to hold onto as Netflix has released brand-new images that shed some further light on the upcoming, action-packed film that boasts a star-studded cast. Having come from the Marvel Cinematic Universe's school of "Spared no expense" filmmaking, the Russos certainly know their way around a high-profile movie set. That much is abundantly clear from this first look at "The Gray Man," which you can check out for yourself below.
The Gray Man first look images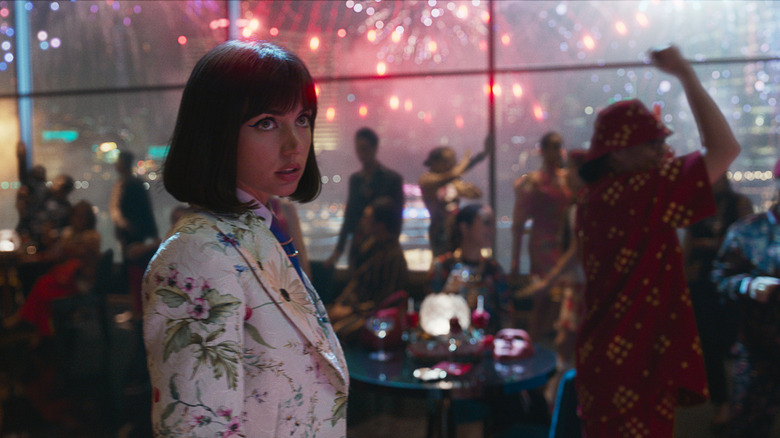 Netflix
"The Gray Man" is based on author Mark Greaney's debut novel of the same name, which went on to spawn a whole series of books taking place in the same world. No wonder the Russos, veterans of the most successful shared universe franchise currently ongoing, would end up gravitating to such a rich and sprawling example of world-building, eh? The Netflix film stars Gosling as the main character named Court Gentry (who also goes by the codename of Sierra Six), described as "a CIA operative recruited from a federal penitentiary by Donald Fitzroy (Billy Bob Thornton) to act as a shadow assassin for the agency." In a joint statement, the Russos had this to say about their perspective on the protagonist:
"The Gray Man is an incredibly mysterious character with a highly secretive past. In essence, he's a ghost. A minimalist, [whose] job is to hide in plain sight. Kill when he needs to kill, and disappear.
Ryan is exceptional at communicating volumes through a look or a gesture, creating an interior life that translates in the most subtle and sublime ways. He also has fantastic control of his physicality. In essence, he is The Gray Man (minus the kill orders)."
The plot of "The Gray Man" will see Gosling's Gentry and Ana de Armas' Agent Dani Miranda forced to fend for themselves against a cabal of enemies throughout the globe, headed by none other than Chris Evans' villainous Lloyd Hansen. The Russos went on to explain what went into casting the quintessential hero for their main baddie:
"Chris is one of the most technically gifted actors we've ever worked with. Highly trained. This allows him to take great risks as a performer. He's also a brilliant student of human behavior, which makes all of his choices, whether he's playing Captain America or a sociopathic ex-CIA agent, [emotionally] truthful. But we do want to go on record and say, where Ryan Gosling may be The Gray Man, Chris Evans is certainly not a sociopath. Well, as far as we know..."
Suddenly, I'm more suspicious than ever of Gosling and Evans harboring secret double lives. In addition to the main stars, the rest of the cast includes Regé-Jean Page, Jessica Henwick, Dhanush, Wagner Moura, Julia Butters, and Alfre Woodard. "The Gray Man" opens in theaters on July 15, 2022, before heading to Netflix on July 22, 2022.