Everything Everywhere All At Once And Lost City Were Bright Spots At The Weekend Box Office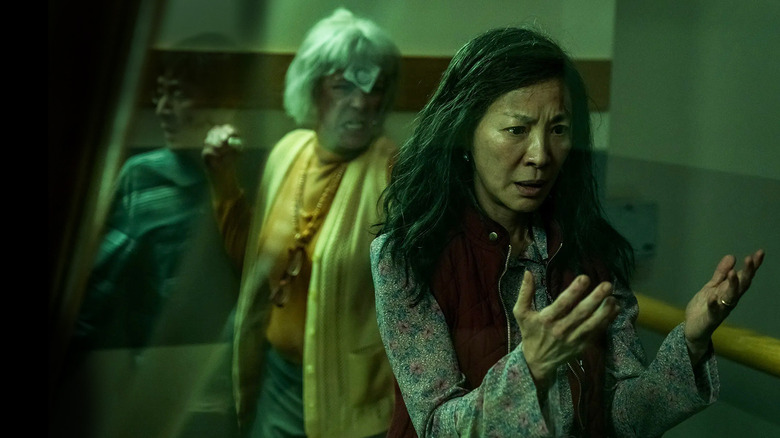 A24
I generally try to take a neutral-to-positive stance when it comes to movie stuff. Part of what I like so much about box office is that numbers don't lie, and it very much can be an "it is what it is" sort of thing. The problem with that though is when a weekend is bad, there is no getting around it. To that end, this was a downright ugly weekend at the box office with "The Northman" and "The Unbearable Weight of Massive Talent" underperforming, "Fantastic Beasts: The Secrets of Dumbledore" plummeting, and other films such as "Ambulance" and "Morbius" dropping fast. But it wasn't all bad as there were a couple of small bright spots amidst the otherwise discouraging overall picture.
Not only did "The Bad Guys," an original animated movie from DreamWorks, top the box office in a not-at-all-bad thing to have happen, but a couple of other original films continued a kind of quiet hot streak that offers some hope for the future. Specifically, both A24's much-acclaimed "Everything Everywhere All At Once" and Paramount's star-studded rom-com "The Lost City" continued to draw in audiences weeks after their initial releases, offering some hope in terms of diversity in the types of movies that can exist theatrically. It doesn't just have to be superheroes and horror flicks.
Everything Everywhere All At Once is the indie hit we needed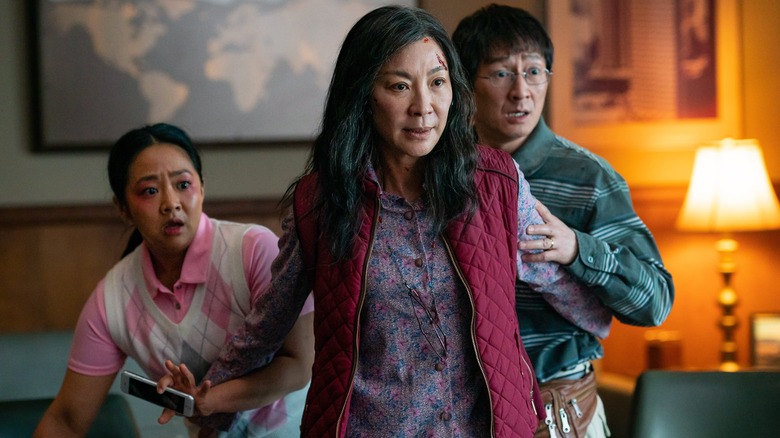 A24
On paper, a very point-of-view-driven sci-fi movie about the multiverse without a guaranteed box office draw of a movie star (all due respect to Michelle Yeoh) seemed like a tough sell to the masses. And yet, directing duo Daniels' "Everything Everywhere All At Once" continues to defy the odds, taking in $5.4 million in its fifth weekend, dropping just 12.3% compared to the previous week, per Box Office Mojo. That's the good stuff and the kind of hold that few movies can manage these days. That gives the movie a domestic total a hair shy of $27 million. Given its $25 million budget, that's not bad at all.
The movie has hardly begun its international rollout yet, and that could be key as well in the coming weeks/months. But the big, nice thing here for A24 is that the studio sold off the international rights to cover the budget. So, as long as it makes enough to cover marketing costs, the studio can count this as an absolute win — and it likely already managed to do that. Couple that with the near-universal praise the film has received and this becomes one of the biggest surprises of 2022 so far. Not to get too ahead of things here, but if this movie can hang around like "Get Out" did back in 2017 and get itself in the awards season conversation, this could be a home run all the way around.
The Lost City continues to find treasure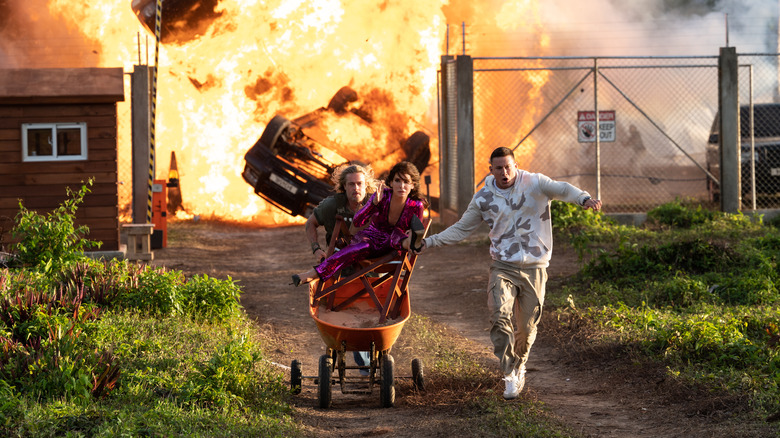 Paramount Pictures
Another low-key highlight from the weekend was that of "The Lost City" which, in its fifth weekend, managed to pull in another $4.3 million, putting its domestic total at $85.4 million. But what's most encouraging is that the movie finally started rolling out in more overseas markets and it now has earned $42.7 million internationally. That puts its rolling total at $128.1 million and, given that its budget is said to be in the $68 million neighborhood, that's pretty damn good. Especially since it's probably still got some room to run overseas — not to mention the value it will bring to Paramount+ here in the near future.
The big thing here is that rom-coms were seemingly dead as a theatrically viable entity. Netflix had kind of cornered the market on that stuff and it was starting to feel like the industry was just going to let these types of films go to streaming indefinitely. But then Sandra Bullock and Channing Tatum, with a little help from Brad Pitt (not to mention Daniel Radcliffe), decided to give it their best and put some meat in seats. This could very well pave the way for other studios to do the same. Or, better yet, it could encourage Paramount to rethink its strategy and keep its recent box office hot streak going. They can fill a big hole that needs filling in the industry right now while also serving Paramount+. The two don't need to be mutually exclusive.
In any case, in an otherwise disconcerting weekend overall at the box office, a couple of underdogs are keeping their heads above water and then some. That is a good thing worth celebrating. More of that, please.