Feast Your Eyes On New Images From Obi-Wan Kenobi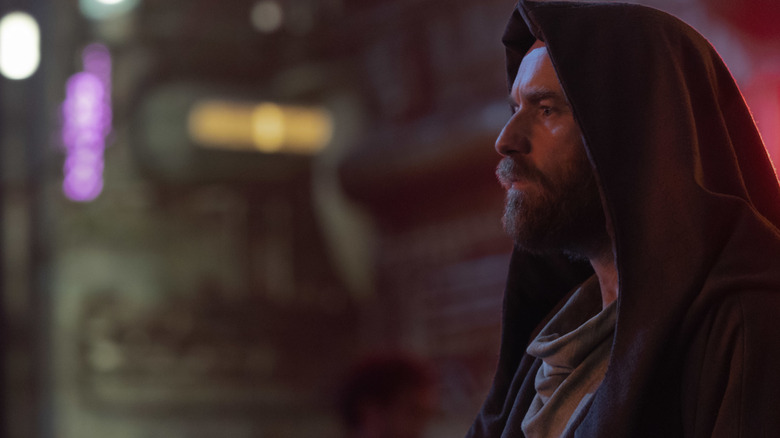 Lucasfilm
Well, hello there. Here's a sentence that many "Star Wars" obsessives of a certain age never would've thought they'd live to see: it's a great time to be a fan of the prequel trilogy.
Once maligned and mocked as the absolute nadir of cinema, a new generation led by (at the time) impressionable kids have grown up to pretty much singlehandedly rehabilitate director George Lucas' undeniably ambitious dream of exploring the tragic origins of a young Anakin Skywalker and the cruel twist of fate that led him down the path of becoming the fearsome Darth Vader. Not all of that landed quite as effectively as intended, as even the biggest prequel defenders would admit, but it's become more and more normalized to freely praise those movies for the things they did do well.
One such aspect, lauded by fans and critics alike, happens to be Ewan McGregor's portrayal of Jedi Master Obi-Wan Kenobi. After almost two decades away from the role, the actor has been brought back for Lucasfilm's new "Obi-Wan Kenobi" Disney+ series — along with a few other familiar faces, as well. With the calendar just about to flip over to May and the premiere date rapidly approaching, today we're kicking off the week with a batch of new images from the upcoming show. You might think there aren't all that many different ways to show a bearded, downright Jesus-looking Obi-Wan wandering around the Tatooine desert ... and you'd more or less be right. But from everything we've seen so far, there seems to be a range of unexpected settings and locales packed into this series to bring fans even closer to the vibes and aesthetics of the prequel era. Check out the new images below!
New Obi-Wan Kenobi images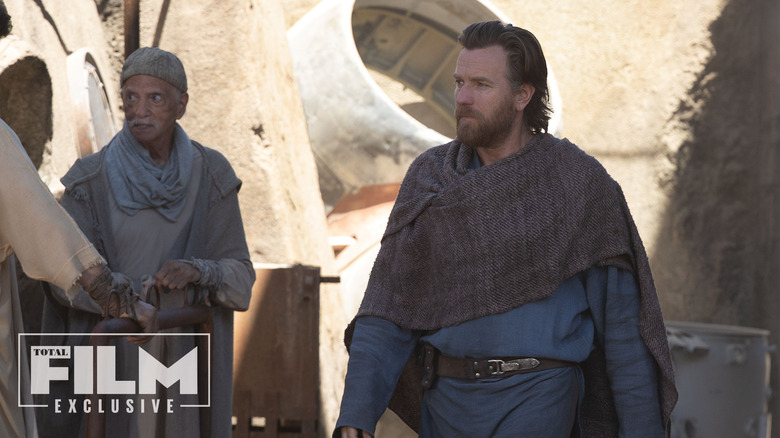 Total Film/Lucasfilm
Fans have long clamored to see what happens in the space of time between Obi-Wan dropping off an infant Luke Skywalker on Tatooine in the aftermath of Anakin's fall to the Dark Side, and old Ben Kenobi squaring off against his former pupil in the depths of the Death Star in "Star Wars." The answer, it would seem, is pretty obvious — he hung around the desert for all those years until he aged into the weird hermit who scared off Tusken Raiders with loud noises. Who would've thought! Oh, well, there's that and also whatever previously unmentioned adventures he appears set to embark upon throughout "Obi-Wan Kenobi." Hopefully we'll get to see if he develops a healthy disdain for sand much in the way that Anakin did, leading to the two friends bonding over their shared interests and forever altering the trajectory of the original trilogy. Or not.
The new "Obi-Wan Kenobi" images come courtesy of Total Film, which thankfully show more than just Obi-Wan twiddling his thumbs in the desert, waiting for Luke to grow up. In another indication of the scope and scale of the new story, we're teased with the image of the surviving Jedi Knight on another planet entirely, leaving the dusty deserts of Tatooine for the cityscape of another planet entirely. Any metropolitan area depicted in this particular era of "Star Wars" is sure to bring back memories of Coruscant, but this planet lit up in neon lights is referred to as Daiyu.
Elsewhere, we get yet another look at the formidable Grand Inquisitor, originally a character concept established in the "Star Wars Rebels" animated cartoon and now making its live-action debut here. The baddie is played by the ironically-named Rupert Friend and, though we don't see her here, he'll be joined by the villainous Reva (Moses Ingram) to pose even more of a threat to Obi-Wan and (presumably) baby Luke.
In addition to McGregor, "Obi-Wan Kenobi" also stars Joel Edgerton, Bonnie Priesse, Kumail Nanjiani, Benny Safdie, Maya Erskine, Sung Kang, and many more. The series is set to premiere on Disney+ on May 27, 2022.