Filming Doctor Strange And The Multiverse Of Madness Wasn't Easy For Benedict Cumberbatch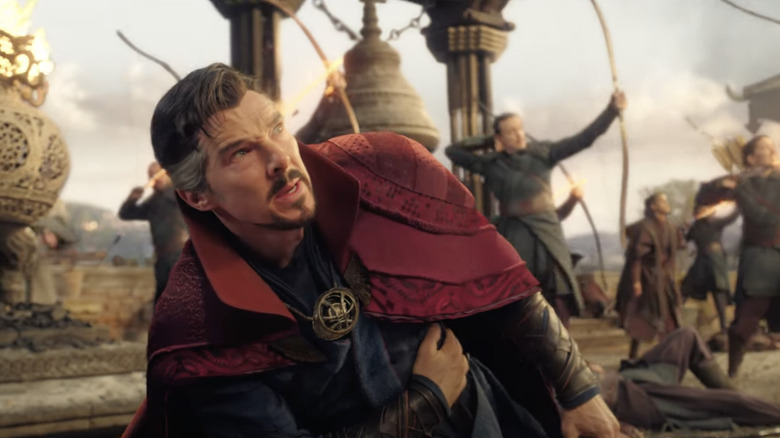 Marvel Studios
"Doctor Strange and the Multiverse of Madness" was a sequel six years in the making, and for the film's star, Benedict Cumberbatch, its long road to the screen wasn't always an easy one. The first "Doctor Strange" movie hit theaters in 2016 when the Marvel Cinematic Universe was early into its Phase Three. The one previous Phase Three film, "Captain America: Civil War," had introduced the Tom Holland version of Spider-Man into the MCU just a few months earlier.
Since then, a whole "Spider-Man" movie trilogy has come and gone, but while Cumberbatch appeared in "Spider-Man: No Way Home" and the last two "Avengers" films, Doctor Strange himself has yet to receive a proper sequel to his own first solo outing. "Multiverse of Madness" was originally supposed to come out before "No Way Home," but it underwent a series of delays on the way to its Phase Four release. The pandemic was a factor in that, as it caused the film to suspend production at one point, but there were other factors, as well. In an interview with Deadline, Cumberbatch remarked:
"It's been tough. I'll be honest with you. It's had quite a journey, this film. But not in a kind of poor me way, just like the nature of where we're at. To try and make a massive film like that under the constrictions of a pandemic and the delays that have ensued, partly because of 'The Power of the Dog,' but also because of everything that was lined up and had to be pushed back from Marvel. 

"It's been tough for everyone. Also, incredibly enjoyable and no less enjoyable than the first one. So, I hope the results are as good, but yeah, I think it can't be underestimated. It's really... This is a film that has a lot of resources. It's nothing compared to the struggles of live performance. It's really, it's tough, but very rewarding, very fun."
The departure of Scott Derrickson was another factor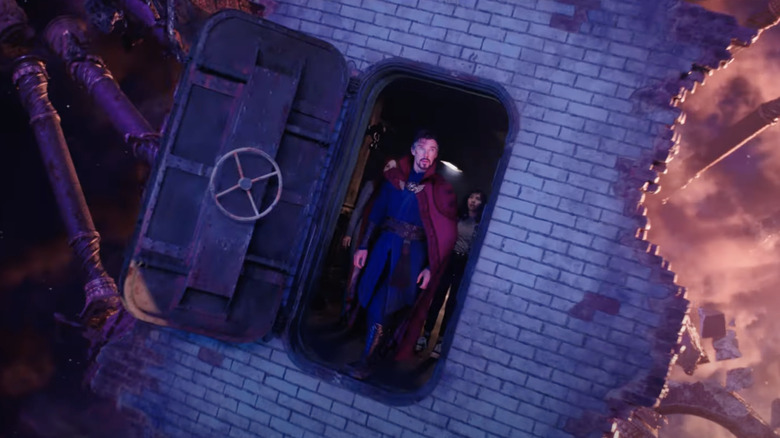 Marvel Studios
In his comments, Cumberbatch also mentioned Jane Campion's "The Power of the Dog," which earned him his second Academy Award nomination for best actor in 2022. (He was previously nominated in 2015 for his role in "The Imitation Game.") It seems that juggling his commitment to "The Power of the Dog" and its awards campaign may have added to the difficulty of the already monumental endeavor of fronting a studio tentpole like "Multiverse of Madness" — not to mention the fact that Campion's film also suffered from pandemic-induced production delays. 
The fact that Cumberbatch is playing more than one Doctor Strange, apparently reprising his role as the evil version of the character from "What If...?" may have also made this movie more challenging for him as an actor. However, one other big factor in the delays and difficulty in filming "Multiverse of Madness" was undoubtedly its behind-the-scenes change of key creative personnel. 
The first "Doctor Strange" movie was directed by Scott Derrickson. It was co-written by Derrickson, his "Sinister" and "The Black Phone" screenwriting partner C. Robert Cargill, and Jon Spaihts ("Prometheus," "Dune"). Derrickson was attached to "Multiverse of Madness" initially, but he departed it in early 2020 "due to creative differences." This caused a major reshuffle, with Sam Raimi stepping in to direct and "Loki" showrunner Michael Wadron taking over scripting duties.
Moviegoers will be able to see how well the movie came together, despite its production troubles, when "Doctor Strange and the Multiverse of Madness" hits theaters on May 6, 2022.