The Kettlemans' Return To Better Call Saul Was A Long Time Coming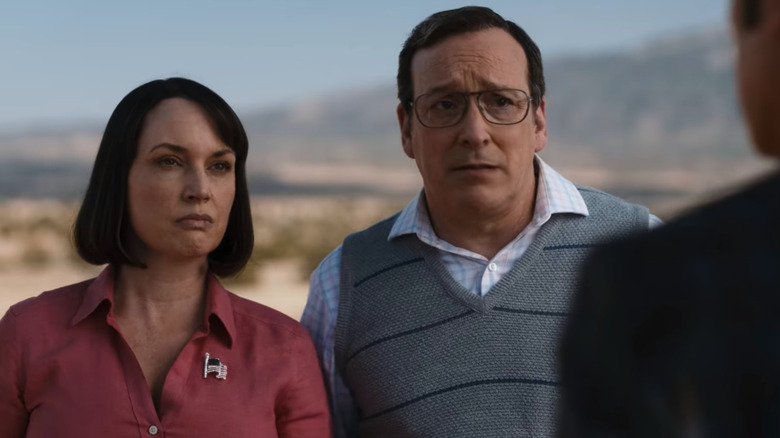 AMC
The sixth and final season of AMC's "Better Call Saul" has brought back two familiar but long-absent faces: Craig and Betsy Kettleman, played by Jeremy Shamos and Julie Ann Emery, respectively. The Kettlemans first appeared in "Uno," the very first episode of "Better Call Saul," back in 2015. They were a fixture of the show's first season, as Jimmy McGill (Bob Odenkirk) and Kim Wexler (Rhea Seehorn) found themselves tangled up in their legal troubles. Craig was facing embezzlement charges as country treasurer, and among other things, season 1 would see the Kettlemans hiding out in a tent in the woods on their property and Jimmy enlisting Mike Ehrmantraut (Jonathan Banks) to break into their house.
The Kettlemans exited after season 1, when Craig went to prison. When we catch up with them again in "Carrot and Stick," Craig has served his time, and the Kettlemans are now running a tax preparation service out of a trailer, where they cheat their customers by skimming money off the top of their refunds. Jimmy draws them into a scheme to, as Betsy puts it, "character-assassinate Howard Hamlin" (Kim's old boss, played by Patrick Fabian), by planting the idea in his golf buddy's head that he has a cocaine problem.
Given that seven years passed in the real world between seasons 1 and 6 of "Better Call Saul," viewers could be forgiven for only vaguely remembering the Kettlemans. However, in an interview with Entertainment Weekly, "Better Call Saul" co-creator Peter Gould revealed that the writers' room never forgot the two characters and had been looking for an opportunity to have the actors who play them return. He said:
"They've created these amazing characters — [Julie Ann] and Jeremy, they're both incredible actors. There's not a lot of improv on the show; it may look like there is, but that's a tribute to how great these performers are. Jeremy and [Julie Ann] can improv as the Kettlemans, and they've had some lines and little pieces of physical business that we were so excited to have them back in action as the [Kettlemans] again."
Other characters may return before the show ends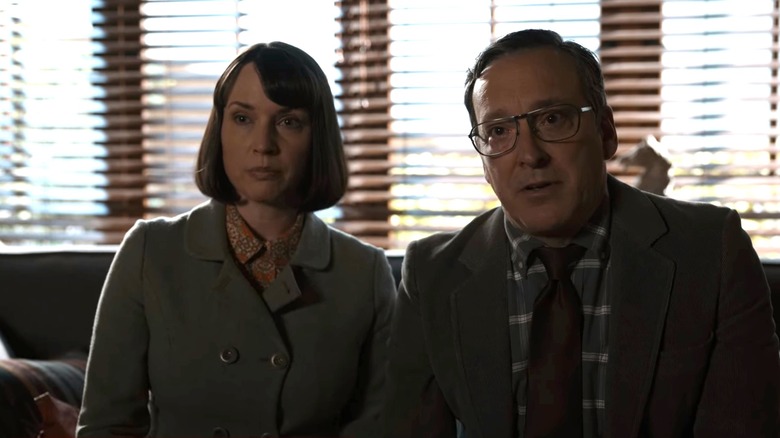 AMC
Peter Gould also teased that there might be other supporting characters who return for the final season of "Better Call Saul," in the vein of the Kettlemans. He told EW:
"You know, we have this corkboard in the writers' room with the names of all the characters we'd like to bring back. And, boy, we really would've not felt good about finishing the show if we hadn't seen the Kettlemans again. You'll see as the season goes on — it's not like there's any deep hidden meaning in the show — there are these couples who all made different choices about how to live, and you're going to see at least a trilogy of these couples who make an appearance, and the Kettlemans are some of our favorites."
It's not immediately clear who Gould is referring to when he talks about other couples returning, but we can only hope he might be speaking figuratively and that one of those "couples" might be the bromantic DEA partners and "Breaking Bad" characters, Hank Schrader (Dean Norris) and Steven Gomez (Steven Michael Quezada), who had cameos in the season 5 episode "The Guy for This." "Breaking Bad" stars Bryan Cranston and Aaron Paul are also slated to appear in the final season as Walter White and Jesse Pinkman, and those two might also qualify as a twisted bromance or "couple" of sorts.
It's possible, though, that Gould might instead be referring to other minor, half-forgotten characters from the show's six-season run. "Better Call Saul" will air new episodes every Monday on AMC and AMC+ from now until the midseason finale on May 23, 2022, before taking a two-month break and resuming the back half of its final season on July 11, 2022.