The Daily Stream: Cutthroat Kitchen's Sabotages Let You Get Out Your Inner Jerk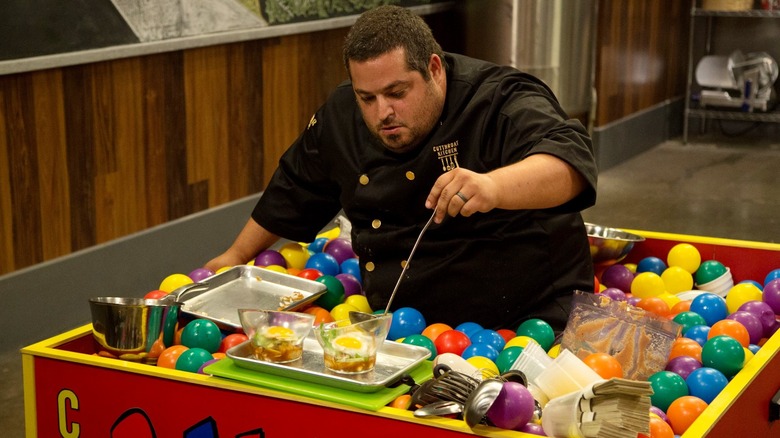 Hulu
(Welcome to The Daily Stream, an ongoing series in which the /Film team shares what they've been watching, why it's worth checking out, and where you can stream it.)
The Series: "Cutthroat Kitchen"
Where You Can Stream It: Hulu
The Pitch: Cooking competition shows are a whole lot of fun, whether you know how to cook or not. I've watched most of them, despite the fact that I once set my kitchen on fire cooking something frozen (true story). They're a fun way to relax when your brain doesn't want to take on a story with twisty arcs. Most series require homework these days anyway, and if you miss an episode, you're lost. Not so with cooking shows! 
You've got "The Great British Baking Show," with its lovely and friendly contestants competing for a cake plate and no money. You've got "Chopped," where contestants get a basket of weird and often unrelated food and have to make something yummy out of it. Then you have "Cutthroat Kitchen," which is a brutal contest where chefs are given $25,000 dollars each at the beginning of the episode. They have to bid on ways to sabotage their opponents using the cruelest of methods as they prepare the required dish. The judges eliminate one person per round, and the last person standing gets to keep only the money they have left. 
Alton Brown ("Iron Chef America," "Good Eats") hosts the show, runs the auctions, and works as a monstrous master of ceremonies. This is his kitchen, his money (not really, of course), and his sabotages. He welcomes the four "fresh chefs" to his dungeon, and makes fun of the issues they have through the episode. He's the perfect person for this, from his excellent comic timing to his collection of "Bobs" — his long-suffering assistants who help to sabotage the chefs. 
Why it's essential viewing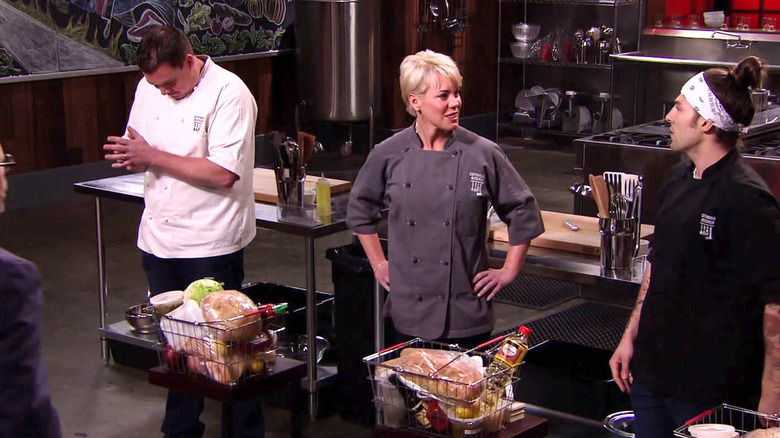 Hulu
The best thing about "Cutthroat Kitchen" is that not only are most people not going to walk away from the episode with money, they're leaving their dignity behind as well. Many of them come in with the right attitude: that this is fun and silly, and that the challenges are to be enjoyed. The ones who don't take themselves seriously usually do better. Then there are the other ones. Some chefs come in full of themselves, bad-mouthing the other contestants, and getting angry when they get sabotages. That's literally why you're here, man! Shake Alton's hand when you leave, for goodness' sake. You know what show you're on.
It works like this: Brown gives the chefs a dish to make. They have 60 seconds to shop in the show's pantry for what they think they'll need. If they don't get out in time, Brown can take one of their items. Before they cook (and sometimes as they cook), Brown has a themed sabotage. The contestants bid on this sabotage, and the winner either gets an advantage, or more often, sabotages their fellows. 
For instance, one time the assignment was a stir fry. The chefs had to bid on a sabotage that allowed them to give one opponent a giant wok with giant chopsticks, and the other (this was round two, so there were only three chefs left), a teeny tiny wok with matching chopsticks. You are not allowed to touch the food with anything other than knives. This includes using your hands to hold the food while chopping it. 
Another sabotage involved cooking in a human-sized doll house with a toy kitchen. Then there was the one that required you to wear a snorkel mask and look through the water of a fish tank while chopping and prepping on the table under it. 
No sabotage is usually the worst sabotage of all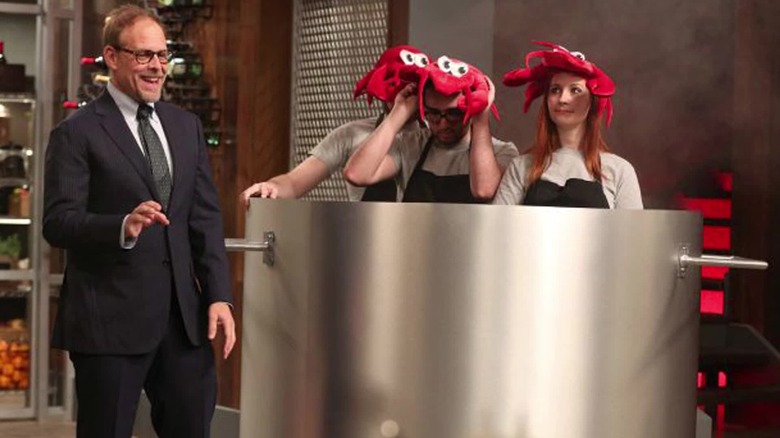 Hulu
Sometimes "Cutthroat Kitchen" contestants will try to bid on things to raise the price and make sure the other chefs spend all their money. If they have more money left in the last round, they can destroy their competition. Sometimes they forget to keep bidding while they're cooking. It's a fast-paced show and it's an absolute riot! The funniest part is how some contestants sabotage themselves by forgetting an item (and sometimes get it back in another form from a sabotage). What's crazy to watch is how the people who are so proud to not have any sabotages usually end up making the worst dish. Or when they try to get fancy and show off their skills. Friend, just make the dish they tell you to and don't make the judges barf.
Speaking of judges, it's usually Jet Tila, Simon Majumdar, or Antonia Lofaso, though there are guest judges from time to time, like Ted Allen, Anne Burrell, or even William Shatner or Valerie Bertinelli. They judges have no idea what the sabotages were and, as Brown says, "they don't care." All they want to know is: does it look good, does it taste good, and does it remind them of what the chefs were supposed to make. 
There are no sweet stories about ill family members or dreams of opening a restaurant like there are on "Chopped." No one is making a five star meal. It's all about doing your best with some exceedingly weird limitations. I love every cutthroat second of it. Though the Food Network show ended in 2017, it lives forever on Hulu.