The Daily Stream: Eureka Follows An Average Guy In A Town Full Of Geniuses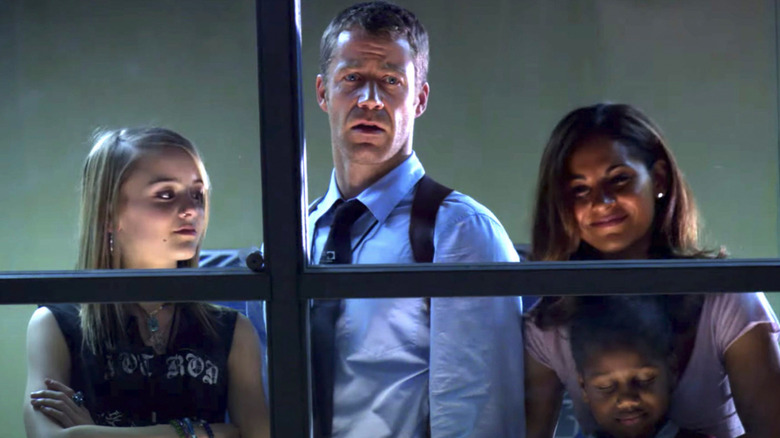 NBC Universal
(Welcome to The Daily Stream, an ongoing series in which the /Film team shares what they've been watching, why it's worth checking out, and where you can stream it.)
The Series: "Eureka"
Where You Can Stream It: Peacock
The Pitch: Imagine a town named Eureka, where everyone is a genius. If you were someone who lived there, you'd never have to worry about paying for food, getting a house, or dealing with the mundane parts of life. You could spend your days coming up with the most fanciful and wonderful (and definitely dangerous) inventions, further your knowledge of science and physics, and have every need taken care of. Of course, you'd been working for a company called Global Dynamics, which is a company that helps the government come up with technology and is associated with the Department of Defense. You know how everyone says that the government is decades ahead of what we see as cutting edge tech? This would be the town that comes up with that stuff.
Now imagine you're a Deputy United States Marshal like the show's protagonist, Jack Carter (Colin Ferguson). He's a man of average intelligence who stumbles into the town with his rebellious daughter, Zoe (Jordan Hinson), at just the right time, and ends up working as the town's sheriff. How do you deal with a town full of brilliant scientists who are doing dangerous experiments that often put both Eureka, the country, and sometimes the world in jeopardy? That's the premise of one of my all-time favorite shows, "Eureka," which aired on the Sci-Fi Channel (now SYFY) from 2006-2012. 
Why it's essential viewing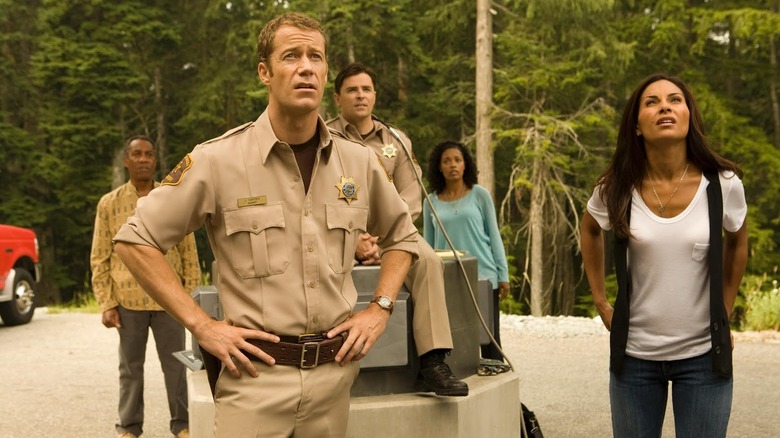 NBC Universal
Aside from the fact that this show is just really fun to watch, it's a great fish-out-of-water story. Carter is our way into the series. In any other town, he'd be an incredibly capable guy who is excellent at solving problems. In Eureka, he's kind of derpy in comparison to everyone else. By themselves, the fun inventions that the town comes up with make this show worth watching. I actually learned quite a bit about science here, and that was not my strong suit in school. Plus, the idea of being left alone to do what I love without having to deal with bills ... how can you beat that? There is a place in town called Café Diem, which is run by Vincent (Chris Gauthier), who is there to serve you any food you like, for free. Vincent isn't a random chef, though. He has a PhD in molecular gastronomy, and let's just say he doesn't quite enjoy being asked for silly things like ketchup by Carter when he's worked so hard to created a great meal.
In the end though, it's the interaction between the characters that makes this show so bingeable. The will-they-won't-they of Carter's relationship with Dr. Allison Blake (Salli Richardson-Whitfield) from the Department of Defense is really compelling, when subplots like that can frequently be tedious. Dr. Henry Deacon (Joe Morton) and his issues with the ethics of it all gives a great look at the other side of the scientific wonders. Even the sense of humor from S.A.R.A.H., the voice of Carter's smart home (voiced by Neil Grayston, who also plays Dr. Douglas Fargo, the accident prone genius) is on point. Add in cast additions Felicia Day and Wil Wheaton, and you have the recipe for the perfect show. It's both mind candy in its watchability, and really smart, with some great writing. I still lament its cancellation.