The Morning Watch: How The Batman Should Have Ended, The Northman Scene Breakdown & More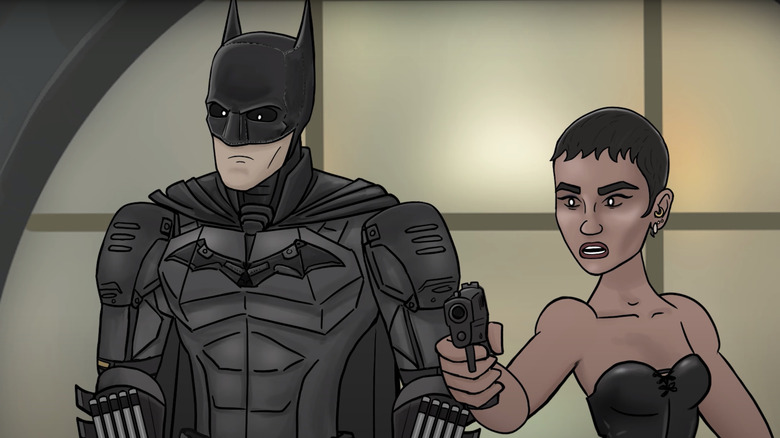 How It Should Have Ended
(The Morning Watch is a recurring feature that highlights a handful of noteworthy videos from around the web. They could be video essays, fan-made productions, featurettes, short films, hilarious sketches, or just anything that has to do with our favorite movies and TV shows.)
In this edition, find out how Matt Reeves' "The Batman" should have ended. Plus, director Robert Eggers and actor Alexander Skarsgård dissect one of the coolest scenes in "The Northman." And finally, "The Punisher" and "King Richard" star Jon Bernthal is challenged to choose 10 things that he absolutely couldn't live without, and there's a cute dog involved. 
How The Batman Should Have Ended
Retold using their traditional means of animation, the folks at How It Should Have Ended are covering the latest rendition of the Caped Crusader with Matt Reeves' "The Batman." After Batman beats the crap out of a member of the Train Gang, he unloads the catchphrase, "I'm vengeance." The rest of the Train Gang stand there recording on their phones, confused as to whether or not this dude's name is "Batman" or "Vengeance." Oh, and then Superman appears, because that's what happens in these videos. It's a lot of fun for DC fans, and someone finally finished Riddler's line, "I've been trying to reach you," with a punchline that all of our brains have been autofilling with since we first heard it. If you know, you know. If you don't know... well, you'll see.
It's the return of Amleth
The fine folks over at Vanity Fair are back at it again with another episode of their "Notes on a Scene" series. In this edition, Alexander Skarsgård and "The Northman" director Robert Eggers break down the return of Skarsgård's character Amleth, now a Viking after fleeing as a young boy, having witnessed his village massacred and his mother stolen by his uncle. Look, "The Northman" is low-key a retelling of "Hamlet" (or "The Lion King" if you really want to go there), so don't be surprised when Eggers describes one part by saying, "This is the 'Hakuna Matata' moment." The duo break down the historical accuracy brought to the scene, and there are some very sweet moments of Skarsgård highlighting the hard work of the stunt performers in the film, complete with drawing little hearts around their faces. Who knew such a brutal movie could be so sweet?
Jon Bernthal is a big fan of bad gum
Celebrities, they're just like us! In this latest interview with GQ, actor Jon Bernthal ("The Accountant") is tasked with figuring out what ten things he just can't live without. I'm not trying to bury the lede here, so it's important you know that Bernthal brought his dog to set, and I would actually die for Bam Bam. This series often finds celebs clinging to expensive, designer objects, but Bernthal is very sentimental in his decision making. There are a few tokens that will give you the fandom feels, but choices like a photo of his wife and Dubble Bubble gum are so wholesome. Bernthal is known for playing some of the toughest and most badass characters in the game, but seeing him in this element has me ready to petition for Bernthal as a leading man in a romcom. What an absolute gem of a human being.