Doctor Strange In The Multiverse Of Madness Behind-The-Scenes Video Is Full Of New Footage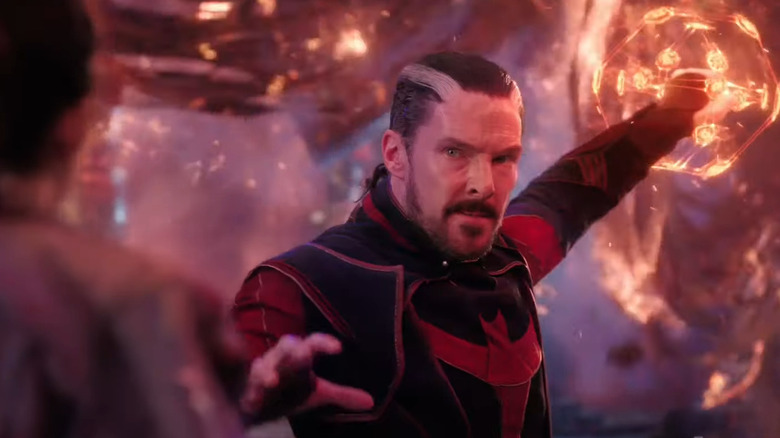 Marvel Studios
A new Sam Raimi movie is always cause for celebration and excitement, regardless of one's own personal thoughts on the particular franchise that happens to be serving as his vehicle at the moment. With "Doctor Strange in the Multiverse of Madness," movie fans who have been following Raimi's career for decades now will get another chance to see the horror aficionado unleashed on a truly epic scale — which will hopefully lead to Hollywood remembering that, hey, Sam Raimi is a wildly talented director who should be allowed to make whatever movies he wants, whenever he wants! Marvel fans, meanwhile, will get one more reminder of just how differently a superhero movie can look and feel when a filmmaker with a genuine vision gets behind the wheel, floors the gas pedal, and dares everyone else to keep up with him.
In other words, even with a PG-13 rating, you should prepare yourselves now for some good old fashioned horror vibes.
The thrill of working under Sam Raimi is exactly the topic of discussion in the newest behind-the-scenes video released for "Doctor Strange in the Multiverse of Madness," courtesy of IGN and Marvel. In addition to quite a few new bits of previously unseen footage and a wealth of behind-the-scenes glimpses of the production, everyone from Kevin Feige to stars Benedict Cumberbatch and Elizabeth Olsen can barely contain their own disbelief over having the stars align and working with an industry figure of such magnitude as Raimi. Feige goes so far to call it "a dream come true" and, honestly, that hardly even sounds like hyperbole to me. 
Doctor Strange in the Multiverse of Madness behind the scenes clip
"I got a call from my agent saying that Kevin Feige and the Marvel team were looking for a director for the new 'Doctor Strange' movie, and I was a big fan of the first one. It was really intelligent and interesting. So, when that offer came in, I thought, 'This would be a really good challenge.'"
And just like that, Marvel Studios completely rewrote the narrative in the fallout of parting ways with original director Scott Derrickson. Just when it seemed as if the sequel would find itself on shaky ground, in swooped Sam Raimi to save the day and bring in his own unique horror sensibilities to the well-received Marvel superhero. After Feige's high praise for working with Raimi, the director explains just how he managed to board "Doctor Strange in the Multiverse of Madness," his first big superhero project since his unfortunate (but still entertaining!) experience on "Spider-Man 3" in 2007.
Every finger and toe remains crossed that a similar instance of studio interference hasn't cropped up with Raimi on the "Doctor Strange" sequel, but the tone struck by this video is appropriately optimistic and full of enthusiasm over what everyone accomplished on this production. With star Benedict Cumberbatch calling him "legendary" and co-star Elizabeth Olsen chiming in to gush over the "terrorizing cinema experience," tension, and various jump scare moments, Raimi clearly brought every trick in the tool bag to the upcoming Marvel movie. Yeah, yeah, the continued exploration of the multiverse and cameos and even the fascinating detail revealed in this video that the film will be set for a 3D release will have fans abuzz ... but then all of that sort of fades away when you hear Raimi say something like this:
"Telling the story was such a gigantic endeavor. And there's a lot of dimensionalized visuals that we use in telling that story. We shot it with an eye toward that."
Should all this actually pan out with the final product, then sign me up.
"Doctor Strange in the Multiverse of Madness" comes to a multiverse near you on May 6, 2022.