Harrison Ford Was Actually A Last Minute Pick To Play Indiana Jones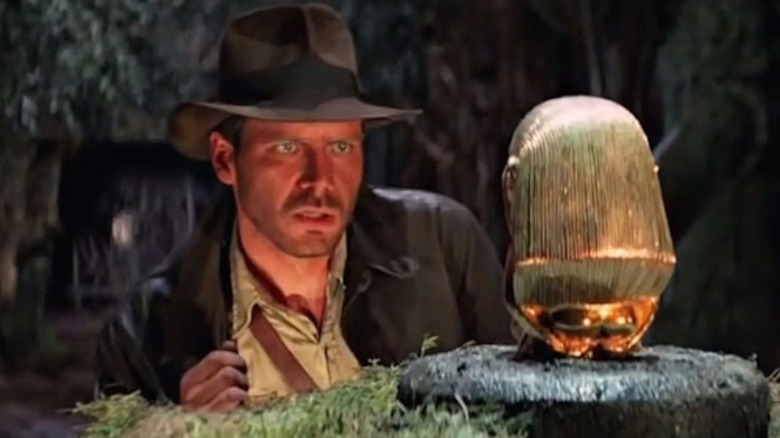 Paramount Pictures
After an iconic film role, it's often hard to imagine any other actor playing the character. Think Bruce Willis as John McClane or Arnold Schwarzenegger as the Terminator. With a film franchise as successful as "Indiana Jones," it's really hard, almost impossible, to imagine anyone other than Harrison Ford in the role of Indy.
The series began in 1981 with "Indiana Jones and the Raiders of the Lost Ark." Set in 1936, the period piece follows archeology professor and treasure hunter Indiana Jones on his bid to find the lost Ark of the Covenant before the Nazis do. Three years later, Indy would return in "Indiana Jones and the Temple of Doom," followed by 1989's "Indiana Jones and the Last Crusade." In 2009, after nearly a two-decade hiatus, Indy returned with "Indiana Jones and the Kingdom of the Crystal Skulls." But wait, there's more! There's a fifth film currently slated for a June 2023 release, the first not directed by Steven Spielberg.
The action-adventure film is sort of a down-to-earth "Star Wars," reuniting creator George Lucas with Ford. However, that wasn't always the case. In fact, Ford was a last-minute replacement to play the role.
Harrison Ford was the backup plan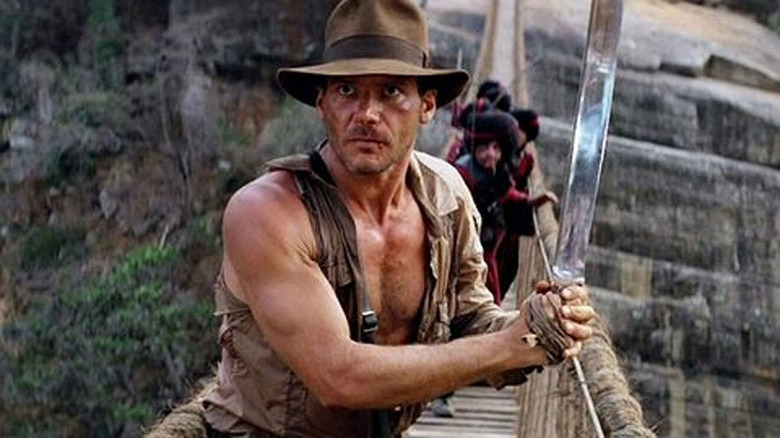 Paramount Pictures
It's hard to believe, but Harrison Ford was not the original plan for Indiana Jones. In an interview with Empire, George Lucas said he didn't want to become attached to Ford the way Martin Scorsese had with Robert De Niro (what's so bad about that, George?). So instead of going with Ford right off the bat, Lucas started looking for a new star. When that didn't pan out, they had to recast the role. Lucas said:
"Steven [Spielberg] said, 'There's always Harrison.' I doubted he'd go for a three-picture deal, he didn't want to on 'Star Wars.' And we had three pictures. Steven said to try anyway. I went to Harrison, and he read the script and said, 'Yeah, I'll do a three-picture deal. I'd love to.'"
Together, the trio of Lucas, Spielberg, and Ford made movie magic. Spielberg calls the first film perfect, saying, "I've never gone back and said I could have done anything better than what I achieved on that film." Ford fondly recalled the role by saying, "We were young and free and confident and happy — stuff happened."
Still, if not Ford, who was originally slated to play Indiana Jones? It would have involved a famous mustache at a theater near you.
A mustache for Indy?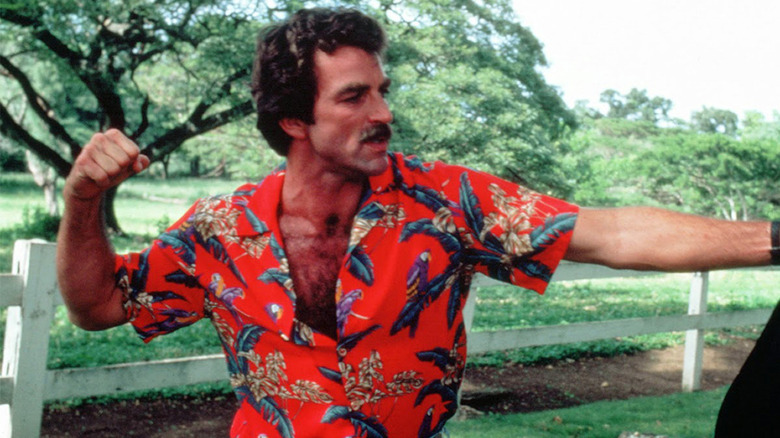 CBS Television Network
When you think 1980s mustache, Tom Selleck should be the first person to come to mind. No word on the influence of the mustache, but Selleck was George Lucas' first choice to play Indiana Jones. The handsome, Ferrari-driving private investigator had been traipsing around Hawaii solving mysteries the previous year on the hit CBS TV show "Magnum, P.I.," Selleck was a logical choice for Lucas, who was looking to create a new action hero with the "Indiana Jones" franchise.
Selleck was on board to become Indiana Jones, but when CBS discovered they might be losing their prime-time star, they picked up Selleck's option on "Magnum, P.I." Television's most famous mustache was now off the table, so Lucas went with his backup plan of Harrison Ford. Not a bad plan B.
Selleck would become a staple of television for decades, but the role solidified Ford as one of Hollywood's biggest leading men for years to come. Now, the upcoming "Indiana Jones" film is likely the last time we'll see Ford as Indy. So who should take over the reins after he hangs up his bullwhip for good? According to him, no one. In an interview on NBC's "Today," Ford said somewhat in jest:
"Nobody is going to be Indiana Jones, don't you get it? I'm Indiana Jones. When I'm gone, he's gone. It's easy."
In the era of reboots, sequels, and prequels, Hollywood might disagree. For now, we should just be thankful Ford agreed to the three-picture deal. As Indy would tell you himself, "It's not the years, honey. It's the mileage." And Lucas sure did get a lot of mileage out of Ford when he agreed to play the role.