A Short History Of Dr. M'Benga In The Star Trek Universe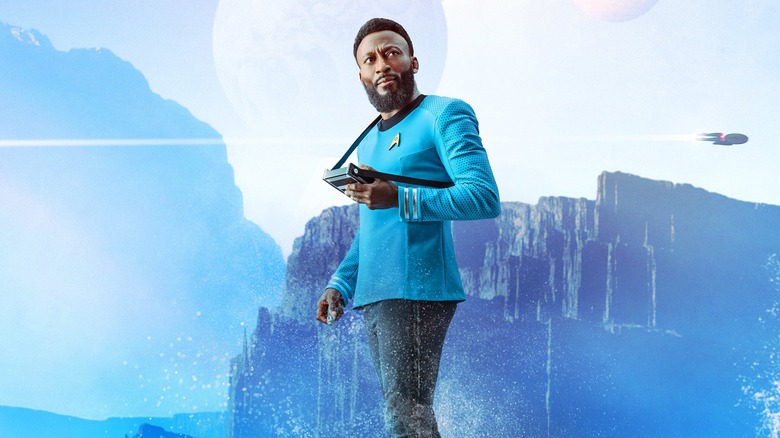 Paramount+
"Star Trek: Strange New Worlds" might be taking us to strange new worlds, but it's also relying on re-introductions to characters already known by "Star Trek" fandom. Spock and Uhura are mainstays from the original "Star Trek" series, while characters like Christopher Pike and Nurse Chapel made themselves known in their brief appearances on the classic '60s series. And alongside the new and returning crew members on the Enterprise, there is one face that may be less known than the rest.
That would be Doctor M'Benga, the chief medical officer on Captain Pike's Enterprise. Played by Babs Olusanmokun, M'Benga is a new face for many folks, stepping into a space normally occupied by Dr. Leonard "Bones" McCoy in the original series, sequel films, and subsequent reboots. As such, it's worth taking a look back at where the character came from in the first place.
That which survives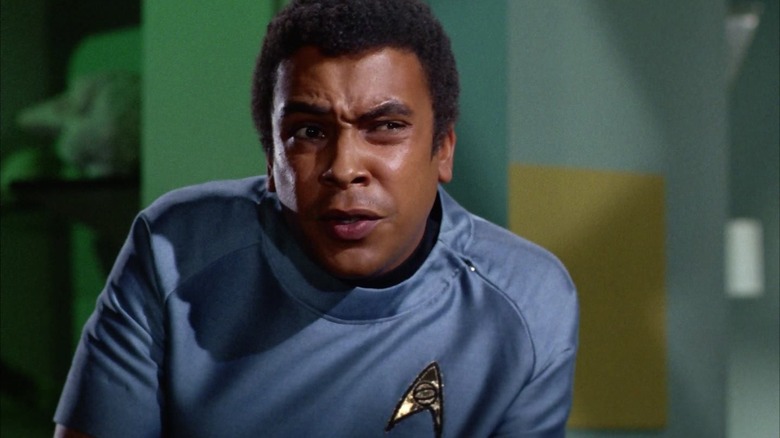 Paramount
Doctor M'Benga was actually a character from the original "Star Trek" show. The Enterprise's second doctor was played by Booker Bradshaw, an actor, voice actor, and writer. Bradshaw had guest-starring roles on "Tarzan" and "The Mod Squad," was a series regular on the original "Alvin and the Chipmunks," and even wrote episodes for "Columbo," "The Rockford Files," and "The Richard Pryor Show."
His first appearance on "Star Trek" is in the second season episode "A Private Little War." In the episode, M'Benga is one of the doctors working on the medical team under Chief Medical Officer Leonard McCoy. When Commander Spock is wounded by small arms fire on the planet Neural, M.Benga is the one who treats Spock, having acquired extensive experience treating Vulcans during an earlier internship.
M'Benga appears again in only one more episode, a third season standalone entitled "That Which Survives." In this episode, he performs an autopsy on a dead away team member. The overall role is much smaller this time around, and it marks the last time that M'Benga is seen on the Enterprise.
A second chance for the nameless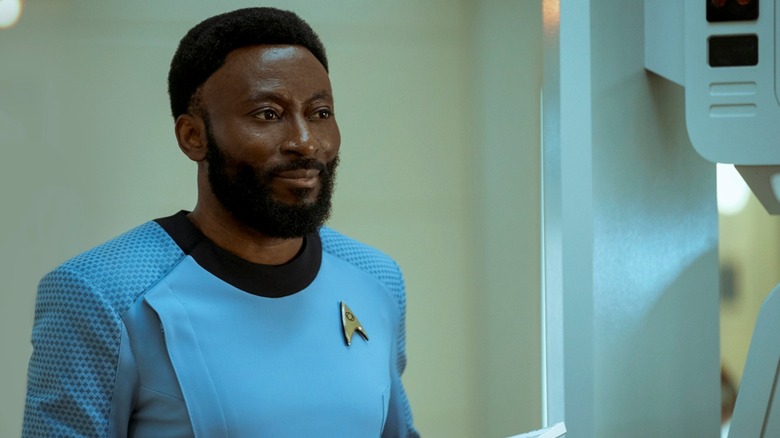 Paramount+
You've probably noticed that I haven't referred to M'Benga's first name yet. That's because the character does not have one in his original incarnation. The character was created for an unproduced "Star Trek" script entitled "Shol," which was ultimately shelved for being too similar to the season two episode "The Apple." In that script, his first name was Joseph, but that information never made it into a produced episode.
M'Benga was likely not used because the ship already had a series regular in Doctor McCoy and recurring medical personnel in Nurse Chapel. The latter appeared earlier and remained tied to the series for the rest of its run.
This means that Babs Olusanmokun and the creative team behind "Strange New Worlds" have far more leeway in crafting Dr. M'Benga. In the first episode, he appears as a warm, wry person who already knows Spock and other crew members. Teaser trailers also highlight a doctor who's willing to use low-tech alternatives if it can help his patients. We're looking forward to seeing how Olusanmokun, a Nigerian-American actor, is able to add some depth to the Starfleet officer of African descent.