Star Trek: Strange New Worlds Has Finally Given Spock A Full Name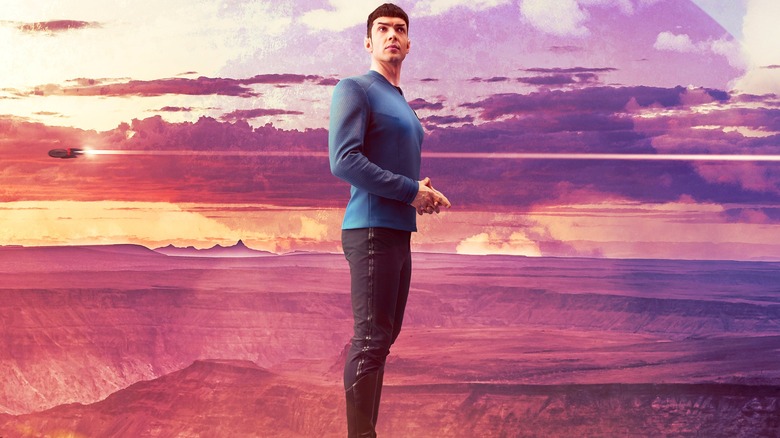 Paramount
Update: It turns out, seemingly official posters can sometimes be deceiving. Representatives from CBS have reached out to inform us that the names on these posters are incorrect. As they told us directly: while "Spock and M'Benga do indeed have first names, they have yet to be revealed." Our original article follows.
Captain James T. Kirk is just as much of a ladies' man as he is an explorer. Scotty always overestimates how much time the Enterprise engines need to be repaired so he seems even more efficient. Spock will always be the most insufferable bastion of logic and reason. Longtime fans know that there are a few non-negotiable constants entrenched throughout "Star Trek" history, especially where our favorite pointy-eared half-Vulcan is concerned. With all that said, however, "Star Trek" has always been a franchise driven to "boldly" move forward to "new worlds" and unexplored territory, so perhaps it's fitting that fans will have to brace themselves for one major addition to previously established canon.
In a development that's sure to get the fandom buzzing, the "Star Trek: Discovery" spin-off series titled "Strange New Worlds" is set to introduce a bit of an unexpected change to Mr. Spock himself, played by actor Ethan Peck in this new series after first appearing in the role in "Discovery." Thanks to the eagle-eyed fans at TrekCore (via ScreenRant), it appears that the Vulcan/human hybrid with no other traditional surname is set to reveal his first name. This information has come out slightly ahead of time, in conjunction with this weekend's planned "Star Trek: Mission Chicago" event. According to reports, both Spock and relatively minor "The Original Series" character M'Benga (portrayed by Babs Olusanmokun in "Strange New Worlds) are set to receive full names for the first time in franchise history. This comes courtesy of new and updated character posters unveiled at the Chicago convention, which proudly display their respective full names for all to see.
Fans, may I introduce you to Dr. Jabilo M'Benga and (dramatic drum roll, please) Lt. Commander S'chn T'Gain Spock.
Live long and prosper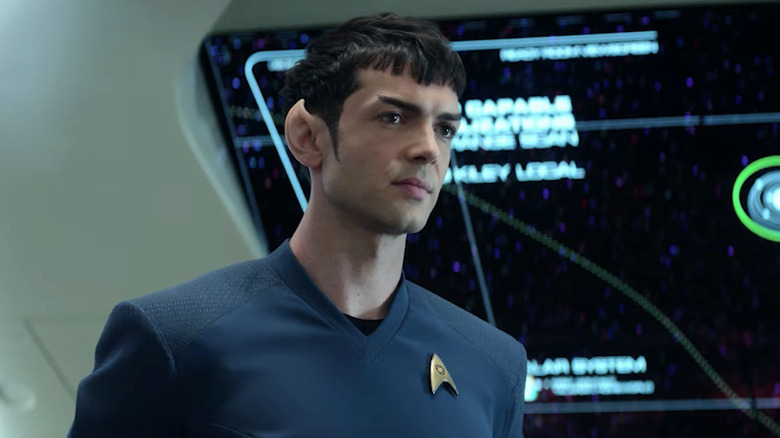 Paramount
Before any riots in the streets start, let's all remember that this isn't the first time in the "Trek" franchise that a character's full name has been revealed in newer shows or movies over the years. In 2009, J.J. Abrams famously provided Uhura's (Zoe Saldaña) first name in "Star Trek," adding a humorous running gag where Chris Pine's Kirk hounds Uhura for her first name — eventually revealed in a sheepish moment to be Nyota. The fact that Spock, depicted as Uhura's love interest in previous iterations, is receiving much the same treatment might feel somewhat fitting in that light. At the same time, fans tend to be a fickle bunch and can be somewhat slow to accept any significant alterations from expectations.
"Strange New Worlds" at least has the benefit of riding on fan goodwill, many of whom practically willed the spin-off into existence after the crowd-pleasing introductions of Peck's Spock, Anson Mount's Captain Christopher Pike, and Rebecca Romijn's Number One (another character who recently received her actual name, Una Chin-Riley). In addition to the returning trio, Babs Olusanmokun's M'Benga also stands as a returning character from "The Original Series," though a more minor one kept to the background in most early episodes. It's first-name frenzy around "Trek" these days, folks. Whether that's considered a good thing or some unforgivable breach of franchise conventions, don't shoot the messenger!
"Strange New Worlds" will premiere on the Paramount+ streaming service on May 5, 2022.