Monstrous Trailer: Christina Ricci Deals With A Monster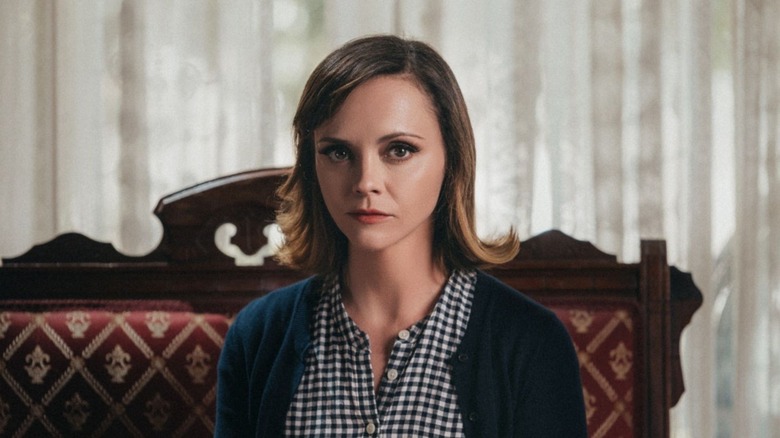 Screen Media
The temperatures are getting warmer and the sun is setting later (at least in the northern hemisphere), and you know what that means, right? It means it's the perfect time to close your blinds, crank your AC, get under the covers and bliss out with a creepy movie. Sure, you could be out in the sun drinking piña coladas, but that doesn't really hold a candle to the joy of midrange CGI, unhinged aesthetics, and the uneven acting that comes along with the finest summer horror flicks. After all, who needs the sun when you can get all of your serotonin from cheap thrills and quick spooks?
Thankfully, actress Christina Ricci ("Yellowjackets," "Buffalo '66") and director Chris Sivertson ("I Know Who Killed Me", "All Cheerleaders Die") have heard the call, because they're here to surprise and delight with their upcoming horror venture, the conventionally named "Monstrous." No, it's not the Bigfoot movie "Monstrous" or the Korean movie "Monstrum" or the Charlize Theron movie "Monster," which also starred Ricci, this is it's own thing baby! The movie tells the story of Laura (Ricci) who takes her young son Cody (Santino Barnard) and moves to a secluded farmhouse to escape her abusive ex-husband. Of course, things aren't as easy or simple as they seem, and Laura and Cody soon start to see strange scenes around every corner, and it doesn't help that the abusive ex is still doing everything he can to control their lives.
This creepy little weirdo of a film crawls into theaters and On Demand on May 13, but you can gauge your interest (and the scare quality) with the trailer below.
Monster II: Monstrous
If you'd indulge me in a little movie math here, this kind of feels like what you'd get if you added "Edward Scissorhands" to "The Babadook," right? Like it's got the colorful '50s vibes with the creepy, and also beautiful house, but there's also the single mom struggling to raise a child on her own bit, and a monster that feels like it could also be a metaphor. That's not to say it's necessarily derivative, "Monstruous" definitely has its own thing going on, but you can see its horror genetics. It's got a touch of schlock that makes sense when you consider Siverston's other horror movies, which skew sexy in a weird and upsetting, but not entirely bad way.
Besides Ricci and Barnard, the film also stars Colleen Camp ("Sliver," "Clue"), Don Balderamos ("Castle"), and Nick Vallelonga ("Green Book", "The Many Saints of Newark"). A fun cast for a fun looking flick! As much as I like to rag on horror movies sometimes, it's because I love them all like they're my weird sad children. And I can tell you one thing, I will absolutely be camped on my couch, drinking an ice cold highball, and watching this baby when it comes out.
Just in case nothing else sold you, here's the official synopsis if you want to get official about it:
A terrifying new horror awaits Laura (Christina Ricci) and her seven-year-old son Cody when they flee her abusive ex-husband and try to settle into a new life in an idyllic and remote lakeside farmhouse. Still traumatized, their physical and mental well-being are pushed to the limit as their fragile existence is threatened.